Police removing homeless from the streets of Miami as Hurricane Irma approaches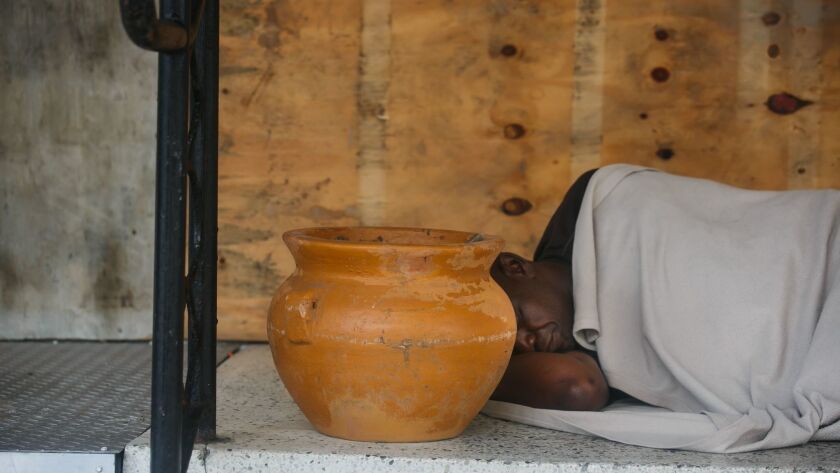 Reporting from Miami —
While Miami was mostly evacuated by Saturday, one group still had a noticeable presence: the homeless.
"I'll be all right," Terry Donald, who estimated he had been living on the streets here for two years, said as he shuffled barefoot down a deserted downtown street. "I think I'll make it through."
In the hours before Hurricane Irma was expected to pummel Florida, authorities were urging homeless people to go to shelters.
For those who refused, police were employing a controversial law known as the Baker Act, which allows officers to send anybody they believe poses a danger to themselves or others to a mental institution, where they can be held for up to 72 hours for an involuntary examination.
The 1971 law has been widely criticized by advocates for the homeless. But with Irma bearing down on Miami-Dade County, some advocates had been urging local authorities to use it.
"It's a bad storm and we needed to take drastic measures," said Ron Book, chairman of the Miami-Dade County Homeless Trust, a public-private partnership that aims to end homelessness. "I'm not going to see our homeless population dead in the streets.
"I'd rather see this law used than to have them in body bags," he said.
Book's group estimates about 1,130 people are homeless in Miami-Dade County. He said that on Friday law enforcement officials invoked the Baker Act to take six people off the streets.
"For almost two weeks we've been telling people living on the streets this storm is headed here and it's going to be bad," he said.
On Saturday afternoon, scores of homeless people were walking the streets, tucked under building awnings and sleeping on sidewalks.
A Times reporter witnessed several homeless people being loaded into a police van.
Jerry Dean, who said he'd been homeless for four months in Miami, said he was happy to get the help.
"There's no way to ride this storm out – it ain't going to happen," said Dean, 50, of New Jersey. "This storm will kill you."
Deborah Ford, who sat in her wheelchair paralyzed from the waist down, said there wasn't much choice for her.
"What am I going to do?" Ford, 62, said. "[The police] are just doing their job for the most part. A lot of people don't want to come off the streets."
James Bernat Sr., a senior executive assistant to the Miami police chief and the department's point person on homeless issues, said that some homeless people were being taken to shelters. Any removed from the streets under the Baker Act would be taken to Jackson Memorial Hospital for evaluation, he said.
"This is to ensure their safety and the safety of the public," he said.
The use of the law to evacuate people was not universally praised by homeless advocates.
The National Coalition for the Homeless said in a statement that it rejects the "misconception that all homeless folks have a mental illness or that someone who has a mental illness does not understand the danger of a storm like Irma."
"People who are homeless are survivors. Anyone who has lived outdoors quickly develops techniques for surviving difficult situations," it said. "We are concerned that Miami's decision to invoke the Baker Act sends the wrong message about how we respect the rights of those who do not have a home."
Neuhaus, a special correspondent, reported from Miami. Lee reported from Los Angeles.
Twitter: @kurtisalee
ALSO
When Irma veered toward Naples, it was too late to evacuate
Hurricane Irma leaves Caribbean islands devastated
Hurricane Irma's winds sweep through South Florida while the Keys brace for a direct hit
---
Must-read stories from the L.A. Times
Get all the day's most vital news with our Today's Headlines newsletter, sent every weekday morning.
You may occasionally receive promotional content from the Los Angeles Times.