5 times Arizona Sheriff Joe Arpaio didn't shy away from controversy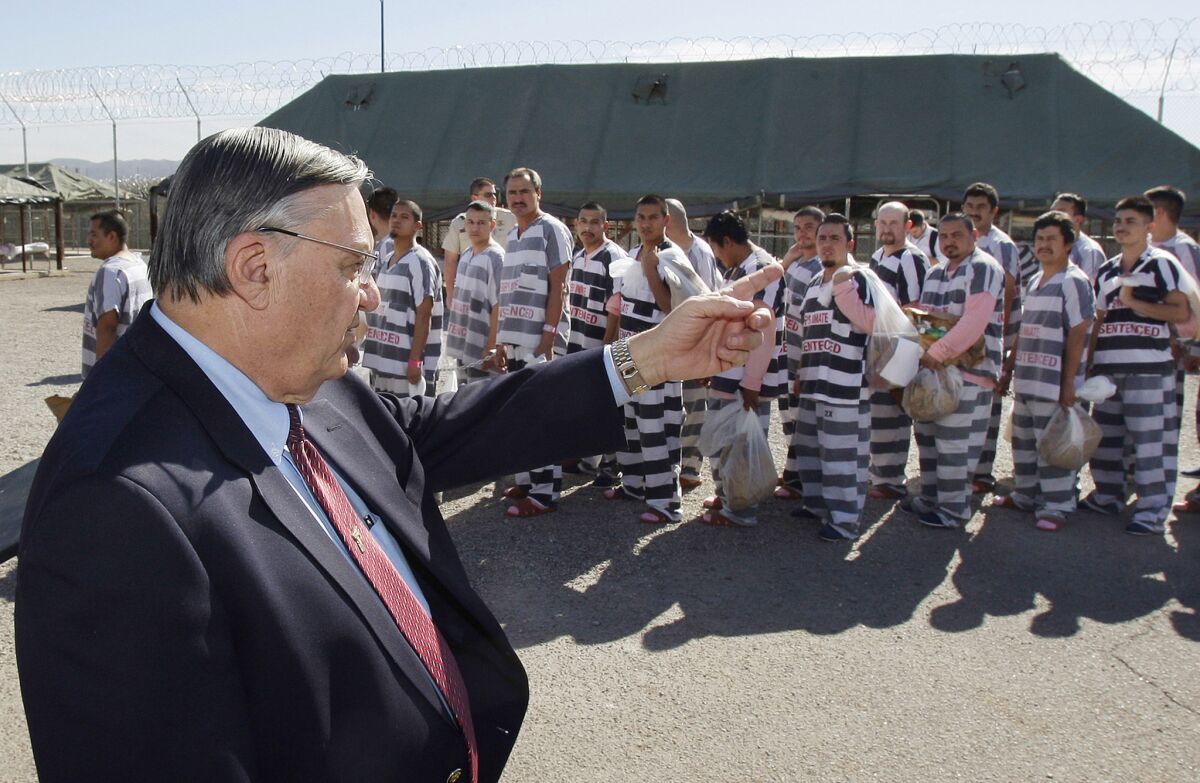 Maricopa County Sheriff Joe Arpaio isn't new to making headlines.
The outspoken Arizona sheriff, who often boasts about his get-tough approach on illegal immigration, was in U.S. District Court in Phoenix on Wednesday for the second day of a four-day hearing into whether the he ignored a court order stemming from a 2007 racial-profiling case. He testified for about an hour and was expected back on the stand Thursday.
Arpaio and four of his top aides could be held in contempt by Judge G. Murray Snow for violating an injunction that barred the Maricopa County Sheriff's Office from using racial profiling when enforcing immigration laws.
Here's a look at a few of Arpaio's controversial moments.
Racial profiling, Round 1
Racial profiling has been an issue for Arpaio.
Snow ruled in 2013 that Arpaio and his deputies had racially profiled Latino drivers during traffic stops and unreasonably detained them, violating the Constitution's 4th and 14th Amendments.
The 4th Amendment guards against unreasonable search and seizure; the 14th guarantees equal protection under the law.
Arpaio appealed that ruling.
Identity theft?
Arizona amended an identity theft law in 2008, and the sheriff ran with it for six years, raiding workplaces -- at least 80 times -- looking to crack down on illegal immigration.
The state Legislature had changed legal definition of identity theft to include attempts at employment by immigrants without legitimate documentation.
Arpaio's raids led to the arrest of nearly 800 men and women who were then charged with felonies on allegations of seeking jobs while they were in the U.S. illegally.
That came to a halt in January. Immigration rights organizations had sued Arizona, Maricopa County and Arpaio, and U.S. District Judge David G. Campbell ruled in favor of the plaintiffs, saying the state law stretched the crime of identity theft beyond what is legal.
Federal law explicitly says seeking employment is not a crime, no matter a person's immigration status.
No 'whipping boy'
A 2011 Justice Department report found the Maricopa County Sheriff's Office had engaged in a "widespread pattern or practice of law enforcement and jail activities that discriminate against Latinos," according to a letter of warning sent to Maricopa County officials.
In response to the report, the Department of Homeland Security revoked Maricopa County jail officers' authority to detain people on immigration charges.
That meant Maricopa County couldn't hold those suspected of violating U.S. immigration law unless they were charged with local crimes.
Arpaio was incensed.
"Don't come here and use me as a whipping boy for a national and international problem," Arpaio said. "We are proud of the work we have done to fight illegal immigration."
Taking on the president
Arpaio and his attorney, Larry Klayman, filed a federal lawsuit last year alleging that President Obama's executive action protecting up to 5 million immigrants without documentation from being deported added to the burden of law enforcement, especially in a border state like Arizona.
They said Obama's move would allow more people to enter the United States, where they would commit crimes. "I am seeking to have the president and the other defendants obey the U.S. Constitution, which prevents this executive order from having been issued in the first place," Arpaio said.
A judge subsequently threw out the lawsuit, saying, "The plaintiff's case raises important questions regarding the impact of illegal immigration on this nation, but the questions amount to generalized grievances which are not proper for the judiciary to address."
In-your-face law enforcement
First elected in 1992, Arpaio quickly built a reputation for unconventional law enforcement tactics. He once housed inmates in outdoor tents, clothed them in pink underwear and served them discolored green and blue meat -- safe, but unsuitable for sale to the public. Troublemakers were given only bread and water.
In a 2000 interview with the Los Angeles Times, Arpaio admitted that he had started putting dogs and cats into air-conditioned cells while about 1,400 prisoners were sweating out Arizona's blistering summer in his uncooled tent city.
The dozen or so former pets were held as evidence in animal-abuse cases, and Arpaio said he was spending nearly twice as much to feed the animals as he was the inmates.
"They deserve it," he said of the dogs and cats.
Each animal had a private cell, complete with mattress and blanket. Inmates were put to work painting park-like scenes in the cells.
"I've got inmates cleaning up the crap," Arpaio said, responding to complaints about the program. "That's the way the ball bounces."
For more national news, follow me on Twitter: @ParviniParlance
---
Must-read stories from the L.A. Times
Get the day's top news with our Today's Headlines newsletter, sent every weekday morning.
You may occasionally receive promotional content from the Los Angeles Times.