Joe Arpaio denies willfully violating judge's ban on racial profiling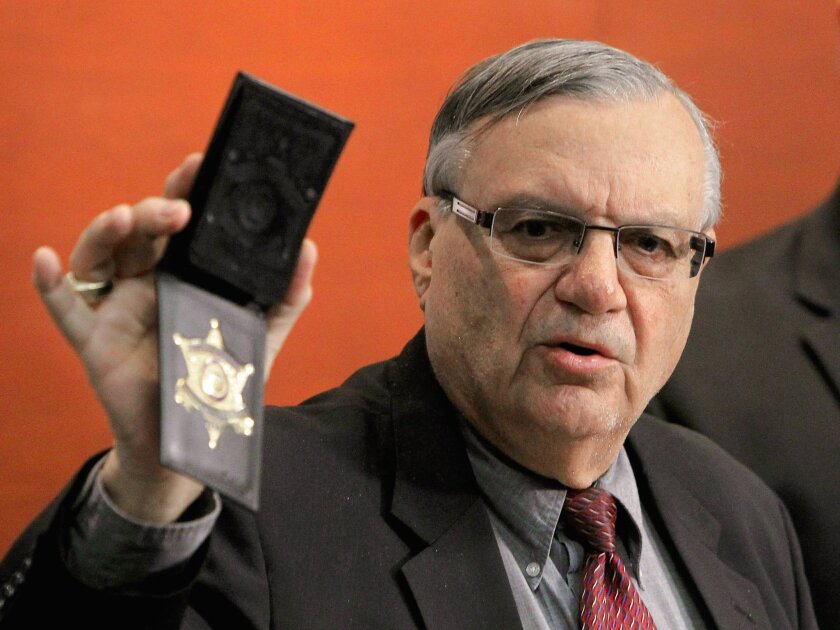 Reporting from Phoenix —
Sheriff Joe Arpaio was once the tip of the spear in the conservative push to deport people in the country illegally. Brash, smirking and politically bulletproof, he long thundered from his Arizona stronghold about the threat posed by people south of the U.S. border.
In 2012 he was interviewed by Fox's Megyn Kelly after his office was assigned a federal monitor because the Justice Department found the office had engaged in racial profiling.
"That's garbage, total garbage," Arpaio said of the monitor. "I will never give in."
The Arpaio who spoke to Fox News is the dynamic foil to the hunched, bespectacled octogenarian who appeared in federal court Thursday as a witness in his own contempt trial, his naturally sunken eyes puffed and red. A subdued Arpaio watched the Fox recording and others of himself played to show that the Maricopa County Sheriff's Office brazenly disregarded a federal judge's order to not profile Latinos during traffic stops.
"Sheriff," asked plaintiff's attorney Stan Young after the Fox interview, "is that you?"
It was, without question, Joseph Michael Arpaio. But it appeared to be another person entirely from the man who testified in court.
His face inches from the screen in the witness box as he watched himself, Arpaio spoke in slow tones and one-word responses. He told Young he wasn't involved in violations of U.S. District Judge Murray Snow's order to stop profiling Latinos.
"I never get involved in those types of decisions," Arpaio said. "I always delegate."
Arpaio has already conceded he inadvertently violated Snow's order. Plaintiffs are trying to show that he did so deliberately.
Arpaio's responses were similar to other members of the sheriff's office during the hearing, now in its second week: They simply don't recall.
"I'm not sure," he said, when asked about a hotel meeting with a private investigator Arpaio had hired to investigate Snow, who is overseeing the contempt hearing.
"Actual compliance was delegated," he said, arguing that he did not personally direct employees to either follow or violate Snow's order.
Young, a Phoenix attorney representing plaintiffs who say they were illegally profiled, pursued the nature of Arpaio's control over his office, trying to show that he led the sheriff's office charge to continue to profile Latinos, despite Snow's order.
Arpaio, for instance, delegated a disciplinary investigation to a sheriff's office employee. The target of the investigation was that employee's superior.
Young suggested that having an employee investigate his boss showed that management of the sheriff's office was haphazard and chaotic.
"You never thought about any conflict?" Young asked.
"No," Arpaio replied, "because of the character of the person making that decision and his experience."
Arpaio's contempt trial is expected to continue through November. He was deposed in mid-September.
Arpaio was shown a last clip of himself by plaintiffs' attorneys. It was 2013, after he was under Snow's order to stop profiling Latinos, but before he conceded any wrongdoing.
It is perhaps one of the last times Arpaio, who calls himself America's Toughest Sheriff, filled that role on television before an adoring audience.
"They ought to be thanking me," he told host Neil Cavuto after an immigration raid, Arpaio's shoulder in a sling from an injury. "Save these jobs for American citizens." The host smiled.
"Get that shoulder back up to speed," Cavuto replied. "You've got a lot of weight on it."
For more national news, follow @nigelduara on Twitter.
ALSO:
Why the founder of #ShoutYourAbortion had to go into hiding
At least 13 killed and 20 injured in Oregon community college shooting. Gunman dead.
Two convicted of killing Border Patrol agent; incident exposed Fast and Furious operation
---
Must-read stories from the L.A. Times
Get the day's top news with our Today's Headlines newsletter, sent every weekday morning.
You may occasionally receive promotional content from the Los Angeles Times.