Joe Arpaio, former sheriff in Arizona, is found guilty of criminal contempt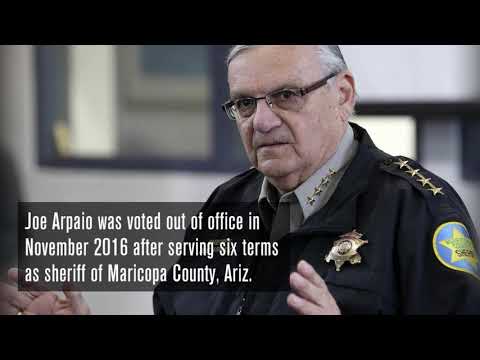 Joe Arpaio, the Arizona lawman who once proclaimed himself to be "America's Toughest Sheriff" and was largely praised by conservatives for his hard-line policing tactics, was found guilty Monday of criminal contempt, bringing his tenure as a relentl
Joe Arpaio, the Arizona lawman who once proclaimed himself "America's toughest sheriff" and was largely praised by conservatives for his hard-line policing tactics, was found guilty Monday of criminal contempt, bringing his tenure as a relentless crusader against illegal immigration to an end.
More than a month after lawyers wrapped up closing arguments, U.S. District Judge Susan Bolton found Arpaio guilty for defying a judge's 2011 court order to refrain from racially profiling Latinos during patrols and turning them over to federal immigration authorities.
The 85-year-old is scheduled to be sentenced Oct. 5 and could face up to six months in jail.
During the trial, which took place in a federal court in Phoenix, prosecutors argued that Arpaio intentionally violated the court order, which demanded his officers stop detaining people simply on the suspicion that they were in the country illegally — a practice that had led to the detention of some Latinos who were citizens or legal residents.
Prosecutors used Arpaio's own words against him, pointing to several media appearances throughout the years, including a Univision interview in March 2012 in which he admitted that he was still targeting people based on immigration status.
"If they don't like what I'm doing," he said, addressing his opponents, "get the laws changed in Washington."
In an interview with Fox News two months later, Arpaio said he was going to continue arresting immigrants in the country illegally: "I'm not going to give it up. I'm going to continue to enforce state laws and federal laws."
Arpaio's lawyer, Jack Wilenchik, argued that the court order from U.S. District Judge G. Murray Snow was not clear and that the sheriff was simply carrying out state and federal laws without intentionally profiling anybody or asking his department to do so.
Wilenchik said Monday that Arpaio planned to appeal Bolton's verdict and get a trial by jury. Arpaio lost his bid for a jury trial in early May after Bolton rejected it on the grounds that the law did not require juries in cases in which the potential jail term was so short.
"Bolton violated the U.S. Constitution by issuing her verdict without even reading it to the defendant in public court," Wilenchik said in a statement. "Arpaio believes that a jury would have found in his favor, and that it will. He is in this for the long haul."
In her written opinion, Bolton said the evidence showed "flagrant disregard" for the court order and that Arpaio had "willfully violated" it. She also said Arpaio had failed to ensure his department complied with the order by directing his deputies to "continue to detain" people.
Bolton said evidence showed that Arpaio understood the order.
"Despite this knowledge, the defendant broadcast to the world and to his subordinates that he would and they should continue 'what he had always been doing,'" Bolton said.
Arpaio was elected sheriff of Arizona's Maricopa County in 1992 and served six terms before losing reelection in November.
He was known for crackdowns on illegal immigration and tough incarceration policies. He forced inmates to wear pink underwear and housed them in canvas tents under the hot Arizona sun.
Such practices drew sharp criticism from advocates for civil and immigrant rights but made him popular with many Arizonans and turned him into a national icon for opponents of illegal immigration. He campaigned for Donald Trump during last year's presidential race and continued to be a leading proponent of the lie that President Obama was not born in the United States after Trump dropped it.
He continued to boast about cracking down on illegal immigration even after his department received profiling complaints.
Immigrant advocate groups welcomed the judge's ruling and said the decision provided lessons other departments should follow.
"Local sheriffs pursuing undocumented immigrants leads to unconstitutional policing, racial profiling and illegal stops," Cecillia Wang, the American Civil Liberties Union deputy legal director, wrote on Twitter.
"Sheriffs and police chiefs who decline to do immigration enforcement and focus on public safety have it right."
Follow me on Twitter @melissaetehad
ALSO
No pardon for Arpaio tonight, White House says
Trump defends remarks on Charlottesville violence, slams 'crooked media' on race
Trump's Phoenix speech drew chants from crowd and criticism from social media
---
UPDATES:
5:55 p.m.: The story was updated with details about the judge's decision and background about the case.
The story was originally published at 11:45 a.m.
Sign up for Essential California for the L.A. Times biggest news, features and recommendations in your inbox six days a week.
You may occasionally receive promotional content from the Los Angeles Times.