20 years later, JonBenet Ramsey murder remains unsolved. Why?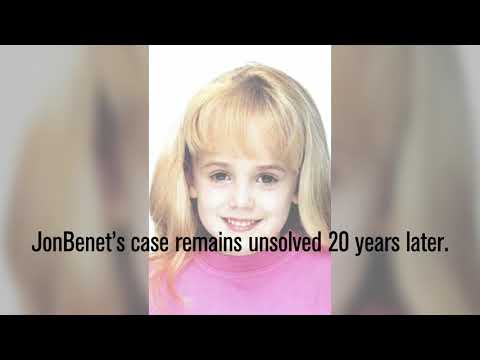 Ramsey's murder remains unsolved after 20 years.
This week marks 20 years since JonBenet Ramsey, a 6-year-old beauty queen, was brutally murdered in her family's sprawling home in Boulder, Colo.
Among law enforcement, the media and the public, theories abounded as to who the killer or killers were, with suspects ranging from JonBenet's parents to a former substitute teacher living in Thailand. Investigators formed an expert prosecution task force, followed thousands of tips and spent millions of dollars trying to charge and prosecute a suspect. The crime spurred books, TV shows and movies, including several this last fall.
Why has the case remained unsolved? There's no single explanation, though authorities readily acknowledge that early missteps by police hampered the investigation for years. Intense media coverage at the time also played a role, pressuring police to act quickly and sending investigators down ultimately useless paths.
Early on the morning of Dec. 26, 1996, JonBenet's mother, Patsy Ramsey, called police and reported that her daughter was missing and that she had found a ransom note demanding $118,000 in cash.
Hours later, JonBenet's father, John Ramsey, discovered the body of the former "Little Miss Colorado" in a basement room. She had been hit on the head and strangled with a crude garrote. She also showed signs of sexual assault.
Boulder police and prosecutors at the time lacked the manpower and skill for such a case, said Boulder County Dist. Atty. Stan Garnett. The Boulder County district attorney's office hadn't tried a homicide for years. On top of that, relations between the police and prosecutors were poor, limiting their effectiveness.
As a result, a number of irreversible actions took place in the hours, days and months immediately following JonBenet's murder. "Many of those things can't be undone," Garnett said.
For example, Boulder police Detective Linda Arndt, the first investigator to arrive at the Ramseys' home, initially failed to treat it as a crime scene.
On the morning of Dec. 26 a steady stream of neighbors, friends and police officers walked freely through the house until the afternoon, when John Ramsey, searching without a police escort, discovered JonBenet's body.
Ramsey tore off a strip of duct tape covering her mouth and carried her upstairs. Only then did the police secure the house — but the crime scene had been compromised.
In addition, police didn't formally interview JonBenet's parents until four months after her death. Arndt reportedly gave Patsy Ramsey's lawyer a photocopy of the handwritten ransom note around the same time that Patsy was being asked to provide handwriting samples by other officers.
The Ramseys were also allowed to view police reports and the paintbrush and nylon cord used to garrote their daughter, even though it was not common to share evidence with potential suspects, the New York Times reported in a look back at the case one year later.
A grand jury did not begin its investigation until September 1998, nearly two years after the slaying. After 13 months of work, the jury voted to indict John and Patsy Ramsey for child abuse resulting in her death, but then-Dist. Atty. Alex Hunter didn't believe there was enough evidence to warrant filing charges. The grand jury's indictment was not released until 2013, after a local reporter sued to obtain the document.
Boulder police processed more than 1,500 pieces of evidence and interviewed more than 1,000 people in connection with the case, according to a video statement made by police Chief Greg Testa in September. Still, the evidence has been insufficient and inconclusive.
A crucial piece of evidence was the 2½-page handwritten ransom note that demanded $118,000 — the same amount as John Ramsey's bonus that year as chief executive of computer services company Access Graphics — for the return of JonBenet. Detectives concluded the pad and pen used for the note were taken from the Ramseys' home.
Boulder police hired handwriting experts to compare the note to samples from the girl's parents, and the experts cleared John Ramsey as the author. Though they doubted Patsy Ramsey was the author, they could not definitively eliminate her.
DNA collected from various pieces of evidence, including the underpants JonBenet was wearing at the time of her death, was tested multiple times. The testing led nowhere. In 2008, more sophisticated testing showed DNA on JonBenet's underclothing to be from an unidentified male, leading then-Dist. Atty. Mary Lacy to publicly exonerate John and Patsy Ramsey.
Just as some people still obsess about the assassination of President John F. Kennedy, some still study the JonBenet case relentlessly and offer up theories about her killer.
The entire Ramsey family — including JonBenet's brother, Burke — was cleared by Lacy's public exoneration in 2008, though some armchair investigators still speculate they may have been involved. The parents insisted on their innocence, and Patsy Ramsey died in 2006 of ovarian cancer.
Lacy and her office also suffered a major embarrassment after spending approximately $30,000 on the arrest, extradition and court appearance of John Mark Karr, an American teacher who confessed to the crime while in Thailand in 2006. DNA tests ruled out any involvement by Karr, and Lacy later dropped the charges.
Several other suspects, including a homeless sex offender and a former college professor who played Santa Claus and had contact with JonBenet days before her death, were investigated early on in the case. But they have not been considered suspects by authorities for many years.
Now police and prosecutors say they will conduct a new round of DNA testing with more sensitive technology than what was previously available. But even with a match, there's still so much to explain about the case, such as the ransom note.
"I don't think the case is entirely a DNA case," Garnett said. "To be able to put together a coherent theory of prosecution, you're going to have to explain the cause of death, explain the garrote, explain the ransom note, explain the circumstances in which the body was found [and] you're going to have to account for the DNA that was found."
Twitter: @AgrawalNina
ALSO
Child abuse in the military: Failing those most in need
Polygamous sect member takes plea deal in food stamp fraud case
Las Vegas residents are outraged that free parking is disappearing on the Strip
Sign up for Essential California for the L.A. Times biggest news, features and recommendations in your inbox six days a week.
You may occasionally receive promotional content from the Los Angeles Times.