Judge in Charleston shooting case previously reprimanded for racial slur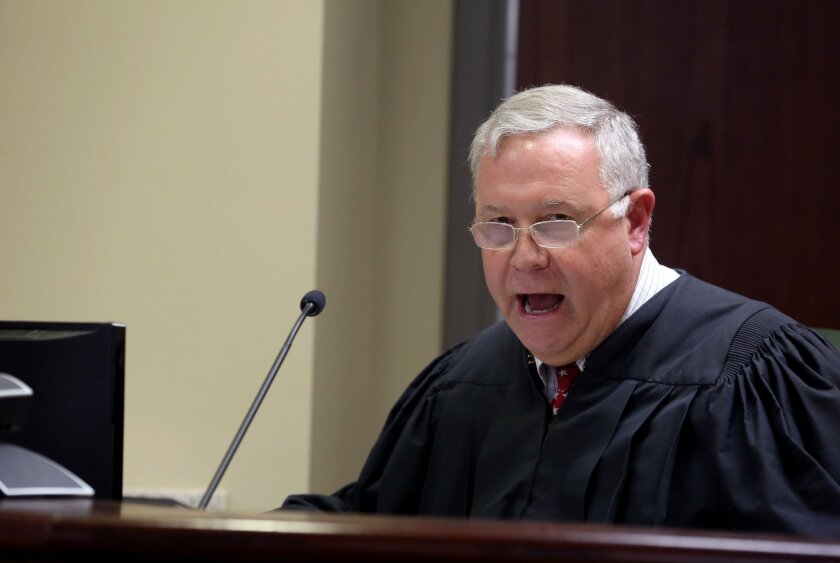 The judge who raised some eyebrows when he asked for sympathy for the family of the white man charged with killing nine African Americans at a historic church in Charleston, S.C., was previously reprimanded by state officials for using a racial slur.
Charleston Chief Magistrate James Gosnell Jr. presided on Friday over the bond hearing for Dylann Roof, 21, who faces murder charges in the shooting of nine members of a Bible study group at the Emanuel AME Church on Wednesday night. Gosnell did not have authority to set bail on the murder charges, but ordered Roof held on $1-million bond on a weapons charge.
As an unemotional Roof looked on via video from the jail where he was being held, Gosnell said he would make a statement on the events that have scarred the Southern city.
"Charleston is a very strong community. We have big hearts. We're a very loving community and we're going to reach out to everyone, all victims, and we will touch them," he said.
RELATED: Charleston church shooting victims: Who they were
The judge then went on: "We have victims, nine of them. But we also have victims on the other side. They're victims on this young man's side of the family. Nobody would have ever have thrown them into the whirlwind of events that they've been thrown into. We must find it in our heart at some point in time not only to help those that are victims but to also help his family as well."
On Nov. 6, 2003, Gosnell presided over a bond reduction hearing for a defendant that he knew. The judge also acknowledged that he knew the defendant's father and grandfather, according to court papers.
According to the state ruling, Gosnell at the hearing "recalled a statement made to him by a veteran African American sheriff's deputy that 'there are four kinds of people in this world — black people, white people, rednecks, and n—' ".
Gosnell told South Carolina Supreme Court justices reviewing the incident that he repeated the statement containing the racial slur "to the defendant in an ill-considered effort to encourage him to recognize and change the path he had chosen in life."
The justices looked at two cases involving Gosnell in 2005, the bond reduction hearing and an unrelated matter involving another judge, Joseph S. Mendelsohn. Gosnell was accused of favoring Mendelsohn after his fellow jurist was arrested for drunk driving and helping arrange his immediate release on bond.
"Combined, however, with respondent's favoritism towards Judge Mendelsohn and his racial remark, the Court deems a public reprimand appropriate. Accordingly, respondent is hereby reprimanded for his misconduct," the judges wrote.
Follow @latimesmuskal for national news.
---
Must-read stories from the L.A. Times
Get all the day's most vital news with our Today's Headlines newsletter, sent every weekday morning.
You may occasionally receive promotional content from the Los Angeles Times.