From the Archives: Dozens killed, damage heavy as Katrina roars in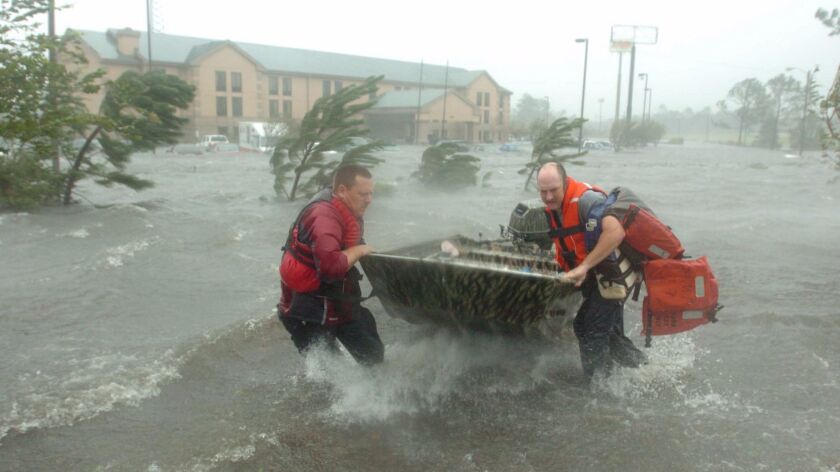 Editor's note: Hurricane Katrina made landfall 12 years ago, leaving the Gulf Coast devastated. As Harvey — a hurricane now downgraded to a tropical storm — continues to ravage Texas and Louisiana, leaving a trail of destruction and flooding in its wake, the two phenomena are drawing widespread comparisons.
Below is our coverage from Aug. 30, 2005, about the immediate effects of Hurricane Katrina's landfall.
---
Whirling ashore like a destructive pinwheel, Hurricane Katrina delivered a hard but glancing blow Monday to New Orleans, then spent its full fury on the Mississippi Gulf Coast, swamping beach resorts and inland towns. At least 58 deaths were reported, most in Mississippi.
Public officials feared that deaths from Katrina would rise.
After hours of punishing rain and winds, emergency and rescue officials began maneuvering by boat and helicopter into remote stretches, looking for scores of residents reportedly stranded by floodwaters.
Katrina's last-minute wobble to the north spared New Orleans a direct hit, but the nearly deserted city still suffered through a long morning of terror as rising groundwater seeped through the ghostly French Quarter and shrieking headwinds shredded part of the roof of the Louisiana Superdome, where 10,000 refugees had sought shelter.
"It sounded like this place was under attack," said Tyrone Brinson, 47, a native New Orleans resident who listened, unnerved, inside the Superdome as the wind tore at the football stadium's arched sheet-metal roof. "It sounded like somebody was coming through the wall. I thought the roof might go, the building, the whole thing."
The roof held, as did the city's waterlogged levee system along the Mississippi River and Lake Pontchartrain, although there was widespread flooding in and around New Orleans, much of which is below sea level.
Although Katrina weakened from the ominous Category 5 hurricane it had been hours earlier, it bulled ashore as a Category 4 storm with 140-mph winds. Katrina was the strongest hurricane to hit the Gulf Coast since 1969, when Hurricane Camille, a Category 5 storm, killed 259 people.
Overnight Sunday, the hurricane's course shifted from west- northwest to a more northerly direction, said Eric Blake, a meteorologist at the National Hurricane Center in Miami. That was enough to steer the worst of the storm east of New Orleans, preventing its heaviest gusts from blowing from the east or southeast, which would have strained New Orleans' levees to flood stages.
"I can't say that I have a sense we escaped the worst," said Louisiana Gov. Kathleen Babineaux Blanco, acknowledging the devastation of the state's eastern portion. "We have a tough, tough people."
Across Louisiana and into Mississippi, Katrina's whipping gusts scoured away roofs in sprays of shingles, wood and concrete. Wind- weakened apartment houses and other large structures buckled — at least 20 in New Orleans, authorities said. Shards of glass blew out of hotel and office buildings in the city's downtown.
Some hard-hit Gulf Coast towns were completely cut off, making it impossible for emergency officials to even speculate on injuries or deaths.
Mississippi Gov. Haley Barbour said he feared the worst. "We know some people got trapped and we pray they are OK," he said. But he grimly added his expectation: "There are a lot of dead people out there."
Fifty people were killed in Harrison County, Miss., most of them at an apartment complex in Biloxi, Jim Pollard, spokesman for the county's emergency operations center told Associated Press.
At least three others in Mississippi were killed by falling trees, officials said. In Alabama, two people died in a storm- related wreck.
Three residents of a New Orleans nursing home fleeing Katrina aboard a school bus died Sunday during an evacuation to Baton Rouge, coroner's officials reported. Several dozen other seniors on the bus were treated for dehydration after the long ride to safety.
Along the battered Gulf Coast, loose boats, garbage cans, sewage and oil slicks rode the choppy gulf waters. Torrents poured in over shattered docks.
Dirt-brown crests swelled to 20 feet along Mississippi's coastal towns of Biloxi and Gulfport. By late morning, floodwaters lapped toward the second floor of the shuttered Beau Rivage Casino in Biloxi, emergency officials reported.
"It came in on Mississippi like a ton of bricks," Barbour said. "It's a terrible storm."
In Wiggins, Miss., a hill community 20 miles north of Gulfport, Olene Walters, 56, one of the town's holdouts, ventured out into the winds and returned in shock.
The storm had stripped the roof off her beauty parlor and pulverized the Lake-A-Way RV Campgrounds she owns five miles outside of town.
Snapped pines, oaks and pecan trees littered the highways, she said. "I stuck it out and now I'm wondering why," she said.
In the Gulf, Exxon and Chevron officials deserted oil rigs, flying out crews threatened by the approaching storm. The halt to operations in the Gulf, where 30% of American oil is produced, caused a jump in petroleum prices.
In Alabama, a runaway oil platform struck a major bridge over the Mobile River, state officials said. At least two oil rigs were adrift in the Gulf.
Downed trees, impassable roads and wind-sagged homes stretched for miles inland as Katrina rumbled north, later weakening to a tropical storm.
Thousands of residents and evacuees packed into shelters around the region, waiting on cots and blankets while the hurricane shuddered overhead, losing punch as it carved a path toward the Mississippi Delta and Tennessee.
In Carroll County, in western Georgia, one man was injured and more than 30 homes were destroyed by a tornado, an emergency center reported.
Blanco, Barbour and Alabama Gov. Bob Riley all declared their states disaster areas and sent National Guard troops to aid in rescues and protect against looting. Estimates of the damage ranged widely, but insurers projected that it could reach $25 billion.
President Bush authorized emergency assistance for Mississippi and Louisiana. "Our Gulf Coast is getting hit and hit hard," Bush said in El Mirage, Ariz. He said the federal government had "assets and resources that we'll be deploying to help you."
By day's end, Alabama's request for an emergency declaration was also "being expedited," said James McIntyre, a spokesman with the Federal Emergency Management Agency in Washington.
FEMA disaster medical teams set up in Louisiana, Alabama, Tennessee and Texas were preparing for rescue missions, McIntyre said, along with search-dog teams. FEMA truck convoys prepared to haul in portable generators, water, ice, infant formula and food.
In Baton Rouge, more than 200 people were rescued by boat in four hours Monday afternoon. The governor said 100 residents of a Jefferson Parish nursing home were taken out by boat.
"A lot of people are sawing through attics," Blanco said. "They probably don't have food supplies." But, she added, "if they're in the water, it is going to be dangerous."
Dwight Landreneau, secretary of the Louisiana Department of Wildlife and Fisheries, said 60 of his department's boats were deployed for rescues — half in Jefferson Parish and the other half near the Superdome.
"There are thousands of people out there that are still stranded," Landreneau said. "We don't know what number of them are in immediate danger."
An estimated 40,000 homes were flooded in St. Bernard Parish, a suburb directly east of New Orleans. By late morning, storm surges had ruptured a levee wall on the Industrial Canal, a five-mile waterway connecting the Mississippi River to the Intracoastal Waterway. Water from the break spilled through the area, flooding the town's two main shelters and swamping the local National Guard armory, leaving even public safety officials homeless.
"We cannot see the tops of the levees," said Larry Ingargiola, director of the parish's office of Emergency Preparedness.
By day's end, there were scattered reports of looting in New Orleans, public safety officials said. At 5 p.m., about 30 looters descended on a general store in east New Orleans.
Curtis Miller, 54, was taking pictures of storm damage when he saw the looters. "They're walking out with armloads of clothes, book bags, toilet paper, hand towels, baby diapers," Miller said. "Anything that is above the water, they're taking it."
But most evacuees appeared to be sitting tight. New Orleans Mayor C. Ray Nagin said access routes to New Orleans would remain shut.
At least 80% of the city's 500,000 residents had already fled by the time Katrina barreled ashore 35 miles south of New Orleans in Plaquemines Parish just after 6 a.m. Monday.
Before it rammed ashore, Katrina packed 175-mph winds, putting it at Category 5, the highest level for a hurricane. It weakened to Category 4 as it approached Grand Isle, the only inhabited island in Louisiana, said David Miller, a spokesman for the National Hurricane Center in Miami.
Katrina took a sudden, slight jog to the east just before landfall, raising hopes that New Orleans might be spared.
The last direct hit on New Orleans was delivered in 1965 by Hurricane Betsy, a Category 3 storm that slopped water over Lake Pontchartrain's levees and flooded the city. Betsy was blamed for 75 deaths across the U.S. and $1.4 billion in property damage -- the nation's first storm to top $1 billion in damage.
"If Katrina had been 30 to 40 miles to the west, it could have been a different story," meteorologist Blake said. "It did not score as bad a hit [on New Orleans] as it could have. But it's still pretty bad. I doubt anyone will really be disappointed that they left."
The thousands who remained behind in the Superdome were given a frightful reminder of what they could have avoided when they noticed rain leaking from the stadium's roof.
The roof's top sheet-metal layer had been raked off, leaving gaping views of gray sky.
Lynette Wilson, who turns 51 today, said being alive was the best present she could have asked for. But the stadium's roof problems undermined her sense of security.
"It was good at first, it was fine. Then we started hearing all this noise. The first piece popped out and then we saw another one and another one and another one. And now it's raining inside. I never thought I'd see this."
By 6 p.m. Monday, the storm was long gone, and people wandered in a daze as they explored their weather-beaten city.
Thousands of people poured onto the streets of the French Quarter as night fell. Emerging from daylong hiding places, they gawked like tourists at downed trees, toppled lampposts and chunks of plywood. Two crushed cars were crammed with bricks -- the remains of a fallen building facade. Sidewalks were strewn with twisted window blinds, glass, Mardi Gras beads and dead rats.
On the city's east side, Curtis Miller spent the day waiting out Katrina. "It felt like the storm was lifting my house in the air and then setting it down over and over again," he said.
Katrina left 6 feet of water in the streets, and when Miller looked up near nightfall, he realized that some of his neighbors were still stranded on their roofs.
"I've never seen anything like this," Miller said, shaken. "And I hope to never see it again. The people who were on the roof, it was just terrible. It's terrible. They can't get anything to them. None of us knows what's going to happen to them."
Times staff writers Stephen Braun in Washington and John-Thor Dahlburg in Miami contributed to this report. Times researchers Lianne Hart in Houston and Jenny Jarvie in Atlanta also contributed.
---
Must-read stories from the L.A. Times
Get the day's top news with our Today's Headlines newsletter, sent every weekday morning.
You may occasionally receive promotional content from the Los Angeles Times.