Keith Lamont Scott: A family man, good worker and ex-con -- whose death ignited a city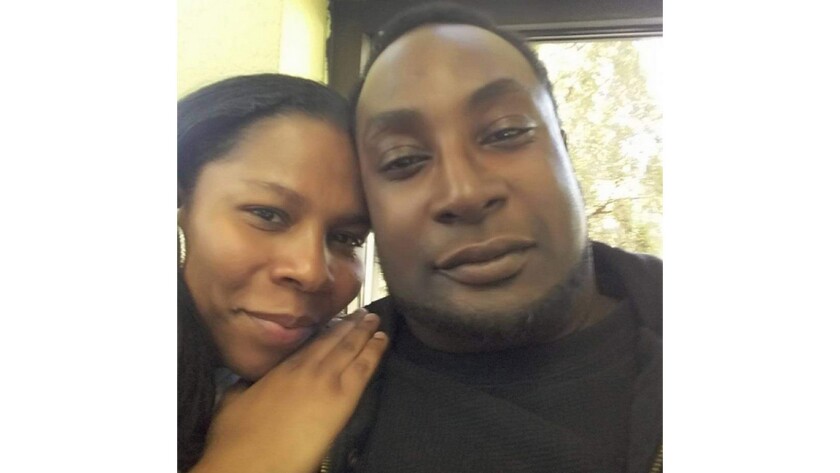 Reporting from Charlotte, N.C. —
Keith Lamont Scott had been arrested more than five times and spent more than six years in prison in one stretch. He was married to the same woman for more than 20 years and was a father to seven. He was regarded as a good security guard at a local mall, but died at the hands of local law enforcement near his home.
The complicated tapestry of his life came to an end Tuesday when police in Charlotte, N.C., shot Scott outside a condominium complex amid a murky set of circumstances that sparked riots, fueled the debate over police tactics and became the latest Rorschach test for the nation's view on race.
At the center of it all was Scott, a relatively unknown man in life and a nationally trending topic in death.
He was 43.
Scott was born in South Carolina, and his mother, Vernita Scott Walker, still lives in the Charleston area. She said her son was a family man and told local television station WCSC that he'd suffered in recent months after being involved in a motorcycle accident in November.
"He had some issues with his brain, and he had two broken hips and broken pelvis … and his nose was broken," she said. "It caused him to stutter his words, and sometimes he couldn't remember what he said."
Before that, neighbors said, he was a proud father who would watch his son play football at the local middle school in Gastonia. He would, if the weather was nice, detail his truck with an older son. On Facebook, his daughters and a niece posted a video of him playfully dancing at a family function to the Chris Brown/Usher slow jam, "New Flame."
"RIP killer Keith u will be forever loved and missed frfr love you uncle," Tylicia Shameer Gladden wrote above the video, which had more than 20,000 views and had been shared more than 264 times. A cousin, identified as Kellie Doll, started a GoFundMe campaign that, as of Saturday afternoon, had raised $4,685. Funeral plans have not been disclosed.
His family has largely avoided giving lengthy interviews about Scott since the controversial shooting. But on social media, they've been active -- highly critical of law enforcement's version of events.
Police have said Scott was armed at the time and in possession of marijuana; family members contend that he had only a book, which they say he was reading while waiting at a bus stop for his son to return from school.
In a video Scott's wife, Rakeyia, recorded of the moments before his death, she told police he wasn't armed, wouldn't do anything and had just taken medicine for his TBI — traumatic brain injury.
Crissy Ferguson, who knew him for about two years when the Scott family lived down the street in Gastonia, said he was a friendly presence who had an unmistakable baritone – "a radio voice" – and was generally approachable.
"He was real jovial," Ferguson said. "He could have his intimidating looks on some days. But he was usually laid-back."
Ferguson said Scott's motorcycle was a source of pride for him. But since the accident, she said, he had to walk with a cane.
Scott had worked at the Eastridge Mall as a security guard for about a year.
"He did a good job for us," said general manager Lance Sturges.
"Our security folks are customer-service-oriented and ambassadors, and they have to have the gravitas to work with big and small situations and enforce the rules and regulations. He did that," Sturges said.
It's unclear how Scott ended up in the Charlotte area after traveling a path that had him living in South Carolina and Texas for several years.
But the years in Texas seemed to carry with them, for Scott, a penchant for brushing up against the law. His time there included his longest prison sentence – a stretch from March 2005 to April 2011 for aggravated assault, according to Jason Clark, spokesman for the Texas Department of Criminal Justice.
Clark said he also served time for evading arrest.
His lawyer in those cases, Gloria Yates Early, said Scott argued that he had been acting in self-defense when he shot a man near a convenience store in San Antonio. She said Scott thought the man – who Scott said had been following him and his family for a week – was armed. Scott went to talk to him and ended up drawing his handgun and firing it 10 times, striking the man.
Early said Scott believed the man was going to harm him or his family. "I don't know what went wrong and why he did it, but shots were fired and no weapon was retrieved from the other guy.… But the man lived."
Early said Scott was working at a job at the time the case was proceeding, but eventually lost it because of his absences for court appearances. Then he missed a court appearance and had his bail revoked, landing him back in jail.
He was sentenced to a little more than a year for that conviction.
Scott's legal troubles in South Carolina weren't as severe and took place in the 1990s – around the time he married Rakeyia, on March 25, 1996, in Charleston. He was 22 and she was 18. The convictions ranged from check fraud for amounts under $50 to carrying a concealed weapon, though not a firearm.
Early said that, despite his legal problems, he always maintained a deep love of his family and especially his wife. "He really loved Rakeyia and she really loved him, and he really loved his children," she said.
When he was shot and killed Tuesday, his daughter Lyric Scott was recording a live video as she raged against the police – knowing at the time only that her father had been shot. Simultaneously profane, angry and sad, the teen stalked up and down along the yellow police tape trying to find out more about the shooting.
About 15 minutes into the hour-plus video her voice turned high-pitched and hysterical – repeating a truth she wished she could deny.
"My daddy is dead. My daddy is dead," she said. "They shot my daddy. They shot my daddy." Then she began to sob uncontrollably.
At a news conference after police released dashboard-camera and body-camera videos of the shooting on Saturday, Scott family lawyers gathered with Scott's brother-in-law, who addressed earlier questions from reporters about Scott's character.
"Of course he was a wonderful person; of course we loved him dearly. But that shouldn't be the issue," said Ray Dotch, who stood with his sister, Rachel Dotch. "We shouldn't have to humanize him in order for him to be treated fairly. What you should know about him is that he was an American citizen who deserved better. That is our position, and it should be yours."
Kaleem reported from Charlotte and Montero reported from Las Vegas.
ALSO
Charlotte police release videos of fatal shooting of black man
'Don't shoot him,' wife pleads to police in video of fatal Charlotte, N.C., shooting
Charlotte, N.C., has prospered in recent years, but many black residents have been left behind
---
The Latinx experience chronicled
Get the Latinx Files newsletter for stories that capture the multitudes within our communities.
You may occasionally receive promotional content from the Los Angeles Times.