DEA backs off a ban on kratom, a plant used to treat opioid addiction
Reporting from Denver —
Jeremy Haley worked security at Denver International Airport, studied to be an air traffic controller in Great Falls, Mont., and sold natural gas leases in Williston, N.D.
But he was anxious and adrift. Night after night the lanky, heavily tattooed young man took refuge in vanilla-flavored vodka and Coke.
"I was looking for something to fill the void," he said.
After a drunk-driving arrest, he heard of an obscure tropical plant called kratom.
The leafy botanical, related to coffee, has been used throughout Southeast Asia for centuries to treat ailments including anxiety, chronic pain and drug addiction. It has become increasingly popular in the U.S. in the wake of an opioid drug crisis that is killing close to 20,000 people a year.
Haley, 30, ordered a batch from a company called Kratom King in Indonesia. When the powdered leaf arrived, he dissolved it in water and drank it.
"It took about 10 minutes to kick in," he said. "I felt a sense of reverence for being alive. It was calm, relaxing energy."
The leaves, he said, eliminated his desire for booze and soothed his anxiety.
Inspired with a new purpose, Haley began peddling kratom on the streets of Denver before starting Rocky Mountain Kratom and selling it online.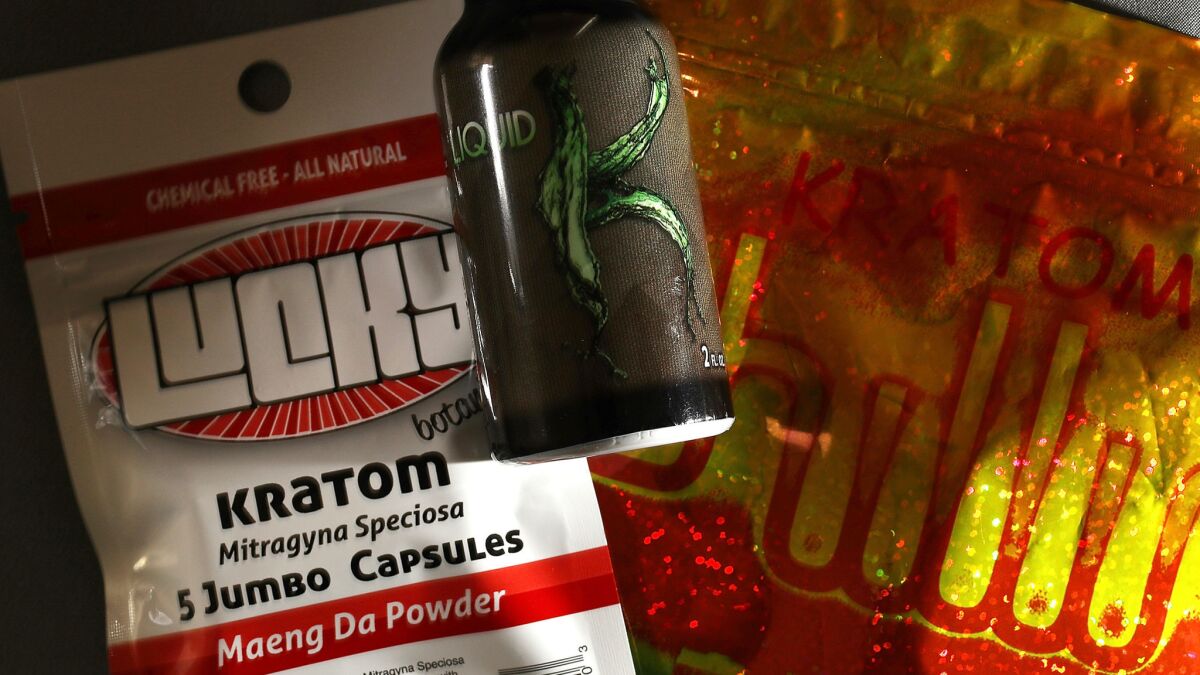 But his plans to open the Artisan's Apothecary, perhaps the first shop in the country specializing in kratom, hit a major snag.
On Aug. 31, the federal government said it would list kratom as a Schedule 1 drug on par with heroin, LSD and methamphetamine by the end of September.
The Drug Enforcement Agency called it an "imminent" health threat, saying kratom was addictive and had been implicated in 15 deaths, though 14 of those involved other drugs as well. The agency also noted that kratom resulted in 660 calls to poison control centers between 2010 and 2015. It is already banned in Vermont, Alabama, Indiana, Arkansas and Wisconsin.
Denver's Department of Environmental Safety put a hold on Haley's kratom supply, scuttling his September grand opening.
Yet few were prepared for the national outcry that followed.
"I have been with the DEA for 20 years and have never seen this level of public response," said Melvin Patterson, a spokesman for the agency.
They were flooded with calls. Protesters descended on both the U.S. and Colorado capitols to rally against the plan. Fifty-one members of Congress from both parties sent letters to the DEA, the Office of Management and Budget and the Justice Department demanding they reconsider.
"Given that we are in the midst of a drug crisis and there is promising evidence of kratom's potential medical benefits, including the possibility of new, safer medications for the treatment of pain, we believe that placing kratom in Schedule 1 without adequate time for experts to weigh in via public comment may have unintended consequences," said one letter signed by Sens. Ron Wyden (D-Ore.), Kirsten Gillibrand (D-N.Y.) and Cory Booker (D-N.J.).
Other legislators, including conservatives such as Rep. Steve King (R-Utah), wrote a letter saying it would be premature to ban the drug while research was being done on kratom's role in reducing opioid withdrawal symptoms.
I have been with the DEA for 20 years and have never seen this level of public response.
— Melvin Patterson, agency spokesman
In a rare retreat, the DEA backed down. It delayed the ban and opened the matter for six weeks of public comment.
"We have heard from a lot of people who self-medicate with this for pain and opioid addiction," Patterson said. "We just want to make sure it's safe."
The American Kratom Assn. declared victory.
"It is an unprecedented move by the DEA," said the association's director, Susan Ash. "I don't think we have ever seen a turnaround like this in the history of the Controlled Substances Act."
She said there are roughly 3 million to 5 million kratom users nationwide, and thousands had called the DEA and members of Congress to protest the planned ban.
Ash, 46, said she used kratom to break a debilitating morphine habit that grew out of her struggle with fibromyalgia.
"In two weeks I went from a completely unproductive member of society to a changed person," she said. "It eliminated my opioid cravings altogether."
Researchers are trying to ferret out the addiction-reducing properties of mitragynine, the active ingredient in kratom, which is either drunk like tea or taken in capsules.
Andrew Kruegel, a medicinal chemist at Columbia University, studies kratom's effect on brain receptors. He said the plant's active ingredients seem to reduce the impact of opioid withdrawal, making it easier to get off the drugs.
"From what I have seen, it's quite safe and has been used for hundreds of years in Southeast Asia," he said.
But Dr. Lawrence Fox, a researcher at the National Institutes of Health, has a different perspective. In 2013, his son Alex, 20, had just broken free of opioids. The family was about to sit down to dinner one night when Alex announced he was too tired to join them. His father found him dead the next day in his room. Kratom packets were in his desk.
The medical examiner found O-Desmethyltramadol in his body, which has been marketed as an opioid substitute sometimes added to kratom and sold as Krypton, Fox said. It has been linked to several overdose deaths.
He supports banning kratom until more is known.
"Right now people are buying this stuff over the Internet and have no idea what they are getting," said Fox, who stressed that he wasn't speaking for the NIH. "I don't want anyone else to die the way Alex did."
Haley said anyone buying kratom should ask sellers to produce lab reports detailing the ingredients and not to purchase anything with additives.
Meanwhile, he's getting his store ready for another attempted grand opening this month. It sits in an eclectic Denver neighborhood and is still a bit spartan. Medicinal plants, cactuses and succulents dot the airy interior. A pair of young kratom trees sit beneath plastic boxes where a mister bathes them in dewy fog.
Reclining in his back office, Haley, wearing a fossilized mollusk around his neck, said he plans to sue the city for lost business. And he wonders if he'll be shut down again in six weeks.
"I don't want to sound too dramatic," he said, "but the DEA will have blood on its hands if they make people go back to opioids."
Kelly is a special correspondent.
ALSO
These 76-year-old twins have grown pot for decades. Here's why they oppose legalization
He got high and killed his wife. A lawsuit claims edible marijuana is to blame
Governor who called legalization 'reckless' now says Colorado's pot industry is working
---
Must-read stories from the L.A. Times
Get the day's top news with our Today's Headlines newsletter, sent every weekday morning.
You may occasionally receive promotional content from the Los Angeles Times.