As Vegas sports books expand betting options, MVP voting is fair game. Will presidential elections be next?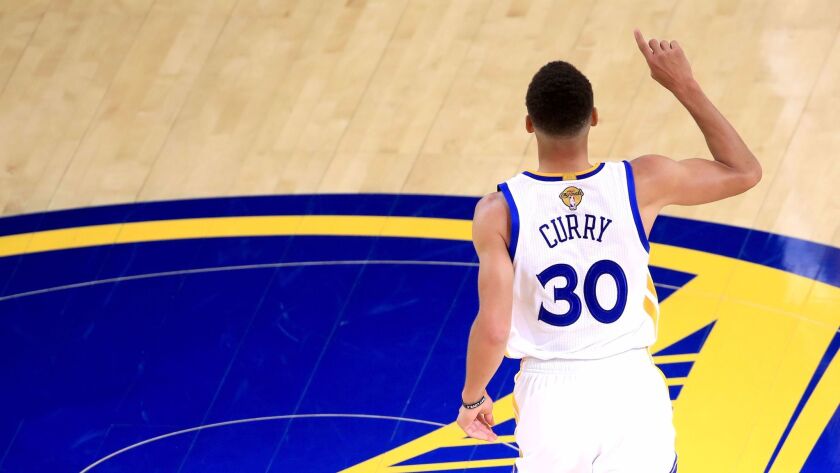 Reporting from Las Vegas —
Kevin Durant had missed his first shot. So did Stephen Curry. Then 33-year-old Zaza Pachulia grabbed a rebound and scored for the Golden State Warriors.
The NBA Finals weren't two minutes old, and if a bettor had put money on Pachulia to be named the series' most valuable player, that early moment might have provided a faint flicker of hope given the center was listed at 2,000-to-1 at the Westgate SuperBook to get that honor.
But then world righted itself.
Durant and Curry took over Game 1 of the series — both heavy favorites at the sports books to earn MVP honors — as the Warriors rolled to victory over the Cleveland Cavaliers.
This was the first time Nevada sports books were allowed to take bets on who would be named the NBA Finals MVP. The Nevada Gaming Control Board approved the wager May 24 — one of several so-called off-field bets sports books have been seeking and getting approval for as they expand their wagering options for more casual fans.
Bob Scucci, director of race and sports for Boyd Gaming, said the trend toward off-field bets isn't surprising as gambling continues to be mainstreamed and a premium is placed not just on accurate point spreads, but creative wagering options as well.
"There is public interest in things like this," Scucci said. "The state regulators have eased up on these restrictions by recognizing the public appetite for these types of wagers."
In Nevada it began when the state Gaming Control Board was petitioned in 2010 to allow wagers on events other than a horse race, greyhound race or athletic event. That prompted the birth of Regulation 22.120 and the ability of bookmakers to begin offering more exotic wagers.
Karl Bennison, chief of the enforcement division for the board, said the new regulation didn't garner much in the way of requests right away. There have been a total of 33 wager requests and approvals since 2011. All of the high-profile requests and approvals tied to the four major pro sports and college football have come since September 2015.
He said the board doesn't track the trends. It just processes the requests under the new regulation.
"It started slow, but it's picked up in recent years," Bennison said. "Each request is handled on a case-by-case basis."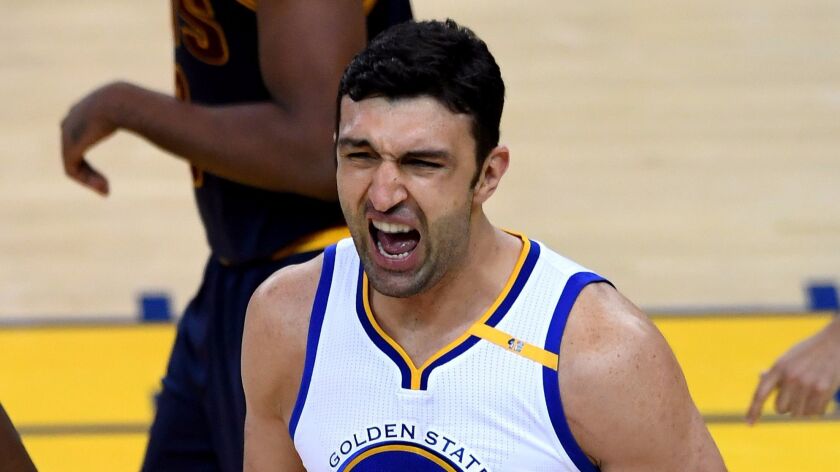 Sports bets are a small fraction of the win total for the casinos in Nevada, accounting for less than 2% of $11 billion taken in for 2016. But those in the industry say it's hard to quantify how important the sports books are for marketing and as an entry point to other gambling options inside a casino.
David Schwartz, director of the center for gaming research at the University of Nevada, Las Vegas, said sports books have gained a higher profile as odds on games have become regular fodder on highlight shows, on websites and through social media.
And though bets on nonsporting events — such as the Academy Awards, the presidential election and reality TV shows — are not allowed in Nevada, they are permitted overseas, and interest in such betting provides a push for casinos to expand their portfolios beyond traditional wagering.
But regulators and casinos remain mindful of tampering or influence where voting, rather than scoring, decides an outcome. They have instituted safety measures, such as halting betting well before voting takes place and capping the amount that can be won — usually about $10,000. Most casinos require identification through a player's card for bigger bets.
"We're not going to take six-figure bets on these," said Jay Kornegay, Westgate's vice president of race and sports book operations.
He said transparency in the process — how a player is selected an MVP or a Heisman Trophy winner — is the only way regulators approve off-field proposition bets. Gaming control officials review the voting procedures to make sure they can't be corrupted.
"I think our first goal is to make sure we protect both sides of the counter — the customer and the book — as well as the event," Kornegay said.
But he said there had been discussions among casino operators about seeking approval for betting on nonsports events, such as "American Idol" or the presidential election. He said that overseas the presidential election is a popular betting option, and he predicted if it were offered in Las Vegas, "it would be bigger than the Super Bowl."
Nevada state Sen. Tick Segerblom, a Las Vegas Democrat, thought the same thing when he introduced a bill in 2015 seeking to lift the state's ban on betting on federal elections. The bill stalled, but the senator said he planned to introduce it again when the Legislature meets in 2019.
"It's good for Nevada, the betting capital of the world," Segerblom said. "We have to offer what we can now. Soon every state is going to have betting, and we need to be in front of that. It's a rapidly expanding industry."
Gaming regulators remain squeamish about political betting, however, pointing to fears that the odds could influence voter turnout if the line moves for a candidate. But others argue that widespread opinion polling before an election can have a similar effect.
Sports book operators said they believe there are some obstacles for betting on reality television shows, too. They are taped in advance, not live, creating the potential for leaks about the outcomes.
This cropped up when J.K. Rowling's "Harry Potter and the Half-Blood Prince" was about to be published and a British book was taking bets, based on a hint by the author, on whether a major character would be killed. The betting site grew suspicious when bets came in heavy from a town where the book was being printed.
With current sports-related off-field bets, the sports books have added a layer of protection by cutting off bets well before the outcomes. In the case of the Cy Young Award winner, presented to baseball's top pitcher in each league, bets will stop being taken several weeks before the season ends. For the NBA Finals MVP, bets were cut off before the series tipped off.
Frank Kunovic, director for specialty games at Caesars Entertainment, said betting was light on the NBA Finals MVP. in the series opener. He had no takers on the long shots, including Pachulia.
"We didn't get a ton of action," Kunovic said. "But it's a new offering and word is just getting out."
It's a bet the casinos appear to be sticking with for now.
Twitter: @davemontero
ALSO
Nevada moves closer to a landmark Medicaid-for-all healthcare model
Liquor lobbying group declares war on Utah with ad campaign in neighboring states over strict drunk driving law
A wet winter gives way to a sensational spring for viewing Idaho's Shoshone Falls
---
Must-read stories from the L.A. Times
Get all the day's most vital news with our Today's Headlines newsletter, sent every weekday morning.
You may occasionally receive promotional content from the Los Angeles Times.