Why this cop's conviction brought thousands of Asian Americans into New York's streets
The Pink Houses, where Akai Gurley was shot and killed in a stairwell.
(Carolyn Cole / Los Angeles Times)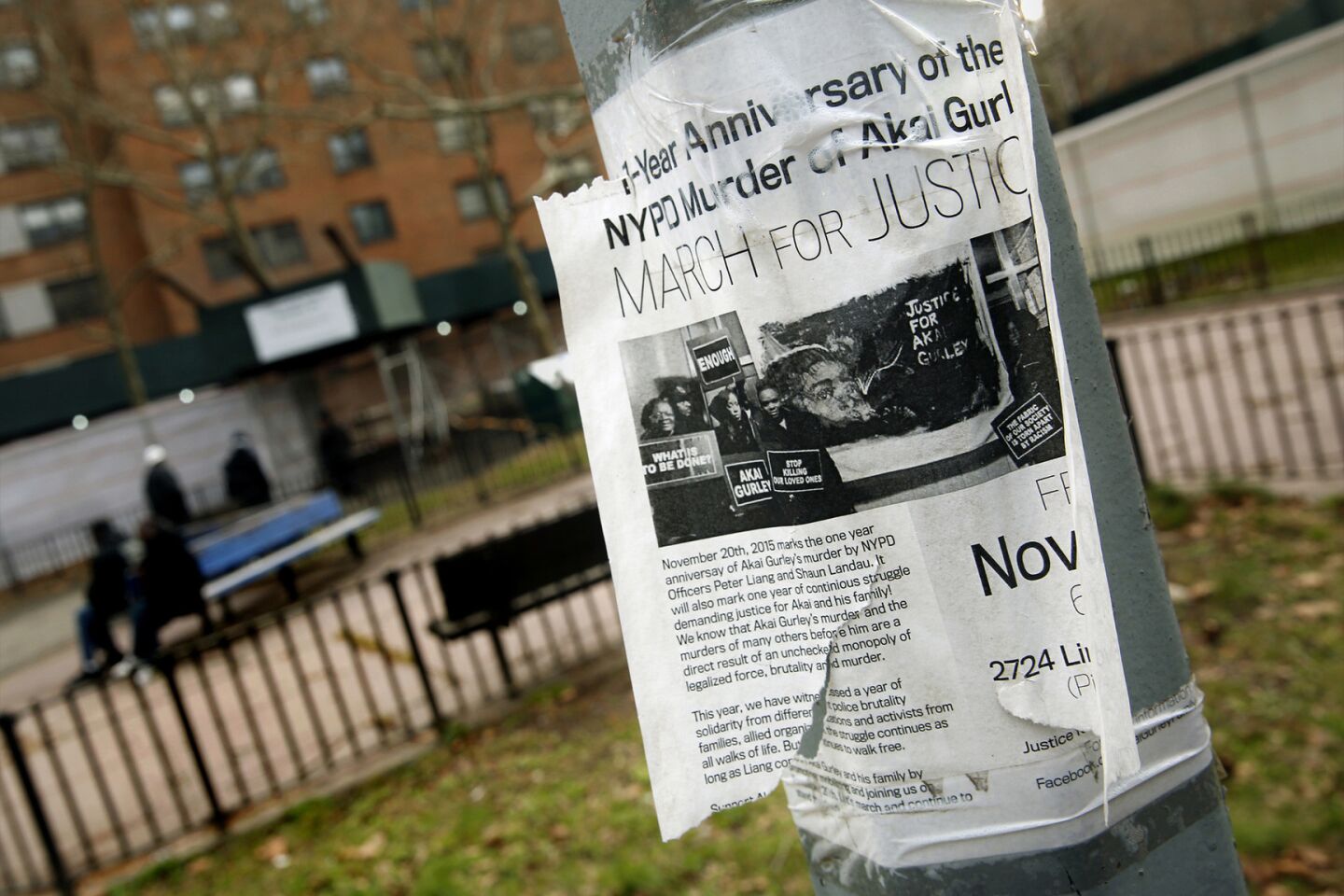 A poster announces a march for justice one year after the shooting death of Akai Gurley, who was unarmed.
(Carolyn Cole / Los Angeles Times)
Peter Liang protest
(Craig Ruttle / Associated Press)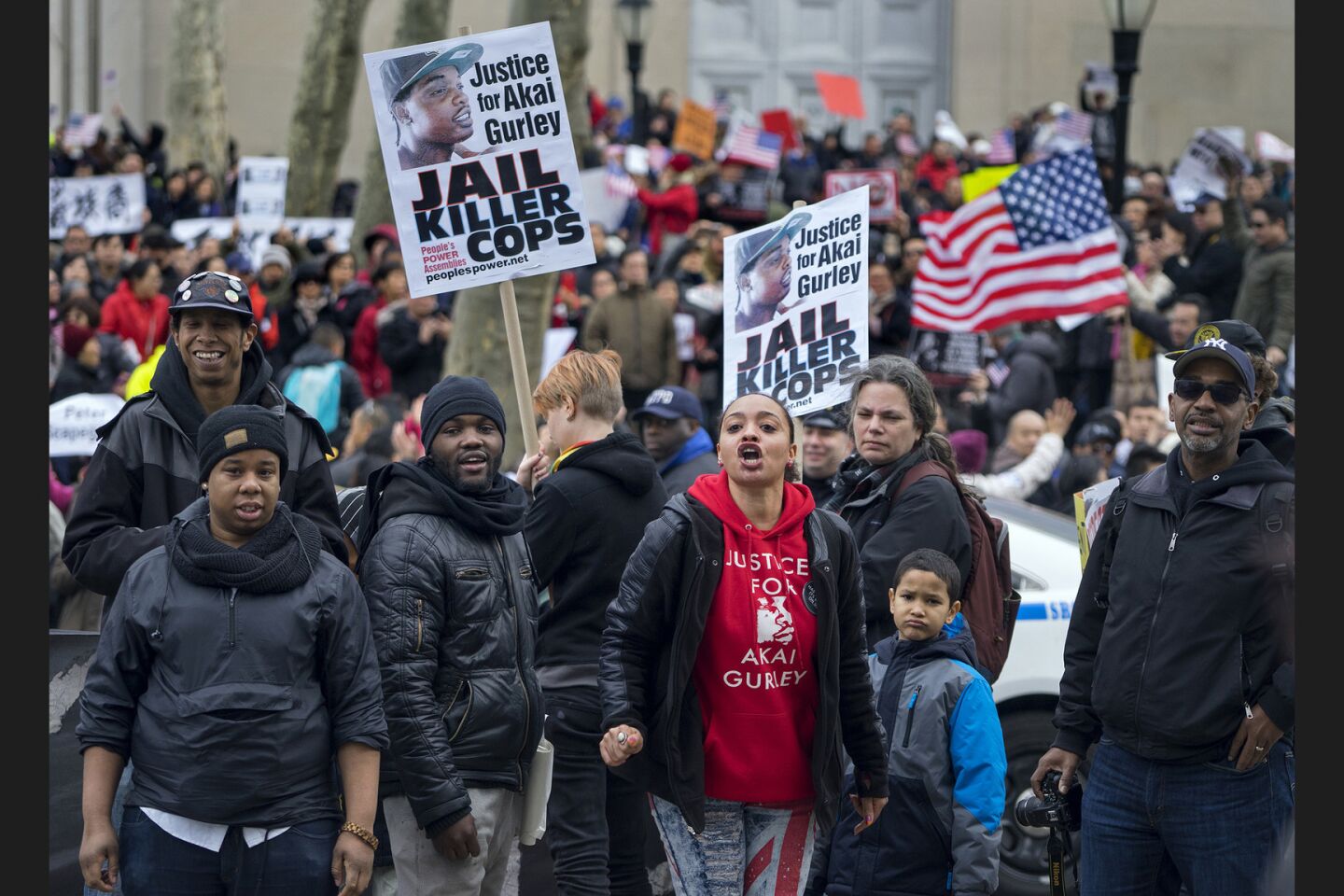 Counter-protesters exchange words with demonstratorsata Feb. 20 rally in support of Officer Peter Liang.
(Craig Ruttle / Associated Press)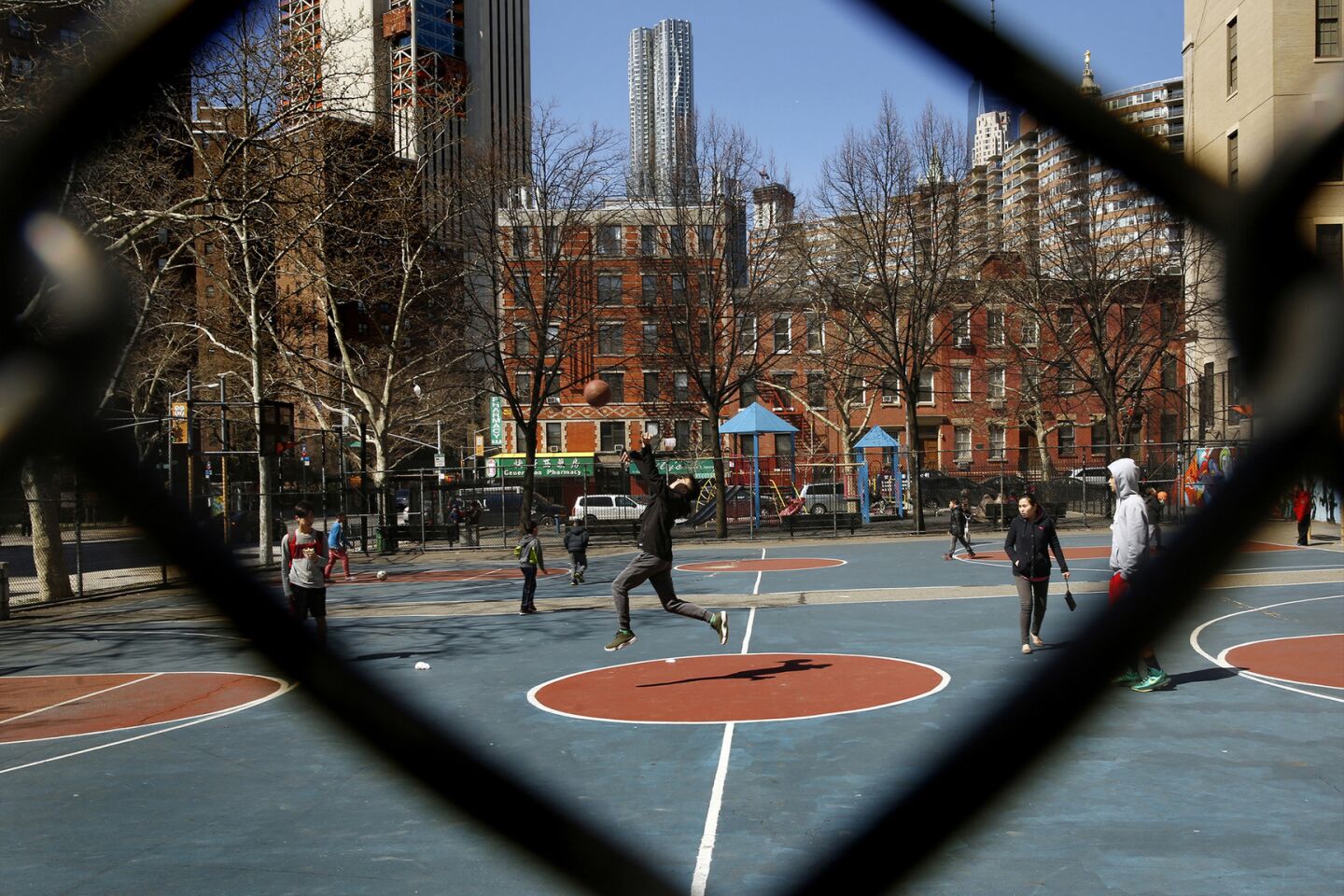 Children play basketball on the edge of New York's Chinatown, where there is a mix of cultures.
(Carolyn Cole / Los Angeles Times)
A cashier at China Doll Chinese Restaurant in Brooklyn, near the Pink Houses, gives change back to a customer.
(Carolyn Cole / Los Angeles Times)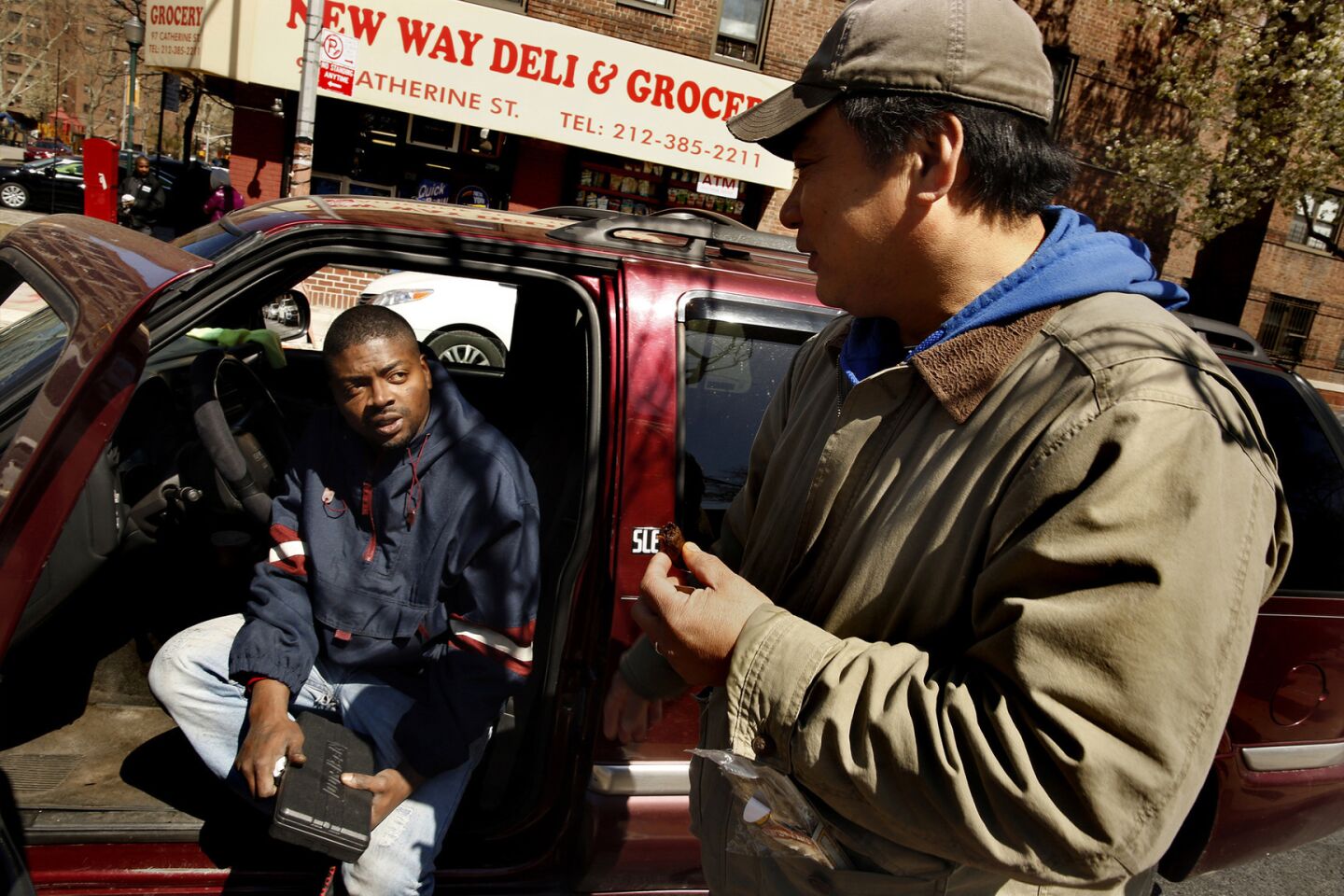 Kenneth Eng offers Joel Mangal, left, adviceabout his car's muffleron the edge of New York's Chinatown.
(Carolyn Cole / Los Angeles Times)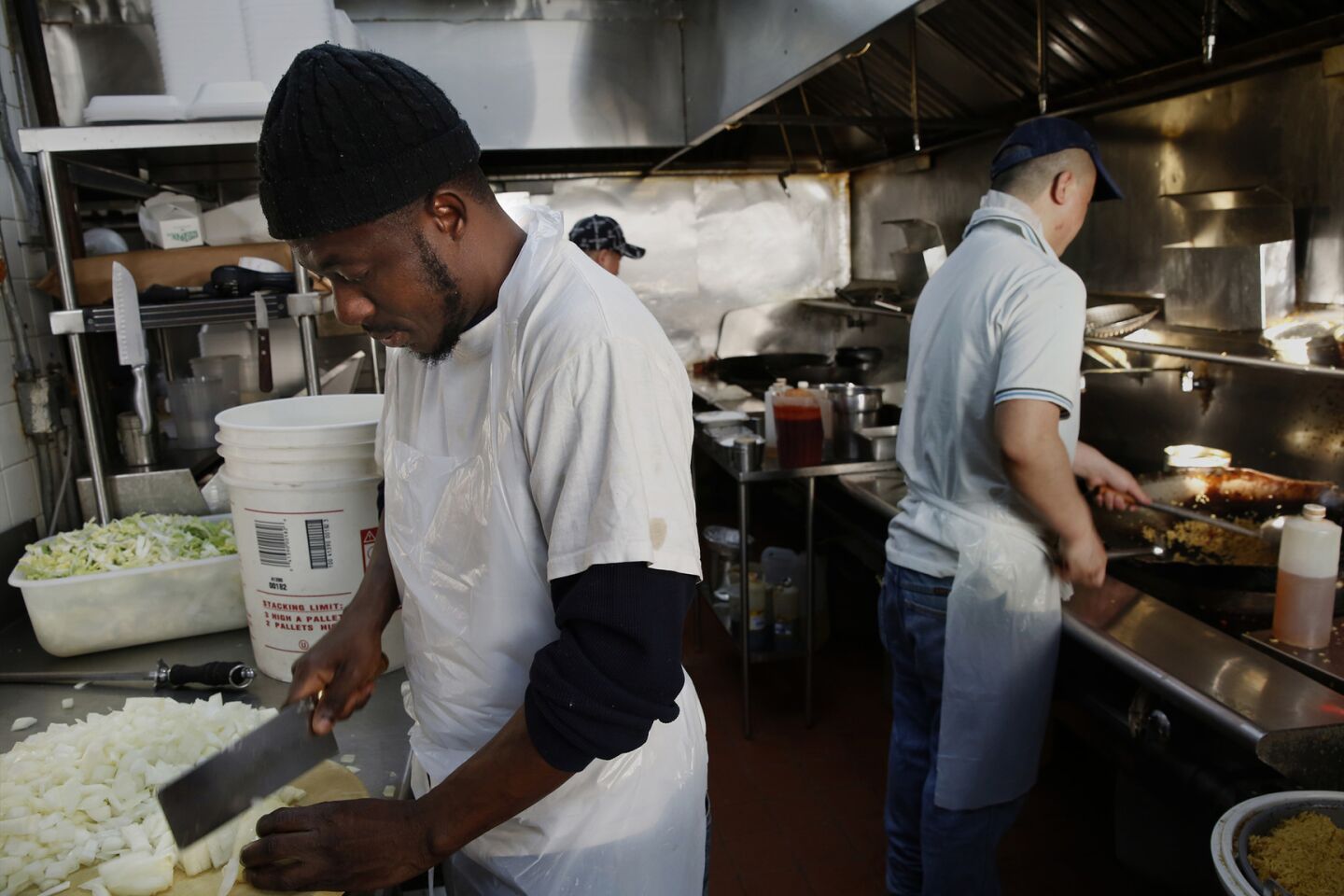 Two employees at work at China Doll Chinese Restaurant, near the Pink Houses.
(Carolyn Cole / Los Angeles Times)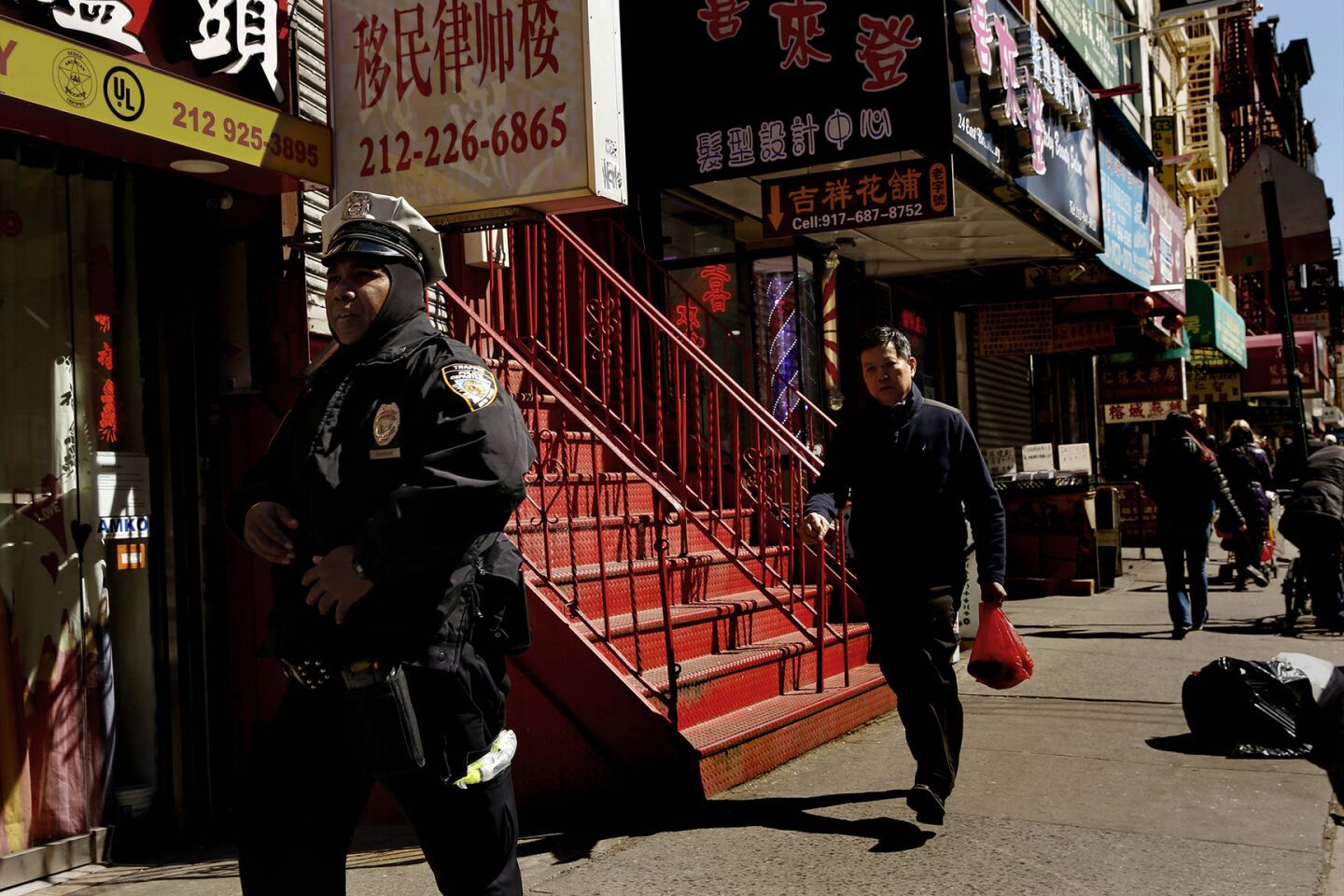 A police officer patrols on the edge of New York's Chinatown.
(Carolyn Cole / Los Angeles Times)
The Pink Houses in Brooklyn, where Akai Gurley was shot and killed by NYPD Officer Peter Liang in what Liang said was an accident.
(Carolyn Cole / Los Angeles Times)
A woman and her son enter their apartment inside the building where of Akai Gurley was shot and killed.
(Carolyn Cole / Los Angeles Times)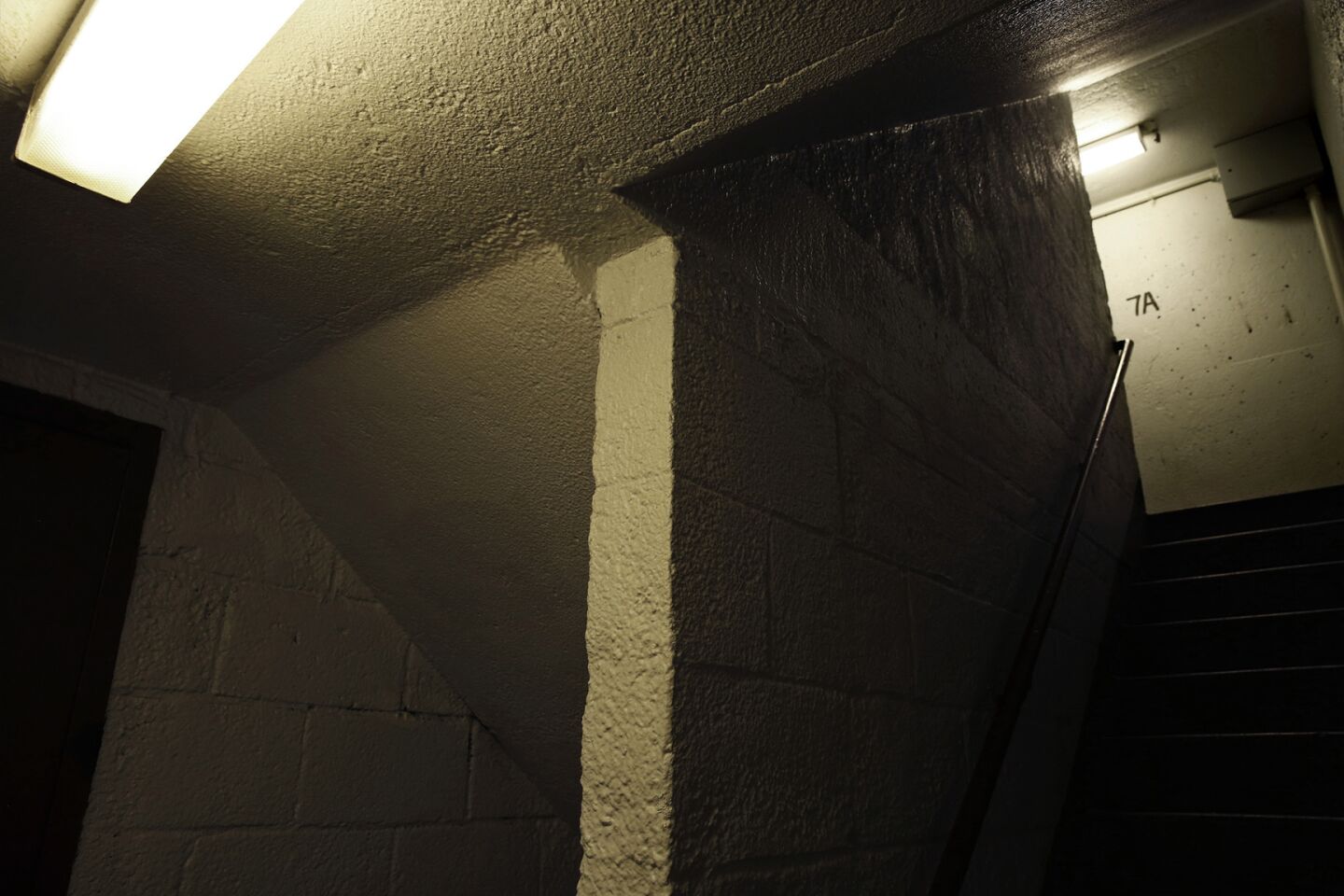 Akai Gurley was shot and killed in a stairwell in the Pink Houses.
(Carolyn Cole / Los Angeles Times)
Reporting from NEW YORK —
On a Saturday in February, Chivy Ngo, who owns Mister Bo Ky restaurant in Brooklyn, took a rare three-hour lunch break, closed his restaurant and taped a sign to the door.
"Will be at the rally for PETER LIANG reopen at 3 p.m."
Ngo, a Chinese immigrant from Vietnam, rarely participates in politics. But that was before New York Police Officer Peter Liang fired his gun into a dark stairwell, and the ricocheting bullet struck and killed an unarmed black man.
Liang, who grew up in New York's Chinatown as the son of Chinese immigrants, became the first New York City officer in more than a decade to be convicted in a shooting in the line of duty. For Ngo, the case stirred a sense of injustice he had never felt before. He and more than 10,000 other Asian Americans flooded the streets of Brooklyn for what would become the largest display of Chinese activism in recent history.
Nail salon workers stood with politicians. Chinatown cooks marched with uptown lawyers. They waved American flags and hoisted signs suggesting Liang's conviction was the product of discrimination: "Peter Scapegoat"; "One tragedy: two victims." The case sparked similar protests across the nation, but there were also counter-protests by African American groups demanding that Liang go to prison.
Here in Brooklyn, where the two communities have lived in close proximity for years, the case has opened an emotional conversation about whether Chinese Americans experience racism the same way other minorities do.
Liang's Chinese supporters say they are taking up the fight against long-unrecognized discrimination against Asian Americans.
"If we didn't come out, today it's Peter Liang. Tomorrow it's Peter Lee. After that it's Peter Chan. We've borne it long enough," said John Chan, a community leader who founded a Chinese civil rights organization after Liang's indictment last year.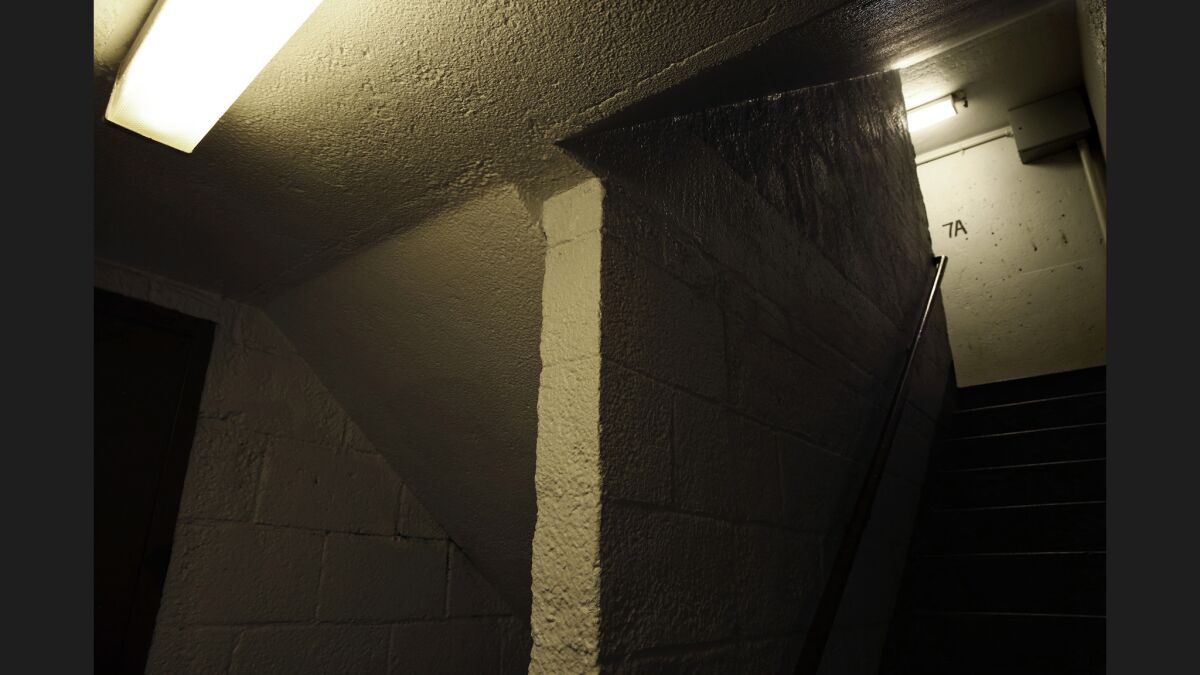 The case against Liang stemmed from an incident in November 2014 when he was patrolling the stairwell of the Louis H. Pink public housing project in east Brooklyn. The stairwell was dark, and in accordance with department practice, he had his gun drawn. It fired — how and why has always been in dispute, though Liang has said he was startled by a noise.
The bullet bounced off a wall and tore through the chest of 28-year-old Akai Gurley a floor below, piercing his heart. Liang didn't call for an ambulance and didn't perform CPR — factors that counted against him in court. A jury found him guilty of manslaughter and official misconduct, and he is scheduled to be sentenced Thursday.
Gurley's supporters say that whatever unfairness there may be in Liang's conviction, it can't compare with the injustice of Gurley's death.
"Akai had family that loved him just like Peter Liang, a mother just like Peter Liang," Gurley's aunt, Hertencia Peterson, said. "But Liang's mother can come visit him every day. Akai Gurley's mom ... has to visit his grave."
In New York's Chinese communities, Liang's case has become a proxy for years of perceived mistreatment of Chinese Americans, said Peter Kwong, a professor of Asian American studies at Hunter College.
"It's an atmosphere of persecution that forms after an accumulation of years of marginalization," Kwong said.
Karlin Chan, a community board member and organizer, remembers a time when police and city officials regularly cracked down on struggling Chinese businesses, and when black crimes against Chinese businesses would go unreported. It's a history of persecution, he said, that's rendered invisible by the belief that Asian Americans are uniformly high achieving and affluent — model minorities.
More than 22% of Chinese New Yorkers live in poverty. Rising rents in Manhattan's Chinatown, the nation's first, have pushed many to outlying Chinatowns in Brooklyn and Queens, as well as newer satellite communities in Harlem, Elmhurst and Bensonhurst, where Liang lives. The city now has nine Chinatowns and more than 570,000 Chinese people, according to the 2014 American Community Survey.
In the cramped streets and alleys of Manhattan's Chinatown, aging dim sum restaurants and grocery stores scrum with coffee shops and bars serving more affluent clientele. New hotels and luxury housing complexes tower over the cheap tenements where many longtime residents live.
"They thought that we weren't going to speak up," Chan said. "They thought that we were just going to be a model minority. But this one has touched everyone. It's 150 years of racism and mistreatment coming out."
Yet some of the loudest voices calling for holding Liang criminally liable are also Asian American. The Committee Against Anti-Asian Violence, based in Manhattan's Chinatown, held a vigil to show support for Gurley. For some, distrust of police trumps ethnic solidarity. Allen Pang, a 26-year-old Chinese immigrant, said that because Liang was a police officer, he didn't join the protest rally — but he believes that Liang was being singled out for prosecution.
"Police officers always cause trouble," he said in Chinese.
Liang, who declined to comment for this article, grew up on Manhattan's Lower East Side, dreaming of becoming a police officer. His mother was a garment factory worker and later became a travel agent. His father worked as a cook.
He attended elementary school and middle school in Chinatown, then went on to the Legacy School for Integrated Studies, where the student body was largely black. Liang was widely respected and liked, but he kept to a small circle of friends, said Timothy Wei, who also attended the school.
"We kind of stuck together since we were from the same background in Chinatown," Wei said.
Another classmate, Stanley Morrison, said he may have been Liang's closest black friend at the school. "He was seen as a good kid — people recognized that, so nobody messed with him," Morrison said.
After college, Liang applied to the New York Police Academy. On the day of the shooting, he had been a cop for almost 18 months.
Before Liang's bullet ended his life, Gurley was planning to move to Florida to be closer to his mother, said his aunt, Peterson.
Many Liang supporters have fixated on Gurley's record of drug-related arrests, in order to suggest he wasn't an innocent victim. But that history had nothing to do with his death, Peterson said. On the night he was shot, he was visiting a friend at her home.
Supporters on both sides can agree that Liang must be held accountable. Some black activists, when asked, will wonder why the first NYPD officer to face charges for a line-of-duty shooting in more than a decade was Chinese. Chinese supporters of Liang, if prompted, agree that police should face greater scrutiny, and acknowledge a shared struggle for equal treatment. But the question of whether Liang should serve jail time is a fundamental disagreement.
At a Chinese restaurant on the edge of the Pink Houses, where Gurley died, Diana Cheng handles a steady stream of phone orders in an accent that's equal parts Brooklyn and Chinese, shouting the names of dishes in Mandarin to the cook in the back. As she lowers six crab wontons into the fryer, three black children pool their money for cheese fries. On one wall is a Barack Obama poster; on another, a large Chinese landscape.
The restaurant, China Doll, has served up peach cobbler and Jamaican beef patties next to lo mein and egg drop soup for nearly 20 years, said owner Bernard Momestime, who runs it with his Chinese wife. "People say the Pink Houses are the worst place to live — a bad place. But not for us," he said. "They have respect for us here. We are like a big family here."
At a black church on the edge of Chinatown, Associate Minister Cara J. Martin said she began to preach regularly at a Chinese church to understand the community better. Her message at both pulpits is the same: "We need to love each other and talk about the burdens we face, not the politics."
Twitter: @frankshyong
Special correspondent Vera Haller in New York contributed to this report.
See more of our top stories on Facebook >>
ALSO
Gunman in Texas Air Force base killing had gone AWOL, then taken mental health exam
North Carolina governor backs down -- a bit -- on state's controversial LGBT law
Woman, 72, who was lost for nine days in Arizona wrote 'help' with sticks
Must-read stories from the L.A. Times
Get the day's top news with our Today's Headlines newsletter, sent every weekday morning.
You may occasionally receive promotional content from the Los Angeles Times.