U.S. attorney general defends lawsuit aimed at overturning North Carolina's bathroom law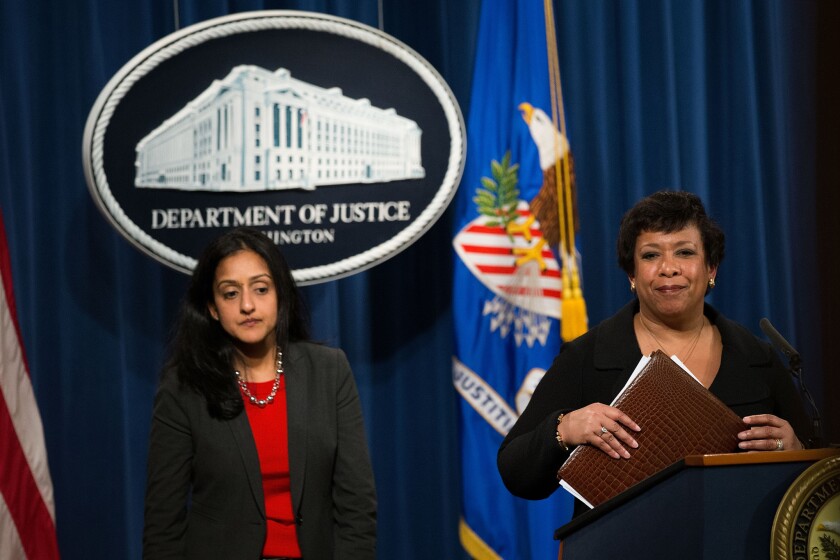 Reporting from Fayetteville, N.C. —
U.S. Atty. Gen. Loretta Lynch visited North Carolina on Tuesday and vigorously defended her decision to sue her home state over its so-called bathroom law, saying the statute amounted to state-sanctioned discrimination against a vulnerable group of citizens.
In a news conference and interview, Lynch refused to yield to complaints cast hours earlier by about three dozen black pastors who sharply criticized her for linking the fight over transgender rights to past civil rights struggles.
"While the civil rights movement, certainly in this state, focused on racial discrimination, civil rights and human rights are not limited to any one particular issue or any one group of people," Lynch told reporters.
"Where there are people who feel victimized and are in fact victimized and made vulnerable simply because of a physical characteristic over which they have no control, that is exactly what the civil rights laws are meant to cover," she said.
North Carolina in March became the first state to pass a law that said multiple-occupancy public bathrooms or changing facilities must "be designated for and only used by individuals based on their biological sex."
More than half a dozen states are weighing similar restrictions.
The law also blocks local governments from allowing transgender people to use bathrooms that correspond to their sexual identity.
The statute applies to bathrooms in state government offices and facilities, including libraries, airports, universities and schools, and highway rest stops. It does not apply to bathrooms in private businesses.
The Justice Department filed a federal suit on May 9 to overturn the law, saying it violated federal civil rights and education equality laws.
The law and federal lawsuit have ignited intense controversy and exposed a cultural rift over the rights of gays, lesbians and transgender individuals.
In announcing the lawsuit two weeks ago, Lynch highlighted its significance to the Obama administration by linking the legal action to the civil rights movement.
Lynch's position irked some civil rights activists, and about 40 black pastors held a rally Tuesday in Raleigh, the state capital, calling the attorney general's comparison offensive and disrespectful, according to local media reports.
The rally occurred as Lynch was in Fayetteville, about 60 miles south of Raleigh, to assess progress made by local police in response to a Justice Department report encouraging it to improve use-of-force policies, community relations and record keeping.
During the daylong series of meetings, she spoke with high school students, toured the police department's headquarters building and was briefed on crime-tracking databases and body cameras.
She also held an hourlong forum with local police officials, law enforcement experts and community leaders at Fayetteville State University.
The meeting was in a building where state law barred transgender men and women from using bathrooms consistent with their gender identity.
"It's important we are in a school," she said in an interview. "As we all know, schools are a time of transition. It's hard enough to go through the transition from childhood to adolescence to adulthood dealing with all of the issues that kids face. Overlay that with being transgender and trying to find your way in this world and society when all you want to do is figure out who you are and be the best person you can be."
Twitter: @delwilber
---
Must-read stories from the L.A. Times
Get all the day's most vital news with our Today's Headlines newsletter, sent every weekday morning.
You may occasionally receive promotional content from the Los Angeles Times.