Former Massey Energy CEO faces trial in coal mine disaster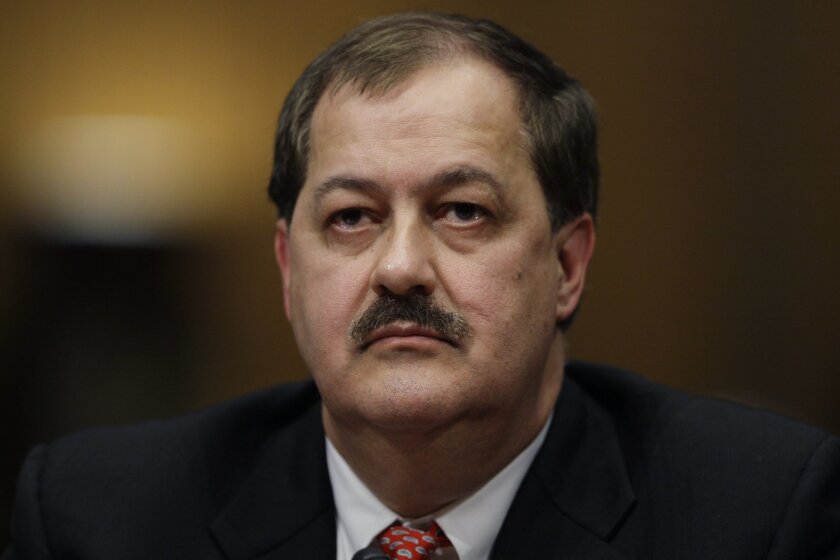 On April 5, 2010, an explosion ripped through the Upper Big Branch mine in the heart of West Virginia coal country, killing 29 people.
The explosion in the town of Montcoal was the worst mine disaster since 1970. The federal Mine Safety and Health Administration and other regulators found numerous flagrant safety violations by the mine's owner, Massey Energy Co., and concluded that they had contributed to the explosion.
On Thursday, Don Blankenship, Massey's former chief executive officer, walked into a courtroom in Charleston, W.Va., to face federal charges that could bring up to 30 years in prison.
The case against the 65-year-old former executive comes as U.S. prosecutors increasingly are focusing not just on corporations that engage in wrongdoing, but also on the executives responsible for making decisions at those companies.
The mine's former supervisor has already pleaded guilty to conspiring to impede enforcement of safety regulations.
The new owner of the mine, Alpha Natural Resources, which bought Massey Energy in 2011, settled its corporate criminal liabilities with the federal government for $209 million.
The 2010 explosion occurred when high methane levels led to a coal dust explosion about 1,000 feet underground. Faulty ventilation systems were found to have led to the gas build-up.
There were also allegations that company officials threatened to fire workers who refused to work in areas that lacked adequate oxygen levels. Investigators uncovered numerous other violations of state and federal safety standards, many of which are outlined in the criminal indictment.
Blankenship has insisted the case against him is "selective and vindictive," and fueled by Democratic political opponents because of his conservative beliefs and Republican activism.
The former CEO faces four counts, including conspiracy to violate safety laws, defrauding the federal government, securities fraud and making false statements to the Securities and Exchange Commission.
Last month, the U.S. Justice Department issued new, tougher policies to increase the prosecution of white-collar crime, a campaign that follows criticism from consumer groups and others that the government has moved too slowly on holding professional managers accountable, particularly in cases involving violations of federal regulations.
"The Blankenship indictment predates the policy, but it certainly underscores the department's long-standing commitment to holding individuals accountable," said a Justice Department official who was not authorized to discuss the case publicly.
The new priority to go after corporate leaders "was intended to maximize our ability to continue doing that in a broad array of cases," the official said.
Prison sentences were also handed down this week for two former managers of a Georgia peanut plant linked to a deadly salmonella outbreak that killed nine people and sickened more than 700.
Both were jailed after they testified against their former boss, Peanut Corp. owner Stewart Parnell, who was sentenced last week to 28 years in prison — the stiffest punishment ever handed down for a U.S. producer in a food-borne illness case.
In many ways, the case against Blankenship is more complicated and goes deeper into the soul of a region that coal mining has helped define.
Coal executives such as Blankenship have long held sway over entire local economies, and challenges to their decision making have been rare.
Blankenship walked past reporters on Thursday, but when asked if he was innocent of the charges, he smiled and said, "Yes," according to reports. The trial, which could take a month, a representative for the local federal prosecutor said, began with motions and jury selection.
In a March 2014 interview with MSNBC, Blankenship denounced the federal investigation and specifically the federal mine safety agency, saying overregulation had taken safety decisions out of the hands of mining executives.
"What I'm trying to do is prevent other families from suffering," Blankenship said. "And that is what is going to happen if the government doesn't quit running roughshod over the coal mines and give people with expertise the opportunity to run their mines."
Blankenship has argued that the explosion at Upper Big Branch was caused by a freak inundation of natural gas. He and experts make that argument in a documentary, titled "Upper Big Branch — Never Again," that he commissioned and posted on YouTube.
Follow @latimesmuskal for national news.
ALSO:
Why the founder of #ShoutYourAbortion had to go into hiding
At least 13 killed and 20 injured in Oregon community college shooting. Gunman dead.
Two convicted of killing Border Patrol agent; incident exposed Fast and Furious operation
---
Must-read stories from the L.A. Times
Get all the day's most vital news with our Today's Headlines newsletter, sent every weekday morning.
You may occasionally receive promotional content from the Los Angeles Times.