In the Midwest, floodwaters rise, residents flee, last-ditch emergency steps considered
The High Ridge Fire Department rescues stranded residents and pets along the Meremac River in Eureka, Mo.
(Michael B. Thomas / Getty Images)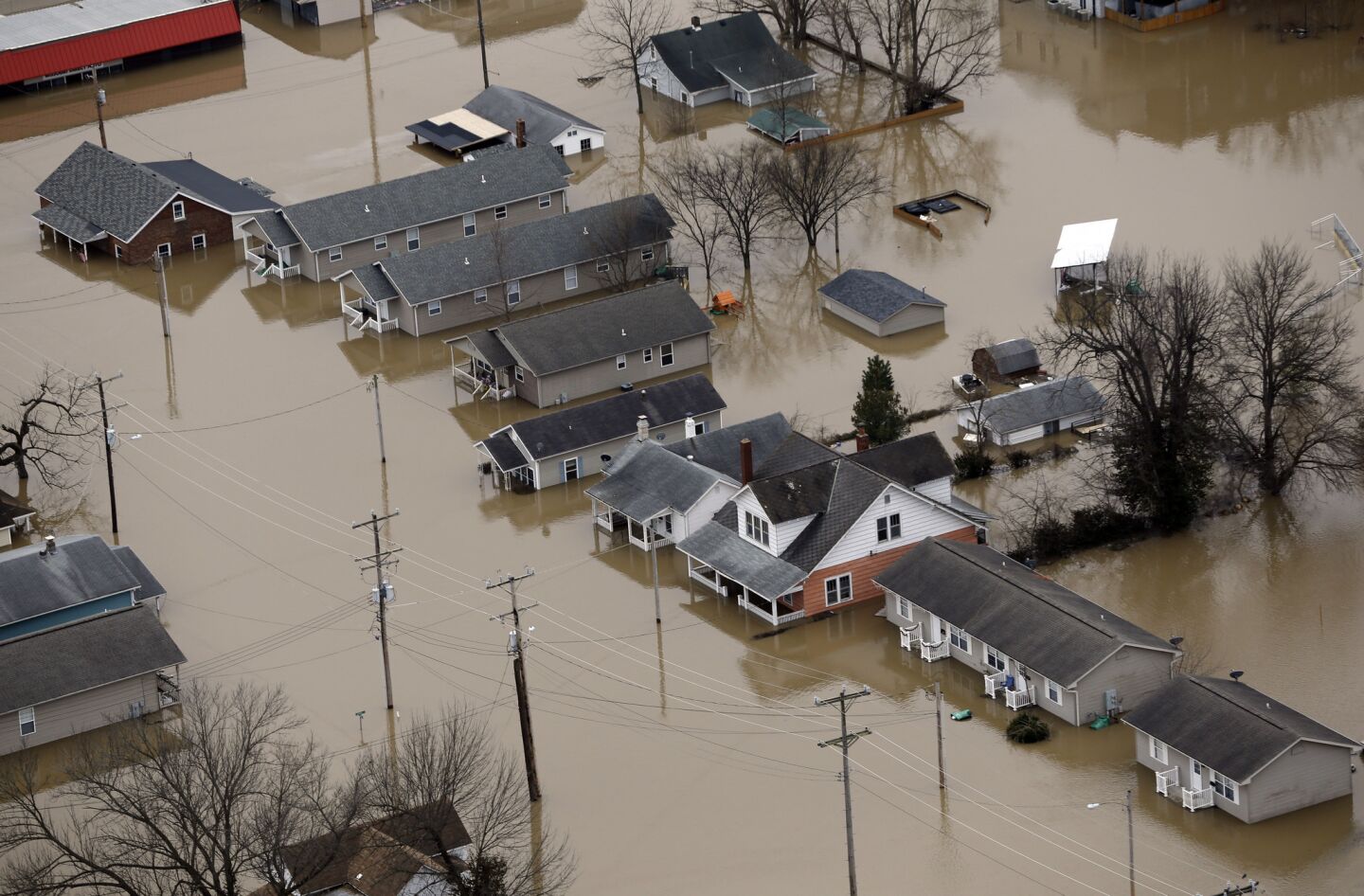 Homes are surrounded by floodwater in Pacific, Mo.
(Jeff Roberson / Associated Press)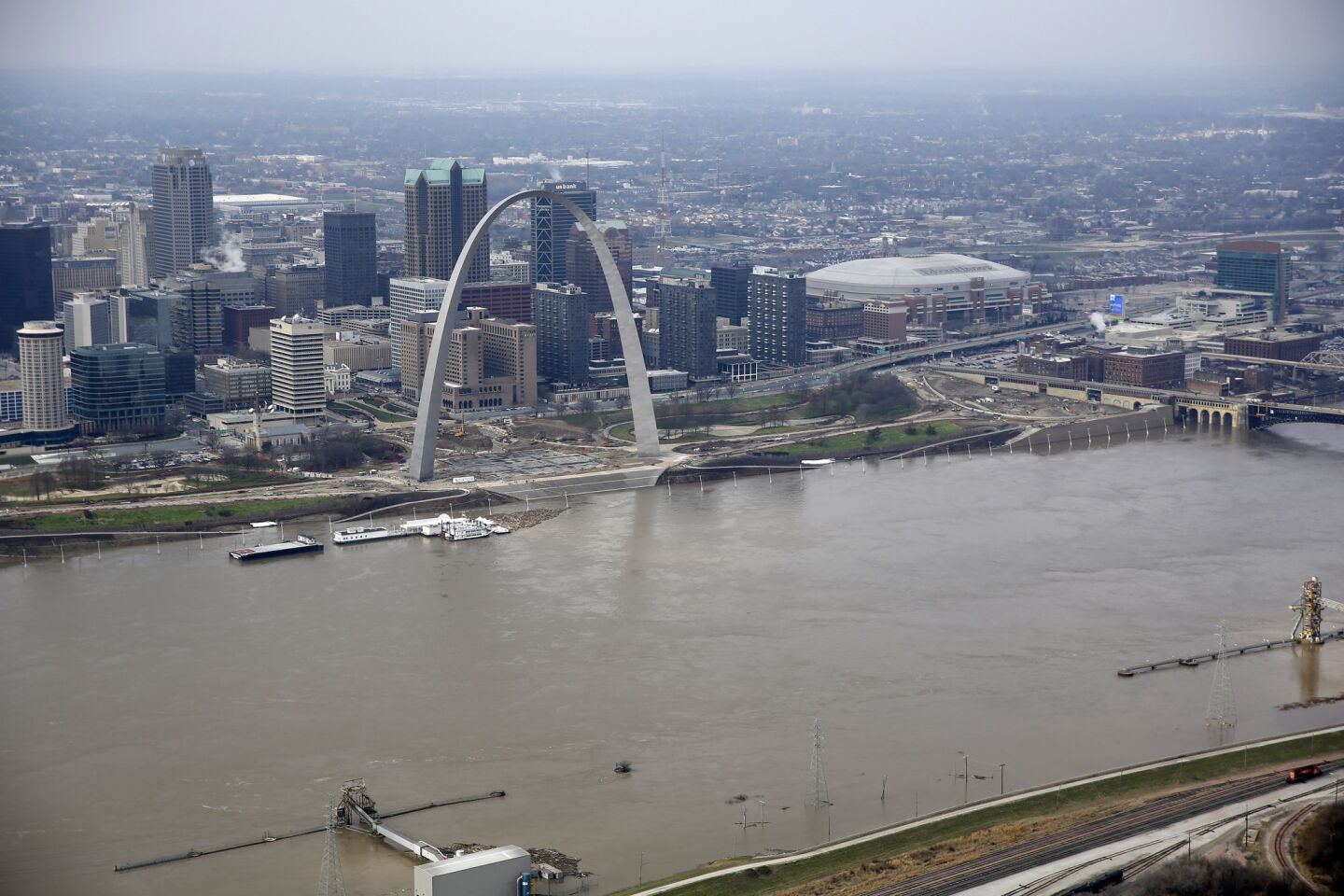 The swollen Mississippi River flows past the Gateway Arch in St. Louis.
(Jeff Roberson / Associated Press)
Rescue personnel stage operations on a flooded road in West Alton, Mo.
(Jeff Roberson / Associated Press)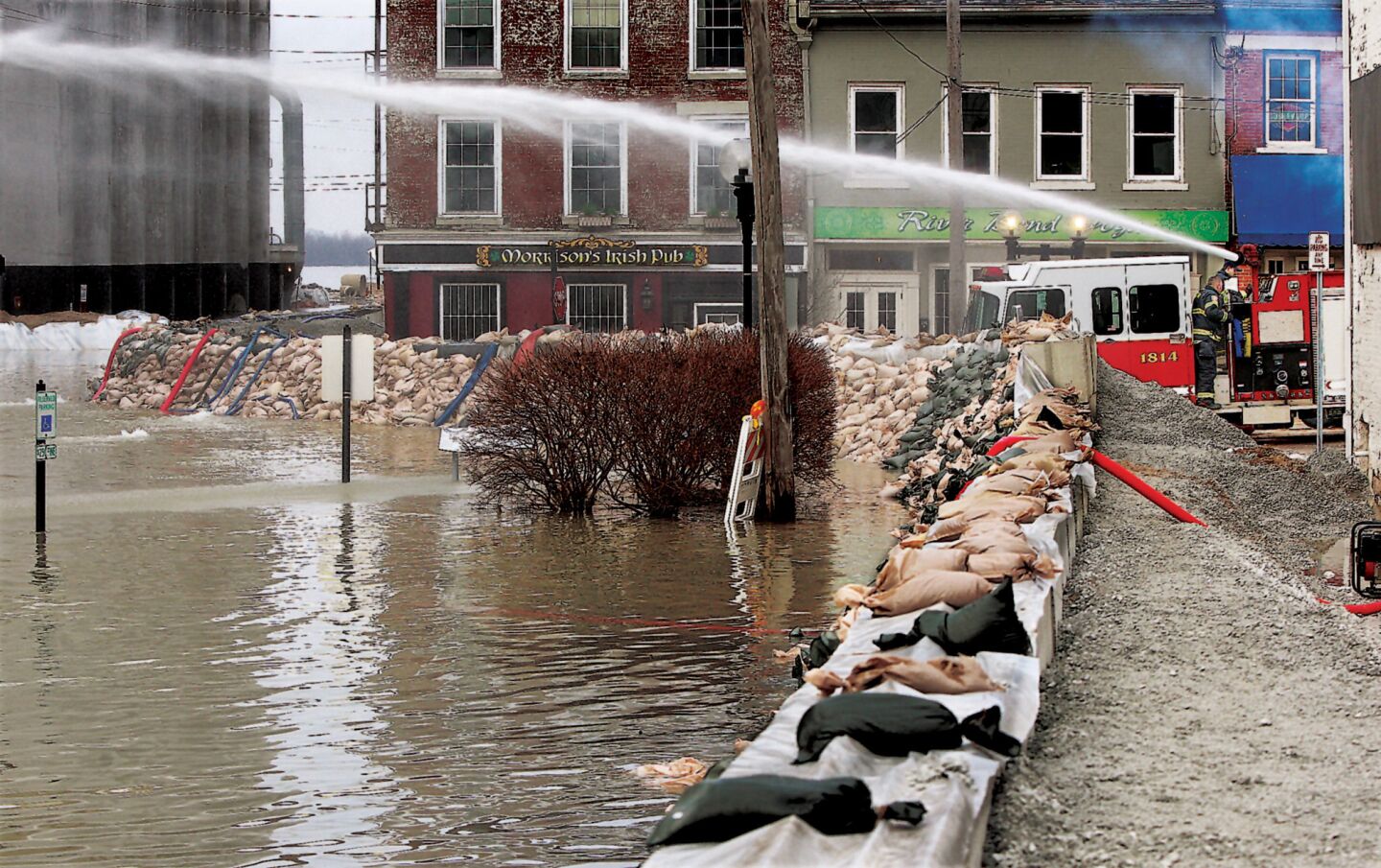 Firefighters spray water across a makeshift levee in downtown Alton, Ill.
(John Badman / The (Alton, Ill.) Telegraph)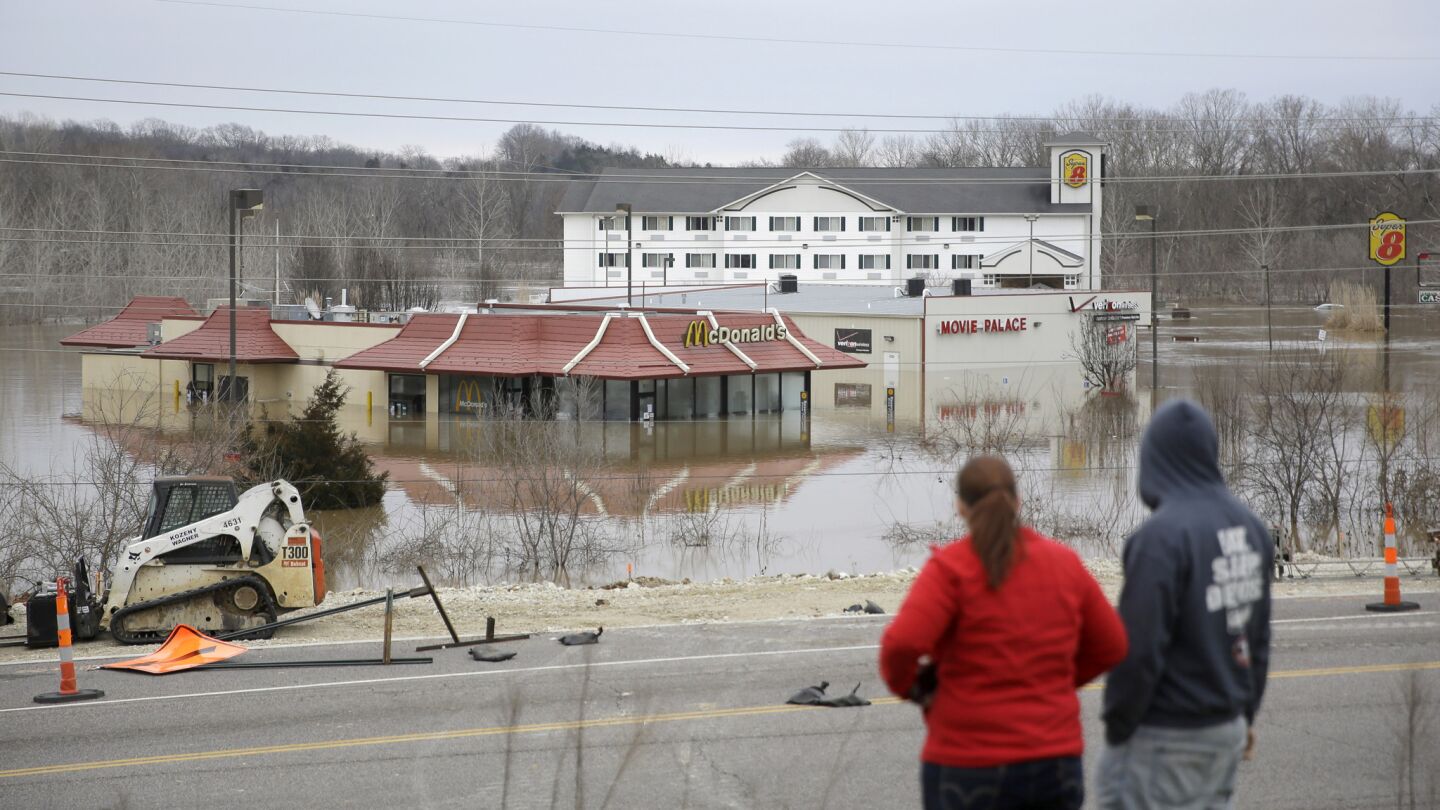 People stand on a hill to get a better look at floodwater from the Bourbeuse River Tuesday, Dec. 29, 2015, in Union, Mo. Flooding across Missouri has forced the closure of hundreds of roads and threatened homes.
(Jeff Roberson / Associated Press)
Volunteers form a human chain as they help load sandbags Tuesday in St. Louis.
(Jeff Roberson / Associated Press)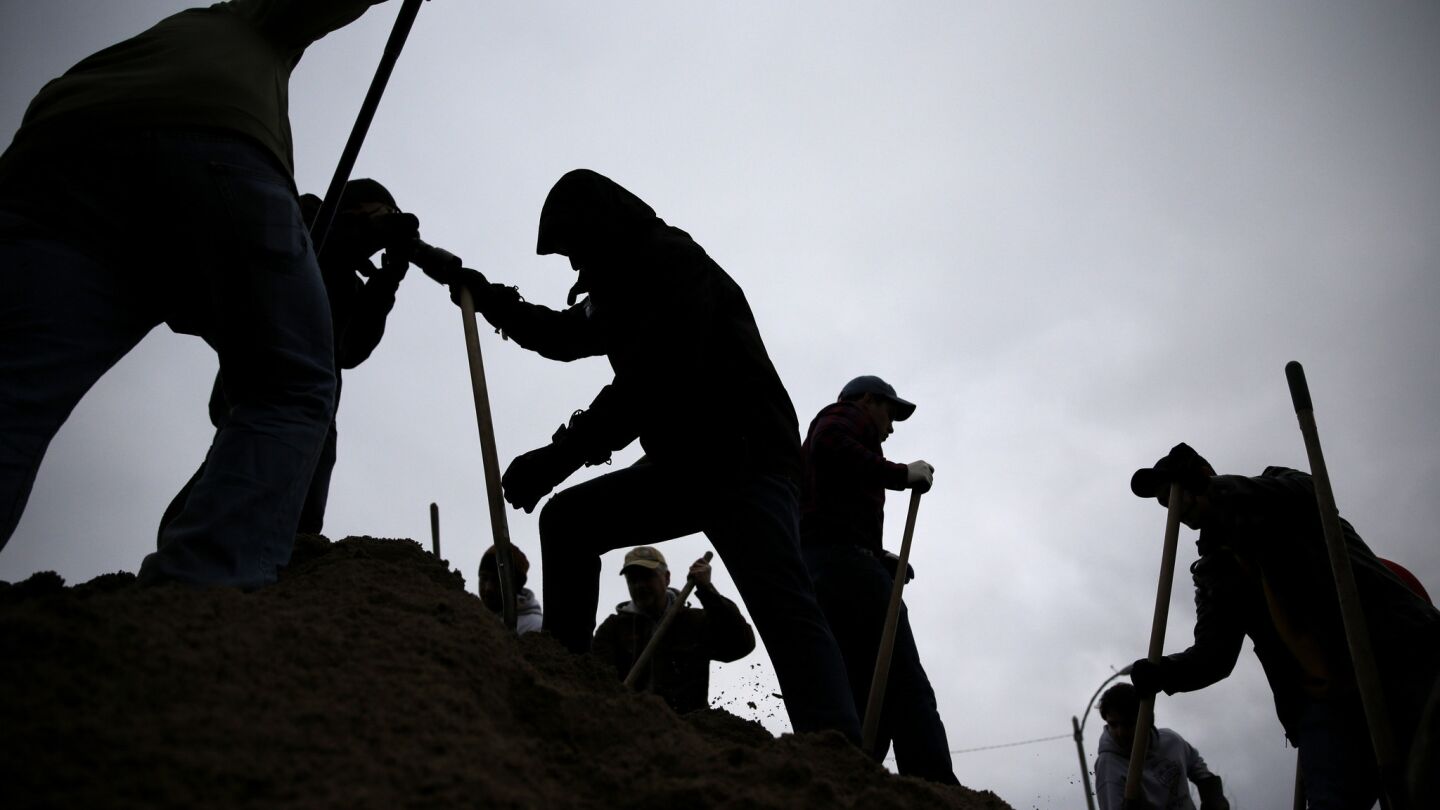 Against a gray winter sky, volunteers use shovels atop a pile of sand as they help fill sandbags in St. Louis.
(Jeff Roberson / Associated Press)
Reporting from PACIFIC, MO. —
A historic December flood continued to send rivers sweeping out of their banks and into hundreds of homes and businesses across Oklahoma, Illinois and Missouri on Wednesday as some residents braced for the waters to get higher and the risk even greater.
"Unusual doesn't begin to describe it – it's huge," said Mark Fuchs, a hydrologist at the National Weather Service's St. Louis-area office, whose own backyard gauge collected 11 inches of rain from the warm-weather storms that drenched the region between Saturday and Monday. "This is a big, big, big flood for a lot of people."
That rain has since drained into lakes, rivers and reservoirs and brought a belt of flooding stretching from eastern Oklahoma, through Missouri and into downstate Illinois. So far, the storms and floods have killed at least 13 people in Missouri and five in Oklahoma.
It's only the start of a winter flood-fighting effort that is likely to eventually stretch all the way down to Louisiana as the U.S. Army Corps forecasts major flood levels on the Mississippi River to eventually reach Memphis, Tenn.; Vicksburg, Miss.; and New Orleans.
For now, the worst of the struggle seems to be in Missouri, where Gov. Jay Nixon activated the National Guard on Tuesday as residents fled their homes in eastern Missouri and reports came in of drivers who died when their vehicles got swept off the roadways. Missouri and Oklahoma are now under a state of emergency, as are many counties in Illinois.
Hundreds of roads have been closed across the state, and temperatures hovered in the 30s as volunteers sandbagged in the cold. In Pacific, a community of 7,077 about 40 minutes west of St. Louis, the bulging Meramec River was nearing a record high and had completely submerged parts of the city's downtown.
Some businesses near the waters are closed and circled by sandbags, and on Wednesday morning police hollered at onlookers who attempted to sneak past yellow police tape with cameras.
Pacific resident Cynthia Hurst, 45, fell asleep Sunday night after helping sandbag a neighbor's house only to wake up Monday morning and discover that floodwaters had reached her own home. The waters had reached the floorboard of their family's 2003 tan Ford Taurus parked in the street.
"Mom, the car's underwater!" called out her 12-year-old son, Leviticus. The Hurst family quickly stacked their couches on crates, grabbed some clothes, packed a basket and evacuated.
Since Sunday, Hurst and her son were staying with a friend in Pacific in a one-bedroom, one-bathroom house now housing four adults, two children and two dogs.
Hurst's daughter, Danielle, 20, is also sleeping in the house along with her fiance. She evacuated her home Monday afternoon when floodwaters approached the nearby town of Union. Neither family knows whether their homes are underwater.
On Wednesday, the family grabbed meals and showers at a Red Cross shelter set up at a community senior center a few blocks from the floodwaters. A TV was tuned to live coverage of flood rescues while a few dozen people sat around and talked quietly.
Cynthia Hurst, an optician at Walmart, was concerned about some of things she left behind, including pictures of her kids growing up.
"I don't know what I'm going to do, or what anyone's going to do," Cynthia Hurst said.
In downtown Pacific, with floodwaters visible several blocks away, city Alderman Mike Pigg, 47, and volunteer Rita Duncan, 37, fielded questions and directed sandbagging efforts as pickup trucks moved in and out, hauling sand to where it was needed around town.
Volunteers took Domino's pizza, cookies and hot chocolate to a table near a cardboard sign that read "SAND LINE."
"How much sleep have I had?" asked Pigg, whose voice has grown hoarse between taking power naps and organizing the town's defense effort with Duncan since Sunday. "What day is it? Wednesday?"
Pigg's home in Pacific is fine, but floodwaters claimed a clubhouse he owns along the river in the town of St. Clair, southwest of Pacific.
On Tuesday, Pigg said volunteers moved 50 tons of sand under an hour and a half, and he estimates the sandbagging station has moved about 2,000 tons of sand per day since Sunday.
Sandbagging efforts have been hampered because some of the quarries are now underwater. Duncan said sandbagging efforts were halted as the Meramec River was expected to crest in Pacific on Wednesday.
The waters gushing down the Meramec, however, will then head downstream to Valley Park, Mo.
There, the Meramec is forecast to swell higher than 44 feet early Thursday morning -- about four and a half feet higher than the previous record. Hundreds have been ordered to evacuate.
In one part of Valley Park, aerial news photos showed an Interstate 44 overpass and buildings protruding from floodwaters that covered the landscape, as if they were bones sticking out of the mud.
The Meramec joins the Mississippi River south of St. Louis, which has already gained monstrous strength.
Historically, the median flow of water rushing through the Mississippi River in St. Louis is 107,000 cubic feet per second for Dec. 30, according to Fuchs, the weather service hydrologist.
But on Wednesday, 780,000 cubic feet of water gushed through St. Louis every second -- about 67 billion gallons of water a day -- and is only expected to grow stronger, Fuchs said. In St. Louis, officials are expected to see the river reach its third-highest level ever.
The U.S. Army Corps of Engineers has already activated emergency flood-fighting operations with the possibility of activating some of the Mississippi River's last ditch flood-prevention infrastructure: The Birds Point-New Madrid floodway that would release waters into rural southeastern Missouri, the Bonnet Carre' spillway that protects New Orleans, and the Morganza floodway that helps keep the Mississippi River from changing course.
The Birds Point-New Madrid floodway was last activated during the flood of 2011, when the levee was dynamited to flood some Missouri farmland in order to protect Cairo, Ill., from becoming submerged.
In a Tuesday statement, the U.S. Army Corps of Engineers said it "began mobilizing people, barges and operational equipment from various locations" to prepare for the possibility of activating the Birds Point-New Madrid floodway once again.
"Although we do not anticipate operating the floodway, we are preparing for any contingency that will protect the integrity of the Mississippi River and Tributaries Project," the Corps said in a statement, referring to the flood-control infrastructure that it says prevented more than $230 billion in flood damage in 2011.
In Oklahoma -- where Army Corps of Engineers officials are trying to strategically release water from the state's reservoir system to control the amount of flooding -- 29-year-old country musician Craig Strickland was still missing after disappearing on a hunting trip during the floods.
His friend Chase Morland, 22, was found dead not long after sending a now-ominous tweet: "In case we don't come back, @BackroadCRAIG and I are going right through Winter Storm Goliath to kill ducks in Oklahoma. #IntoTheStorm."
Near Langley, Okla., on Wednesday morning, Elisa Bridgeman walked toward a flooded section of Oklahoma 82, one of many flooded highways across the lower Great Plains, to see if she could spot her relatives' evacuated home, according to an account from the Tulsa World.
"There's my brother's house," Bridgeman told the newspaper as the houses came into view. "It's up to the windows. There's Momma's roof. It looks like it's underwater. … Everything's probably ruined."
Then she began to cry.
Special correspondent Witthaus reported from Pacific, Mo., and staff writer Pearce from Los Angeles.
ALSO
Did hard-nosed ex-city attorney help or hurt San Bernardino?
A rare peek at San Quentin's death row, as political battles swirl over inmates' fates
Texas 'affluenza' teen and mom caught in Mexico; 120 days in jail is most he may do, experts say
---
Must-read stories from the L.A. Times
Get the day's top news with our Today's Headlines newsletter, sent every weekday morning.
You may occasionally receive promotional content from the Los Angeles Times.