12 Russians indicted in hacking of Clinton's campaign and computers handling voter registration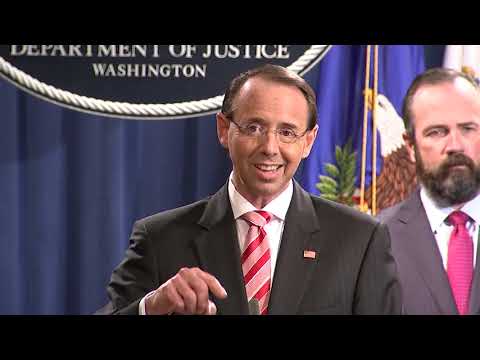 The Justice Department has announced charges against 12 Russian intelligence officers for hacking offenses during the 2016 presidential election.
Reporting from Washington —
Twelve Russian intelligence officers have been charged in the hacking of Hillary Clinton's presidential campaign and Democratic Party computers, the Justice Department revealed Friday in an indictment that undermined President Trump's multiple attempts to downplay Moscow's election meddling.
The indictment obtained by special counsel Robert S. Mueller III marked the first time that he has charged Russian government officials. It portrays a complex operation, run from an office two miles from the Kremlin, involving fake identities, specially developed malware and determined efforts to penetrate Democratic campaign networks and steal sensitive documents.
Friday's announcement is also the first time anyone has been charged with the theft and public release of private emails that dominated news coverage during key moments of the presidential race, embarrassing Democratic officials and Clinton's campaign.
The Russians also attacked the U.S. election infrastructure, prosecutors said, hacking websites and computers that handle voter registration. Several counties in Florida, a key swing state, were allegedly targeted as well.
The indictment does not suggest that Russian efforts affected any vote totals.
"When we confront foreign interference in American elections, it's important for us to avoid thinking politically, as Republicans or Democrats, and instead to think patriotically as Americans," Deputy Atty. Gen. Rod Rosenstein said when revealing the new charges. "Our response must not depend on which side is victimized."
The indictment could hardly have come at a less opportune time for Trump, three days before he's scheduled to meet Russian President Vladimir Putin in Helsinki, Finland.
Trump repeatedly has denounced the Mueller investigation as a "rigged witch hunt," using that term as recently as Friday morning even though Rosenstein briefed him this week about the latest charges. Before the indictment was released, Trump said at a news conference in Britain that he would bring up the subject of election interference with Putin, but warned people not to expect "a Perry Mason here."
"I don't think you'll have any 'Gee, I did it, I did it, you got me,'" Trump said.
Putin has denied that Russia interfered in the election, an operation that U.S. intelligence agencies have said he personally ordered to help Trump win. The Russian Foreign Ministry said Friday that the allegations were an attempt to "spoil the atmosphere" before the summit on Monday.
Rosenstein said the timing of the indictment had nothing to do with the Helsinki meeting. "Our analysis is based solely on the facts, the law and Department of Justice policies," he said.
Democrats urged Trump to cancel his trip to Helsinki or confront Putin once he arrives.
"President Trump must demand and secure a real, concrete and comprehensive agreement that the Russians will cease their ongoing attacks on our democracy," said a statement from House Minority Leader Nancy Pelosi (D-San Francisco).
The White House said the meeting would not be canceled. It responded to the indictment with a statement that did not condemn Moscow's actions during the campaign. Instead, Deputy Press Secretary Lindsay Walters highlighted that no U.S. citizens were charged.
Indeed, the indictment did not accuse anyone from Trump's campaign of conspiring with Russians, a key issue that Mueller has been examining. The president's lawyer, former New York Mayor Rudolph W. Giuliani, described Friday's announcement as "good news."
"The Russians are nailed. No Americans are involved," he said. "Time for Mueller to end this pursuit of the president and say President Trump is completely innocent."
One of the accusations in the indictment does overlap with a controversial statement that Trump made during the campaign. On July 27, 2016, at a news conference in Florida, Trump said: "Russia, if you're listening, I hope you're able to find the 30,000 emails that are missing."
According to the indictment, "on or about July 27, 2016," the Russians attempted "for the first time" to hack emails located on Clinton's private email server.
Sean Spicer, when he was White House press secretary, later described Trump's statement as a joke. However, Trump repeatedly capitalized on hacked documents during the campaign despite public reports that they were the result of a Russian intelligence operation.
During the first presidential debate, he suggested the hacker could be "somebody sitting on their bed that weighs 400 pounds," then cited internal Democratic Party emails to suggest Clinton's allies had been unfair to Sen. Bernie Sanders, her primary opponent.
In addition, the indictment said someone "in regular contact with senior members" of Trump's campaign communicated with "Guccifer 2.0," an online identity that claimed to be a lone Romanian hacker but prosecutors said was the creation of Russian intelligence.
The person is not identified, but details included in the indictment indicate it was Roger Stone, a longtime political consultant to Trump. Stone, who has not been charged with any wrongdoing, has previously admitted to exchanging "innocent" messages with Guccifer 2.0.
In an email to The Times on Friday, Stone defended what he described as a brief, benign exchange "with someone on Twitter claiming to be Guccifer 2.0." He added, "The indictments today show I did not conspire with any of the defendants to do the hacking, distribute the stolen emails or aid them in any way."
Prosecutors said the Guccifer 2.0 identity was created around June 15, 2016, shortly after the Democratic National Committee publicly accused Russian government hackers of accessing its computers. After that, the indictment said, Russians used the Guccifer 2.0 identity to communicate with a variety of people. None are accused of knowing they were communicating with Russian intelligence officers.
A candidate for U.S. Congress, who is not identified, asked Guccifer 2.0 for stolen documents and received them afterward. A trove of data from Democratic congressional campaigns was made available to a state lobbyist who ran a political news website. A Republican in Florida who fits that description has previously said he received such data from Guccifer 2.0.
The most significant collaborator with Guccifer 2.0 was WikiLeaks, which was not identified by name in the indictment. Shortly before the Democratic National Convention in Philadelphia, prosecutors said, WikiLeaks requested documents from Guccifer 2.0.
"If you have anything hillary related we want it in the next tweo [sic] days prefable [sic] because DNC is approaching and she will solidify bernie supporters behind her after," WikiLeaks wrote on July 6, 2016, according to the indictment.
A batch of hacked Democratic emails was released later that month, exacerbating tensions between Clinton's team and Sanders supporters.
Tens of thousands more emails, which were hacked from the email account of Clinton campaign chairman John Podesta, were released in October, weeks before election day.
The Russians used a variety of tactics, such as "spoofing" and "spearfishing," to trick Democratic officials into revealing their email passwords and install malware on their computers, according to the indictment. Once the systems were breached, intelligence officers could secretly track keystrokes, take screenshots and extract documents. Some of this activity was routed through servers leased in Arizona and Illinois and funded with cryptocurrency known as bitcoin to cover the conspirators' tracks, the indictment said.
Friday's announcement means Mueller's investigation has now produced criminal charges against 32 people. The total includes 13 other Russians who allegedly spread false information on social media to disrupt the U.S. presidential race. Those Russians were not identified as government employees, but many worked for an organization with Kremlin ties.
The latest indictment includes 11 criminal charges, including conspiracy, identity theft and money laundering to fund the Russian scheme. It also provides granular detail on the Russian intelligence officers involved — Viktor Borisovich Netyksho, Boris Alekseyevich Antonov, Dmitriy Sergeyevich Badin, Ivan Sergeyevich Yermakov, Aleksey Viktorovich Lukashev, Sergey Aleksandrovich Morgachev, Nikolay Yuryevich Kozachek, Pavel Vyacheslavovich Yershov, Artem Andreyevich Malyshev, Aleksandr Vladimirovich Osadchuk, Aleksey Aleksandrovich Potemkin and Anatoliy Sergeyevich Kovalev.
The Russian Foreign Ministry described the allegations as "imaginary" and a "pile up of conspiracy themes."
Conviction on the charges could bring prison sentences of a decade or more. But Moscow does not have an extradition treaty with Washington, so it's unlikely that any of them will set foot in a U.S. courtroom.
Times staff writer Sarah D. Wire in Washington and special correspondents Eliza Fawcett in Washington and Sabra Ayres in Moscow contributed to this report.
Twitter: @chrismegerian
---
UPDATES:
6:40 p.m.: The article was updated with a comment from Roger Stone.
3:15 p.m.: The article was updated with additional details from the indictment and reactions.
12:10 p.m.: The article was updated with additional details from the indictment and reactions from public officials.
The article was originally published at 9:10 a.m.
Sign up for Essential California for news, features and recommendations from the L.A. Times and beyond in your inbox six days a week.
You may occasionally receive promotional content from the Los Angeles Times.