Las Vegas adds a new lure to its repertoire as Nevada legalizes pot. Here come the tourists
LAS VEGAS —
Oscar Goodman has dealt with his share of complicated local issues — a mixture of gambling, prostitution and a lot of public drinking. But the former Las Vegas mayor never imagined the newest vice to arrive in the city: legal marijuana. He never imagined it, but he likes it.
"We in Las Vegas have always been on the cutting edge of all things necessary to make us the adult wonderland," Goodman said, moments after becoming the first customer to make a purchase at Las Vegas ReLeaf, a dispensary owned by his son. "This is all a part of a lifestyle."
On Saturday, Nevada officially joined four other states — Alaska, Colorado, Oregon and Washington — that allow people to purchase cannabis for recreational use. Goodman's purchase was a $21 box of marijuana-infused coffee grounds.
Some in Nevada are skeptical about legalized pot. But supporters say the state's booming year-round tourism industry will see even more of a boost. And legal pot sales will draw sizable tax revenue.
"What we're experiencing right here and now is history," Ross Goodman, Oscar's son, said Saturday morning.
From his spot behind the glass counter, he watched his staff shuffle shoppers in and out of his slick gray, magenta and teal building tucked in a shopping plaza near the Strip. As patrons arrived — by the hundreds, on foot, in party buses and Uber rides — merchandise started flying off the shelf: Snake Eyes OG, double chocolate chunk brownie bites.
"This is the future," the younger Goodman said, "and we're a part of ending prohibition."
In November, voters in Nevada, California, Maine and Massachusetts approved pot for legal sales, but the Silver State is the first of the group to put it into action. (Pot remains illegal under federal law, but more and more states are considering bills or ballot initiatives to legalize it.)
Although marijuana is now legal here, smoking pot in public spaces, such as along Las Vegas Boulevard, in casinos or at festivals, is illegal, carrying a potential $600 fine.
In Clark County — where Las Vegas is located — more than two dozen dispensaries have received permits from the state to sell recreational marijuana. But there are some still-off-limits zones. In February, officials in Henderson, the next most-populous city in the state, placed a six-month moratorium on legal sales in order to have more preparation time.
Last year, a record 43 million people visited Las Vegas, generating nearly $52 billion, according to the Las Vegas Convention and Visitors Authority. Marijuana supporters believe legalization means even bigger bucks for the state and are quick to point out that cash from a 15% cultivation tax and 10% sales tax will go toward schools and the state's reserve fund.
Nevertheless, not everyone is pleased.
State Assembly Minority Leader Paul Anderson, a Republican whose district spans a portion of Las Vegas, opposed marijuana legalization. So did Republican Gov. Brian Sandoval and Nevada Atty. Gen. Adam Laxalt.
"For me, it's just an experiment that's too risky," Anderson said Saturday. "There's too much unknown."
But, Anderson said, now that the law has taken effect he'll work to make sure authorities enforce the laws regulating sales and consumption.
Early Saturday morning, Oasis Medical Cannabis had a festive atmosphere with few signs of concern about implementation.
A strobe light directed customers to the location. Patrons lined up in a sweltering parking lot — temperatures hovered around 90 degrees at 2 a.m. — dancing to reggae blaring from a DJ's speakers. Some munched on hot dogs and empanadas from a nearby food truck.
Kristen Salisbury, 36, a receptionist at a local law firm, was among the customers.
"Legalization just adds to Vegas' charm," she said after purchasing a handful of marijuana candy bars. "It's a natural fit."
Salisbury and a friend were considering hopping in an Uber and heading over to Las Vegas ReLeaf or another dispensary.
"It's like New Year's Eve," she said.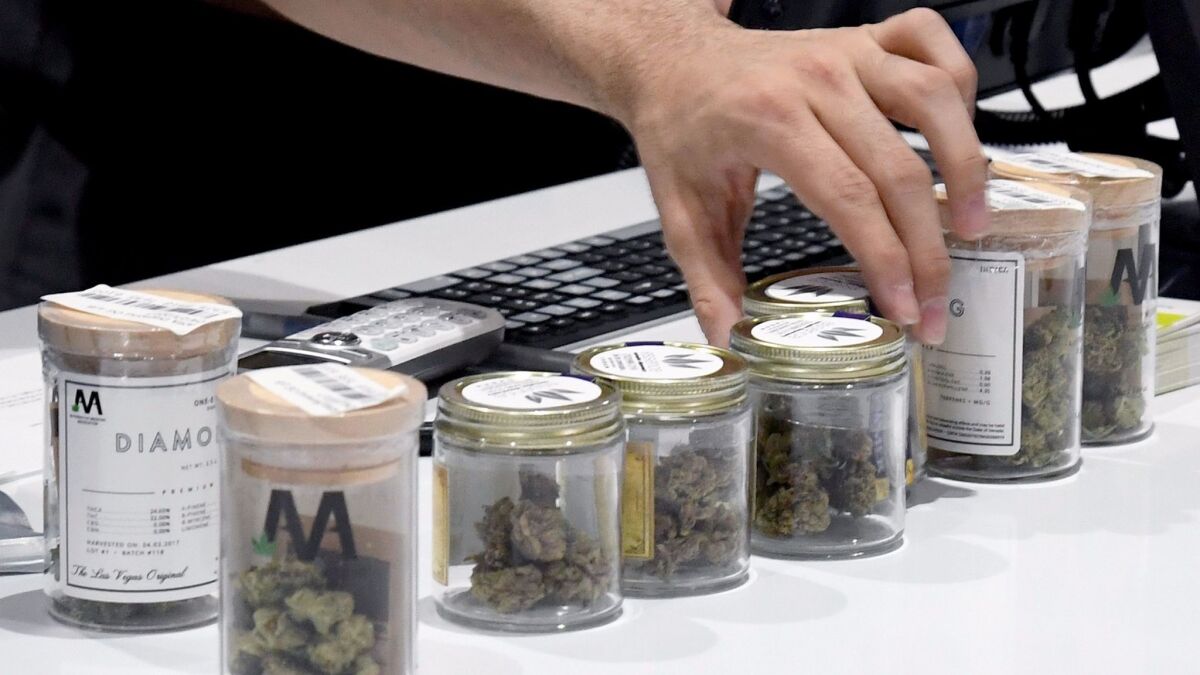 Back at Las Vegas ReLeaf, Amanda Hill, 26, on vacation from her home in suburban Chicago, was checking out the merchandise.
"Yummy," she said, taking a whiff of a Grape Valley Kush bud inside a tiny glass container.
"It's really good stuff," said an employee, also known as a "budtender," before showing Hill a different strain of pot.
Hill says that she doesn't consume marijuana regularly, but that legalization is now another reason to visit Las Vegas.
"The shows, the gambling, the drinks … now legal pot," she said. "Who wouldn't want to come visit?"
Twitter: @kurtisalee
ALSO
Here's what's driving lawmakers working to legalize recreational pot in 17 more states
Following the example of voters, legislatures are trying to legalize marijuana — with mixed results
---
UPDATES:
6:05 p.m.: This article was updated with additional background and with comments from Oscar Goodman, Paul Anderson and Kristen Salisbury.
This story was originally published at 8:55 a.m.
Must-read stories from the L.A. Times
Get the day's top news with our Today's Headlines newsletter, sent every weekday morning.
You may occasionally receive promotional content from the Los Angeles Times.