Nevada execution halted after drug company sues to stop it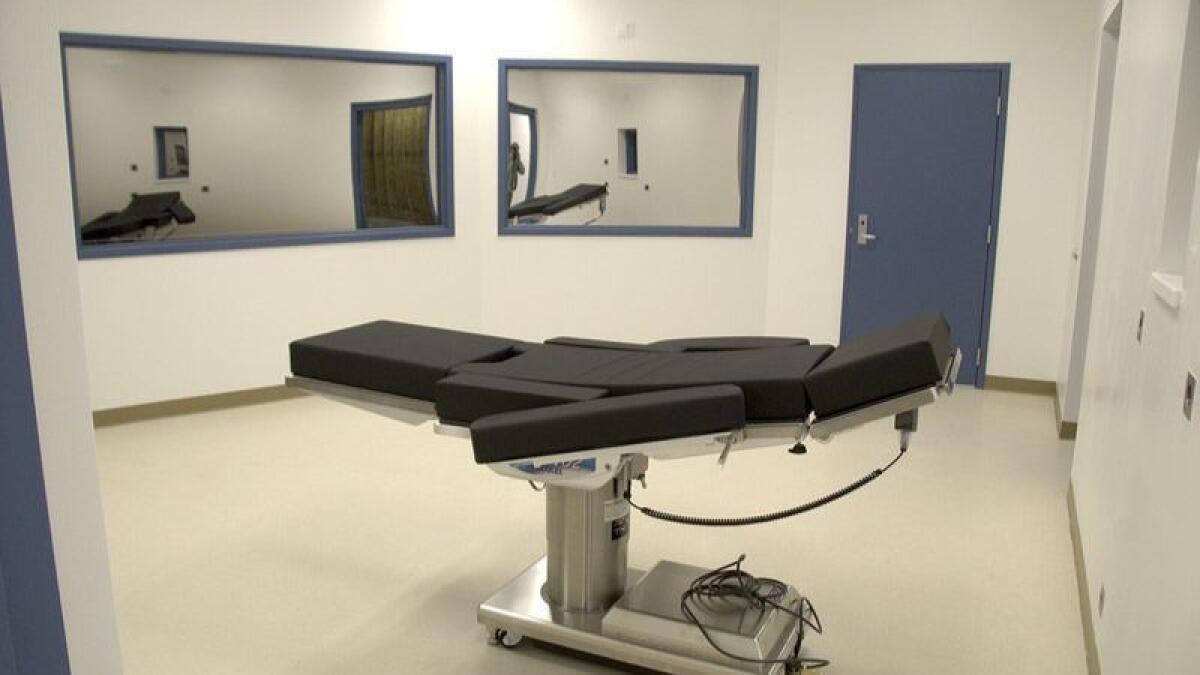 Reporting from Carson City, Nev. —
Hours before he was to be put to death, a convicted killer was spared execution Wednesday when a Nevada judge granted an injunction sought by the maker of a sedative that has been at the center of several botched executions.
Scott Dozier was scheduled to die at 8 p.m. Wednesday at the state prison in Ely. He has been asking to be put to death for more than a year and appeared to be about to get his wish after waiving his appeals and thwarting his defense lawyers' attempts to obtain a stay of execution.
Until Wednesday.
Lawyers representing the pharmaceutical companies that make the drugs midazolam and cisatracurium appeared before Judge Elizabeth Gonzalez in Clark County District Court in the morning seeking to prevent the state from using them in Dozier's execution.
Prisoner wants to die, but debate rages in Nevada over whether to use a new lethal drug »
Lawyers for Alvogen, the maker of midazolam, argued that the Department of Corrections obtained the drug through a third party — Cardinal Health — without disclosing that it was to be used for executions. They said the drugs were "illicitly and improperly obtained."
"While Alvogen takes no position on the death penalty itself, Alvogen's products were developed to save and improve patients' lives and their use in executions is fundamentally contrary to this purpose," Alvogen lawyers wrote.
"They plan on misusing it," Tom Bice, a lawyer for the drug company, said in court.
A lawyer for Sandoz Inc., which makes cisatracurium, submitted a letter formally objecting to the use of the paralytic. "We are not a party to this case," Colby Williams said.
He then paused.
"Yet."
But Jordan Smith, assistant solicitor general arguing on behalf of the Nevada Department of Corrections, said the state purchased the drugs properly and there was never any deception on its part.
"This whole action is just PR damage control," Smith said.
Mary-Sarah Kinner, spokeswoman for Gov. Brian Sandoval, said he had no comment on pending litigation. She said the governor had planned to be in Carson City at the time of the execution. Gonzalez set a status hearing for Sept. 10.
Lawyers for the state indicated in court they would appeal, though no timeline was given.
Dozier's death warrant, issued on June 19, is valid through the end of this week. The Department of Corrections issued a release saying only that the execution has been postponed. "The execution, which was ordered by the court, will not take place until further notice," the statement read.
Alvogen was quick to react to the ruling. "Alvogen is pleased with the court's decision and will continue to work through the judicial process to ensure Alvogen's products are not used in executions," the drugmaker said in a statement.
Dozier hasn't strongly advocated for — nor has he strenuously objected to — any specific mix of drugs to be pumped into his body. He has only consistently held to his wish to die, which was pointed out by Smith in court.
"Life in prison isn't a life," Dozier told the Las Vegas Review-Journal on Sunday morning. "This isn't living, man. It's just surviving."
But death penalty opponents said the use of the drugs — especially midazolam — is unconstitutional and violates the U.S. Constitution's prohibition of cruel and unusual punishment.
Nancy Hart, who heads the Nevada Coalition Against the Death Penalty, said that while her group doesn't want to see Dozier die, the execution is much bigger than one person. She said the judge's decision to halt the execution was the right one.
"The methods have been problematic and should raise concerns for everyone," she said. "The death penalty is a violation of human rights and is full of economic and racial biases."
Dozier, now 47, was convicted in 2007 of murdering and dismembering 22-year-old Jeremiah Miller five years earlier at a Las Vegas motel. He also was convicted in Arizona in the 2001 murder of 26-year-old Jasen Green.
Nevada's campaign to execute Dozier has been bumpy despite his acceptance of his punishment. The state recently built a new death chamber in Ely at a cost of more than $800,000 — but it has sat unused for two years and was even being used as office storage space for a while.
But it's the drugs that emerged as the biggest hurdle as supplies began to expire and obtaining new supplies proved problematic.
Fordham University law professor Deborah Denno said many of the drugs previously used for executions were manufactured in European countries that don't allow the death penalty. She said that has virtually closed the pipeline for states to access those drugs and forced them to turn to domestic pharmaceutical companies.
But companies like Alvogen are also making it hard to get the drugs.
Last year, McKesson Medical-Surgical sued Arkansas after it discovered the state was using one of its drugs in an attempt to execute 10 men in eight days. The company said the state had misled it by saying the drugs were being used for medical reasons. A lower court issued a temporary restraining order in that case, but the Arkansas Supreme Court overturned that decision.
Arkansas executed four men in April 2017 by using McKesson's drug.
The history of lethal injection dates back to the mid-1970s, when the standard protocol included administering sodium thiopental, pancuronium bromide and potassium chloride. That began changing in 2009.
States have been forced to adjust their methods as the drug supplies become tighter and more difficult to obtain, however. According to the Death Penalty Information Center, eight states now have carried out executions using a single drug — an anesthetic — and six others plan to do so if necessary.
Griffin Hardy, a spokesman for anti-death penalty advocate Sister Helen Prejean, said Nevada's case has been troublesome because it has "been chaotic and cloaked in secrecy" from the beginning. The state didn't issue the protocols for the three-drug mix until last week. The state also saw the recent retirement of the chief warden shortly before the scheduled execution — though officials with the Department of Corrections said his replacement was "experienced and appropriately trained."
"Nevada should abandon this ill-advised plan," Hardy said.
Nevada has executed 12 people since 1976, most recently in 2006.
---
UPDATES:
3 p.m.: The article was updated with further details of Wednesday's court proceedings.
2 p.m.: The article was updated with additional background on drugs used in executions.
11:40 a.m.: The article was updated with staff reporting.
This article was originally published at 8:30 a.m.
Sign up for Essential California for news, features and recommendations from the L.A. Times and beyond in your inbox six days a week.
You may occasionally receive promotional content from the Los Angeles Times.