New Hampshire House approves transgender rights, votes to expand anti-discrimination law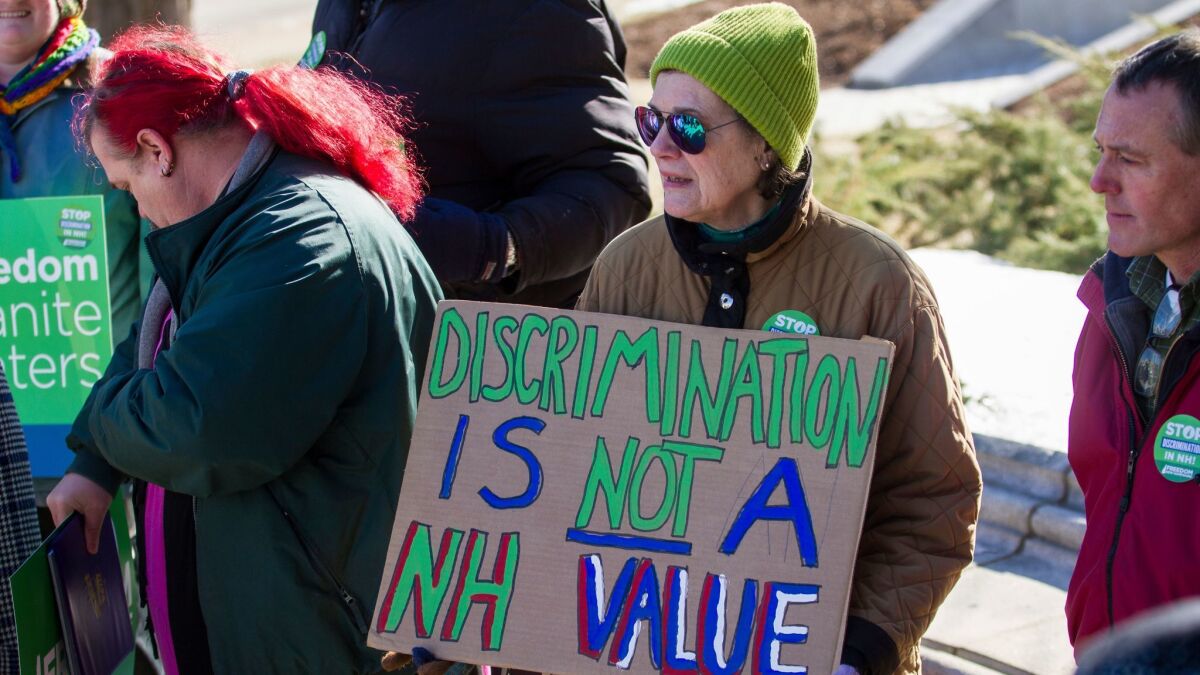 Reporting from Concord, N.H. —
House lawmakers voted Wednesday to expand New Hampshire's anti-discrimination law to include transgender people after supporters appealed to both their sense of fairness and fiscal responsibility.
The bill would ban discrimination in housing, employment and public accommodations based on gender identity in addition to the protections that already exist based on race, sex, religion and sexual orientation. It passed 195-129 and now goes to the Senate.

For the record:
2:10 p.m. March 8, 2018An earlier version of this article referred to Rep. Joseph Stallcop as a Democrat. He is a Libertarian.
Lawmakers tabled a virtually identical bill last year, leaving New Hampshire the only New England state without such protections.
Supporters on Wednesday argued the bill was long overdue and said it could save lives by preventing suicide. Some opponents focused on the fear of predatory men molesting women and children in public restrooms, while others pushed unsuccessfully for a study to further evaluate the issue.
Rep. Dan Hynes (R-Merrimack), who considers himself agender, said he hasn't suffered discrimination because he doesn't tell people his gender status, and owns his own business and home.
"But there are many people out there who suffer on a daily basis, and we need this law to protect everyone regardless of their gender identity," he said.
Rep. Joseph Stallcop (L-Keene) appealed to his colleague's sense of fiscal responsibility, arguing that discrimination ultimately costs taxpayers money when victims end up homeless, unemployed, depressed or suicidal.
"If you cannot support these amazing individuals of this state, at least support the taxpayers because at the end of the day, we all experience financial burden thanks to prejudice," he said.
Rep. Jeanine Notter (R-Merrimack) said the bill would "erase" women and girls.
"If a violent man wants to harm a woman, all he has to do is say he identifies as a woman and he can go wherever he pleases. Never again will there be a safe space for women," she said. "That members of this House are voting to put us in danger is appalling."
Rep. Mark Pearson (R-Hampstead) said the bill should include an exception for restrooms and locker rooms because while he believes transgender people wouldn't intend harm, their mere presence in those places could amount to an act of "microaggression" that could cause emotional harm to women who have been sexually assaulted in the past.
Republican Rep. Brian Stone, of Northwood, said rights aren't dependent on other people's subjective feelings. "To love America is to love all Americans, and that includes transgender individuals."
Ahead of the vote, the bill's supporters held a rally, holding signs and chanting, "Trans rights are human rights."
"HB 1319 is about making sure that everyone has the opportunity to truly live free. Here's the bottom line: No one should live in fear of discrimination just for being who they are," said Linds Jakows, campaign manager for the advocacy group Freedom NH.
Liam Magan, a 24-year-old transgender man from Keene, said while he has lived in New Hampshire his entire life and even has a tattoo depicting the state and the word "home," he considered moving away after being repeatedly harassed at work after he transitioned two years ago. Co-workers continued to treat him like a woman, and eventually all his shifts were scheduled with colleagues who harassed him.
"It felt intentional," he said. "I had no legal ground to stand on. There was no protection for me."
Must-read stories from the L.A. Times
Get the day's top news with our Today's Headlines newsletter, sent every weekday morning.
You may occasionally receive promotional content from the Los Angeles Times.