The average speed of traffic in Midtown Manhattan is 4.7 mph. New York thinks it's found a solution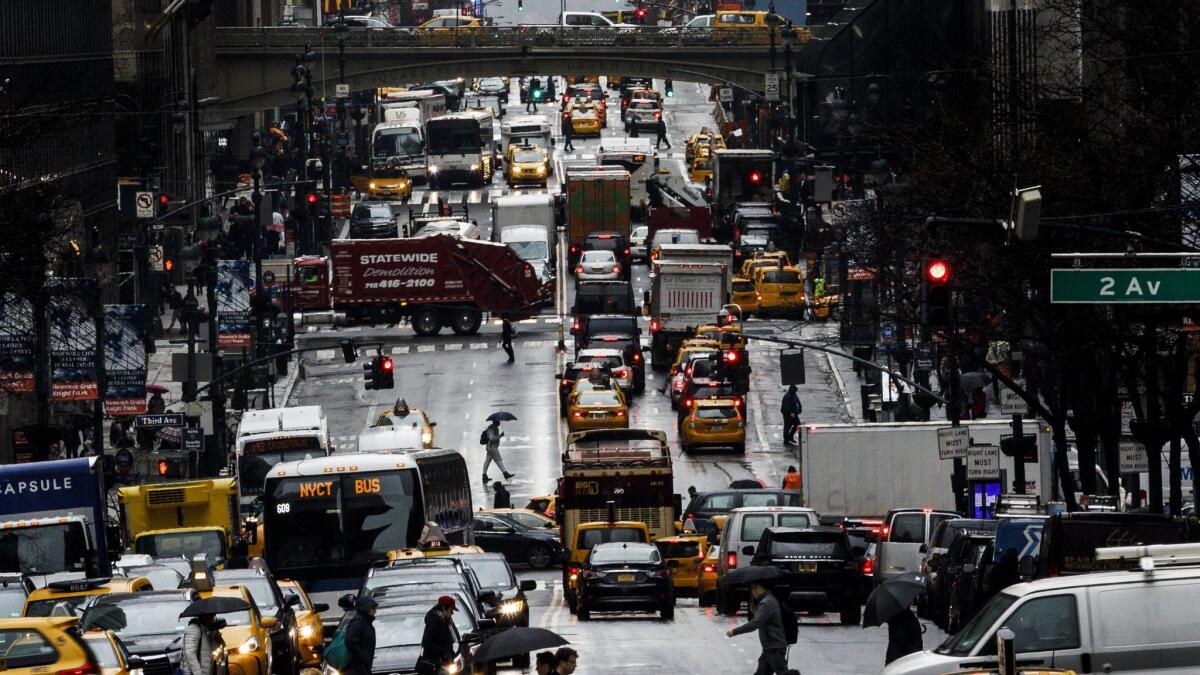 Reporting from New York —
At rush hour on a recent weekday, Hector Rivera was unloading electronic goods outside a camera store in Midtown Manhattan. The longtime truck driver makes several trips across Brooklyn, New Jersey and Manhattan each day.
"I hate the traffic," Rivera said, speaking in Spanish. "It's what I dislike most about coming into Manhattan."
Some days, Rivera said, it takes him more than an hour just to travel from the exit of the Lincoln Tunnel, between Manhattan and New Jersey, to his unloading point less than a mile away. He passes the time listening to salsa, merengue, bachata and Mexican folk music.
On weekends, Rivera sometimes drives a car service for extra money. When he comes into Manhattan from his home in Sunset Park, a working-class neighborhood in southwestern Brooklyn, he still prefers to drive.
"I hate taking the train. And on weekends? Forget about it. It's miserable," he said, recalling a recent trip with his family that took over two hours and required multiple subway transfers. "I'd prefer to pay for parking rather than deal with the train."
Experiences like Rivera's are at the heart of a new proposal to reduce traffic and improve mass transit in New York.
In a report released last week, the "Fix NYC" transportation task force, appointed by New York Gov. Andrew Cuomo last fall, recommended charging drivers a fee to enter Manhattan's central business district — and using the revenue to improve the public transit system.
"To remain a world-class city and region, New York must address the increasing congestion on our roadways and bring the subway system back to a reliable state," the report's authors wrote.
Some variation of this pay-to-drive scheme, which is known as "congestion pricing" and has been successfully implemented in Singapore, Stockholm and London, has been floated in New York for decades.
The most recent attempt was by former Mayor Michael R. Bloomberg, who wanted to charge an $8 fee for cars traveling in Manhattan's core during peak commuting hours.
Bloomberg's proposal died before making it to a vote in the state Legislature, in large part because it was seen as benefiting wealthy Manhattanites at the expense of lower-income residents in the more auto-dependent outer boroughs of Brooklyn, Queens, Staten Island and the Bronx.
But with the city's population surging and the public transit system a mess, public opinion may be shifting — and with it, political will.
"Congestion pricing is an idea whose time has come," Cuomo said in August, two months after declaring a state of emergency in the transit system.
The population of New York City today is over 8.5 million, up from 8.1 million in 2010. More than 60 million tourists — a record number — visited the city in 2016. Across the city, multi-story apartment and office buildings are rising where banks, grocery stores and one- or two-family houses once stood.
"You add all these people, what do you expect? There has to be some way for people to get around," said Roseanne Weinstein, a resident of the Rego Park neighborhood in Queens.
Traffic congestion in New York ranks third in the world, surpassed only by Los Angeles and Moscow. New pedestrian plazas and bike and bus lanes have reduced the space available for vehicle traffic, while pedestrians spill out onto the streets, slowing cars down and obstructing those attempting to turn, the task force report said. The average speed of a car in Midtown Manhattan is 4.7 mph — barely faster than walking.
No surprise here: Los Angeles is the world's most traffic-clogged city, study finds »
Truck volume has increased, too, fueled by the proliferation of e-commerce.
But it's ride-hailing apps like Uber and Lyft that have spiked congestion in recent years.
In 2017 there were 470,000 trips taken by taxis and for-hire vehicles in the central business district, which includes all of Manhattan south of 60th Street. That was up nearly 25% from four years earlier, despite a decline in trips in yellow cabs.
"I get so mad when I think about it. You literally can't move," said Manhattan resident Liz Biggar while she pumped gas on 10th Avenue.
Biggar said she often sits in traffic tallying the Uber, Lyft, Juno, Arro and Via cars around her. "Maybe one in six will be non-TLC," she said, referring to the Taxi and Limousine Commission, which licenses taxis and other for-hire vehicles.
Biggar said she's not opposed to a charge on drivers coming into the core of Manhattan, but she thinks app-based cars should pay more. And if they can't, "tough [luck]," she said. "There shouldn't be as many of them on the road."
Under the new proposal, taxis and for-hire vehicles would face per-trip surcharges of $2 to $5. Passenger vehicles would be charged $11.52 for entering Manhattan below 60th Street during most daytime hours, with some exceptions, while trucks would be charged more than twice that, $25.34.
As an island, Manhattan already has a form of congestion pricing — its toll bridges and tunnels, which charge up to $15 to enter the borough. However, there is no toll for four bridges spanning the East River. Under the new proposal, drivers traveling on a route that already has a toll would get a credit applied toward the congestion charge. Those coming from northern Manhattan or on one of the East River bridges would be assessed the congestion charge as they crossed into the zone below 60th Street.
The panel recommended phasing the fees in after first investing in public transit, especially in places like those where Rivera and Weinstein live. This would give a viable transportation alternative to commuters who drive, when the pricing scheme eventually goes into effect, the report said.
In addition, planning and installing infrastructure and systems to process the new tolls, such as gantries, fast-pass equipment and cameras, would take an estimated two years.
Depending on how the pricing is structured and whether it includes weekends, up to $1.7 billion in revenue could be generated annually, according to the report. The number of vehicles entering Manhattan's central business district could decrease by up to 14%, but average speeds would increase by less than 1 mph.
The proposal, which is only a starting point for negotiations between the governor and the Legislature, has received mixed responses so far.
New York City Mayor Bill de Blasio, who has publicly feuded with Cuomo over transit funding and called for a "millionaire's tax" to pay for long-term fixes, described the plan on a local radio show as "definitely a step in the right direction."
But Kendra Hems, president of the Trucking Assn. of New York, said the current proposal doesn't sit well with her members.
"They don't determine the time that they make deliveries — customers do," she said. "For them to be charged a fee to come in and make these necessary deliveries and have that fee go purely to transit … there's just not enough of a benefit to them."
Hems said her association would want bigger improvements in congestion and for some of the revenue to be invested in roads and bridges.
Some drivers said new fees wouldn't change their old habits.
Fran Miller, who lives in Rego Park, said that for 32 years she drove to her job teaching high school math in Brooklyn. Now retired, she walks with a cane and still prefers to use her car when she goes into Manhattan for volunteer work with the teachers union, her weekly film club or a Rangers game at Madison Square Garden.
"The traffic — it's not fun. It's really not fun," Miller said. "But the subways are no better!"
Miller, who was dressed head to toe in a Rangers shirt, jacket and socks, said she already uses toll routes to avoid traffic, and a new charge wouldn't faze her."It wouldn't stop me from going to work or going to the theater," she said. "At this stage of my life, if I have to go, I'm gonna go."
Twitter: @AgrawalNina
ALSO
Bad traffic in L.A.'s toll lanes? Blame the 25% of drivers who don't pay to use them, officials say
A New York lawsuit asks: Is graffiti art protected under federal law?
The Trump SoHo hotel will lose its 'Trump,' but in New York there are plenty more
Sign up for Essential California for news, features and recommendations from the L.A. Times and beyond in your inbox six days a week.
You may occasionally receive promotional content from the Los Angeles Times.