3 killed, thousands without power in Northwest windstorm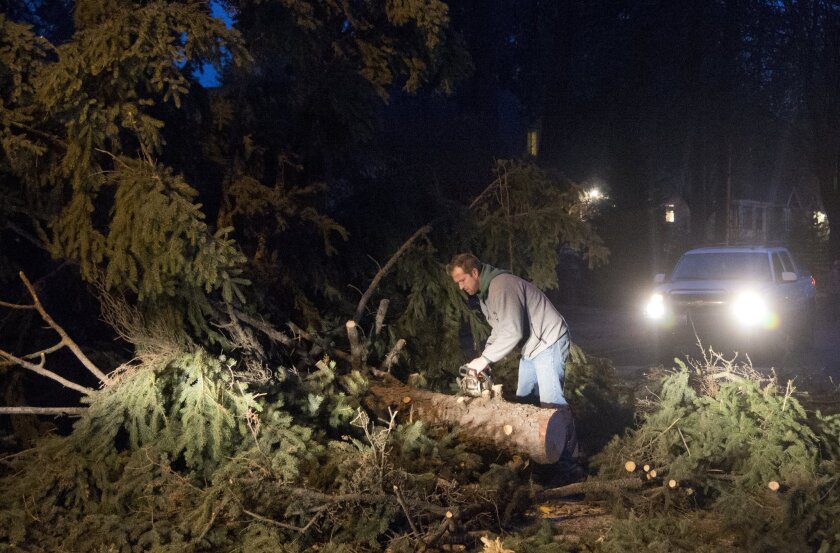 Seattle —
Cleanup began Wednesday in Washington state after a powerful storm killed three people, cut power to more than 300,000 residents and flooded rivers.
Police said a woman in her 50s was killed Tuesday when a tree toppled in Spokane. Another woman died after a tree fell on her car on Highway 904 about 15 miles southwest of Spokane, according to the Washington State Patrol.
A man in his mid-20s was killed when a tree crushed his car as he was driving in Snohomish County. The tree landed on the car's roof directly over the driver's seat, killing him instantly, said fire Chief Merlin Halverson.
NEWSLETTER: Get the day's top headlines from Times Editor Davan Maharaj >>
Their identities were not immediately released.
Two mudslides blocked Highway 2 between Skykomish and Deception Falls, the state Department of Transportation said. Ferry trips were delayed or canceled in several areas and Sound Transit trains were delayed due to trees and water on the tracks throughout the system.
Utilities said the number of customers without power remained in the six digits early Wednesday, and it could be days before power is fully restored.
Puget Sound Energy said more than 30 transmission lines were badly damaged, and dozens of crews worked through the night to get the lights back on. The utility said about 100,000 customers were still without power early Wednesday.
The Snohomish County Public Utility District tweeted that about 130,000 of its customers lacked power. Energy company Avista Corp. said more than 136,000 customers had lost power as of Tuesday night around Spokane and in Northern Idaho.
Numerous schools canceled classes for Wednesday or delayed the opening bell.
The strong winds and extended downpour caused fewer problems in Oregon, but roughly 7,000 Portland General Electric customers remained without power in the Portland area. The utility expects to have it restored before noon Wednesday.
Wind gusts of up to around 100 mph rattled areas west and north of Denver, blowing snow from Tuesday's wintery storm across roads and knocking out power in some spots.
The National Weather Service attributed Wednesday's winds to the jet stream interacting with the mountains.
The storm dumped over a foot of snow in some parts of the plains and strong winds created snowdrifts several feet high.
ALSO
In fast-changing Brooklyn, a colony of cats and their king stay constant
4 passengers taken from plane and questioned in case of jitters in Baltimore
More than half the country's governors, citing security concerns, said they would refuse Syrian refugees
---
The Latinx experience chronicled
Get the Latinx Files newsletter for stories that capture the multitudes within our communities.
You may occasionally receive promotional content from the Los Angeles Times.