Cybersecurity among top goals of Obama's $4.1-trillion budget blueprint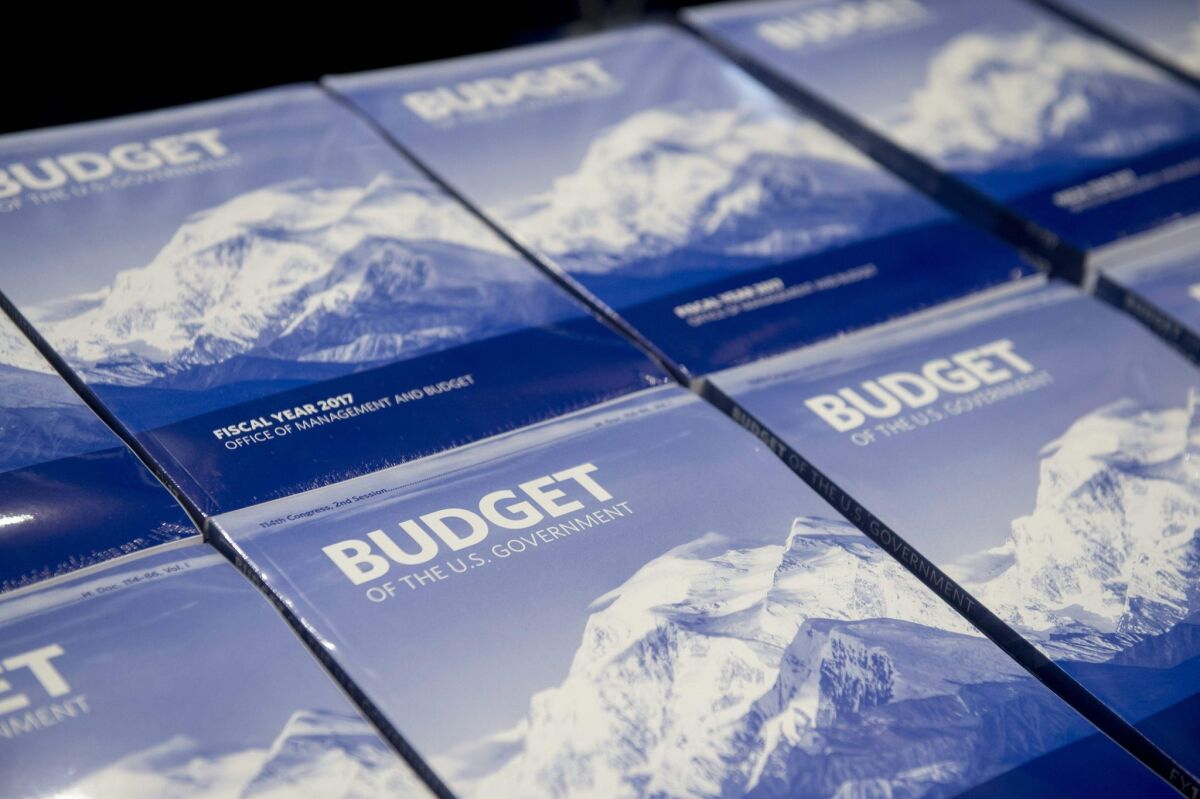 Reporting from Washington —
President Obama unveiled a budget proposal Tuesday that earmarks $19 billion for a wide range of cybersecurity projects, including $3.1 billion to replace out-of-date federal computer systems that are vulnerable to attack.
The investment, a more than 35% increase over last year, underscores a long-delayed shift in U.S. government priorities to recognize the constant barrage of attacks on government agencies, major companies and crucial infrastructure as a major threat to U.S. national security.
The Obama administration has scrambled to boost cyber defenses for federal agencies and crucial infrastructure as foreign-based attacks have penetrated government websites, email systems, and vast data troves containing Social Security numbers, financial information, medical records and other personal data on millions of Americans.
MORE: Get our best stories in your Facebook feed >>
The money is part of Obama's $4.1-trillion proposed budget for fiscal year 2017, which prioritizes everything from the war against the Islamic State to combating climate change. The budget is all but sure to run into headwinds from the Republican-controlled Congress, which will modify the spending plan before it is ultimately passed.
The cyber strategy involves a number of initiatives at several federal agencies that build upon previously announced programs to shore up the nation's computer networks. To oversee implementation across the federal government, the White House announced the newly created position of federal chief information security officer, to be filled within 90 days.
It will also establish the Commission on Enhancing National Cybersecurity, which will be comprised of cyber professionals from outside of government to help to impress upon American businesses and citizens the need for better security practices.
"The myriad cyber-attacks that we have endured on both private and government networks, show our continuing vulnerability," Rep. Adam B. Schiff (D-Burbank), the top Democrat on the House Intelligence Committee, said in a statement. "Additional funding for cybersecurity is essential to modernizing our government's lagging cyber-infrastructure, and to investing in the next generation of cyber talent."
The White House also plans to invest $62 million in programs to address the shortage of workers specializing in cybersecurity. One initiative is a new CyberCorps Reserve program to offer scholarships for Americans to earn a cyber-related degree and then work to protect government computers.
The most rapidly changing threat facing the U.S. comes from rivals and adversaries deploying new cyber technologies, Director of National Intelligence James R. Clapper told a Senate panel Tuesday.
Russia and China "continue to have the most sophisticated cyber programs," Clapper told the Senate Armed Services Committee, and Iran and North Korea continue to conduct electronic espionage. Islamic State has "unprecedented online activity" for an extremist group, using the Internet for theft, extortion and other crimes, he said.
Over the last year, the Obama administration stepped up efforts to bring private industry and the government together to combat cyber attacks such as those that wreaked havoc at Sony Pictures, JP Morgan Chase & Co, Target Corp. and other U.S. companies.
------------
FOR THE RECORD
12:40 p.m.: An earlier version of this article incorrectly included Bank of America in a list of companies that had suffered cyber attacks; it should have listed JP Morgan Chase & Co.
------------
But a major hurdle standing in the way of collaboration is a lack of trust on the part of business leaders, particularly in the wake of former National Security Agency contractor Edward Snowden's revelations about how the government used private companies' systems in spying.
Tech companies have bolstered their security to keep both hackers and government authorities out of private data. The resulting tension has been highlighted with decisions by Apple Inc. and Google Inc. to encrypt data on some of the software they produce, hindering the government from spying.
In an effort to ease spying concerns, Obama will also sign an executive order Tuesday to create a federal privacy council to help ensure the implementation of privacy guidelines.
Even before it was formally unveiled, Republicans had declared the president's budget dead on arrival. GOP leaders even refused to extend the traditional invitation to administration officials to come to Capitol Hill to testify about it.
Among other things, the president's budget includes a $10-a-barrel tax to discourage oil consumption. The tax could translate into as much as an additional 25 cents on a gallon of gas.
"This isn't even a budget so much as it is a progressive manual for growing the federal government at the expense of hard-working Americans," said House Speaker Paul D. Ryan, adding that Republicans are already working on their own proposals.
Staff writer Brian Bennett in Washington contributed to this report.
ALSO
Obama asks Congress for emergency funding to combat Zika virus
Supreme Court to render a verdict on Obama's use of executive authority
Obama is proposing a $10-a-barrel oil tax, but GOP says it's 'dead on arrival'
Must-read stories from the L.A. Times
Get the day's top news with our Today's Headlines newsletter, sent every weekday morning.
You may occasionally receive promotional content from the Los Angeles Times.