As protest rages on, Obama says Army Corps may reroute Dakota Access pipeline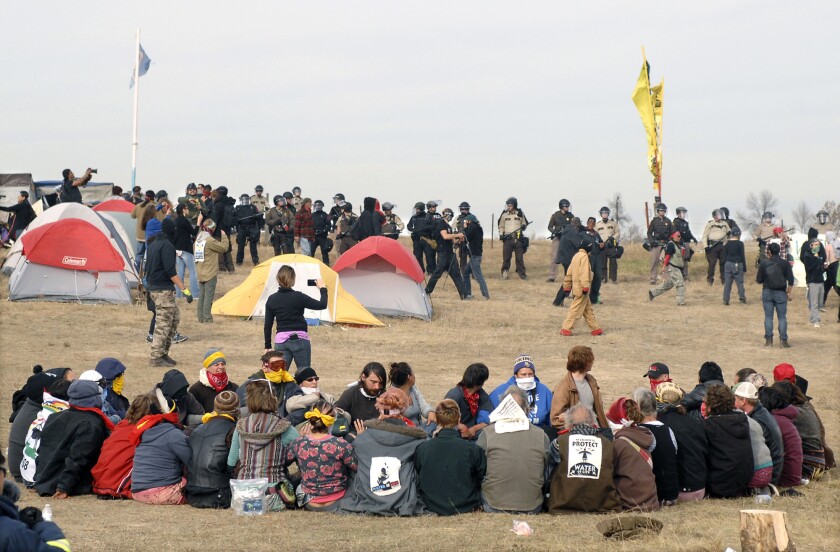 President Obama said federal officials are considering rerouting the controversial Dakota Access pipeline, the $3.8-billion project that has stirred large protests by Native Americans and violent clashes with law enforcement.
"As a general rule, my view is that there is a way for us to accommodate sacred lands of Native Americans, and I think that right now the Army Corps is examining whether there are ways to reroute this pipeline," Obama said Tuesday in an interview the social media start-up NowThis News, referring to the U.S. Army Corps of Engineers, which oversees the permitting process for the pipeline.
"So we're going to let it play out for several more weeks and determine whether or not this can be resolved in a way that I think is properly attentive to the traditions of the first Americans," he said.
The 1,170-mile pipeline would transport as much as 450,000 barrels of crude oil daily from the Bakken production area of North Dakota through South Dakota and Iowa to an existing pipeline in Patoka, Ill. It would travel less than a mile north of the Standing Rock Sioux Indian reservation near Cannon Ball, N.D., crossing under Lake Oahe, a dammed section of the Missouri River that provides the tribe's water supply.
Construction began early this year and is about 75% complete, according to the company building it, Dakota Access LLC, a subsidiary of Energy Transfer Partners.
In September, after a federal judge rejected a request by the Standing Rock Sioux tribe to halt construction, the Corps of Engineers, Interior Department and Justice Department issued a joint statement announcing that the Corps would withhold a permit needed to build under Lake Oahe and nearby federal land while it conducted a review of its previous decisions.
The agencies also said the Corps would hold a series of meetings with tribal groups this fall to look at ways to improve consultation with them on major infrastructure projects.
The Obama administration also asked Dakota Access to voluntarily halt construction within 20 miles of federal land. The company has declined to do so.
The Standing Rock Sioux say the pipeline threatens sacred sites and puts their water supply at risk. Protests started this spring and began escalating in late summer.
Last week, demonstrators blocked a road and set vehicles on fire. More than 140 people were arrested.
The president's comments on Tuesday, his most specific public remarks about the pipeline, prompted praise from its opponents.
"We applaud President Obama's commitment to protect our sacred lands, our water and the water of 17 million others," Dave Archambault II, chairman of the Standing Rock Sioux, said in a written statement on Wednesday.
But Archambault also called on the Obama administration to go further and "issue an immediate 'stop work order'" on the entire pipeline and begin a broad review of its potential environmental consequences.
Protesters have stood in the path of an oil pipeline that is under construction near the Standing Rock Sioux Reservation, which straddles North and South Dakota.
Supporters of the pipeline have argued that the administration is improperly interfering with a project that had already received most of its required permits, and that the meddling will cause businesses to lose trust in the permitting process.
"Although a reroute sounds simple enough, it would be, in fact, incredibly difficult and it might be impossible," said Craig Stevens, a spokesman for MAIN Coalition, an industry and labor group that supports the pipeline. "Even if possible, rerouting the line would require years to complete, new easements, new environmental and cultural studies, and cost hundreds of millions of dollars."
Stevens also took issue with the president's saying that the administration would let the situation "play out" for several more weeks. He said the protests and accompanying violence were "the direct result of the federal government's unnecessary late-stage intervention."
Obama told NowThis that the protests and the response to them have become "a challenge situation" and that "there's an obligation for protesters to be peaceful and there's an obligation for authorities to show restraint."
"I want to make sure that as everybody is exercising their constitutional rights to be heard that both sides are refraining from situations that might result in people being hurt," he said.
ALSO
Hoax? Sheriff's department says it's not watching Facebook check-ins at Standing Rock
The $3.7-billion pipeline that became a rallying cry for tribes across America
After violent clashes, Native American protesters vow to continue their fight against the Dakota Access pipeline
---
Must-read stories from the L.A. Times
Get all the day's most vital news with our Today's Headlines newsletter, sent every weekday morning.
You may occasionally receive promotional content from the Los Angeles Times.