Corporate backing is helping Obamacare go mainstream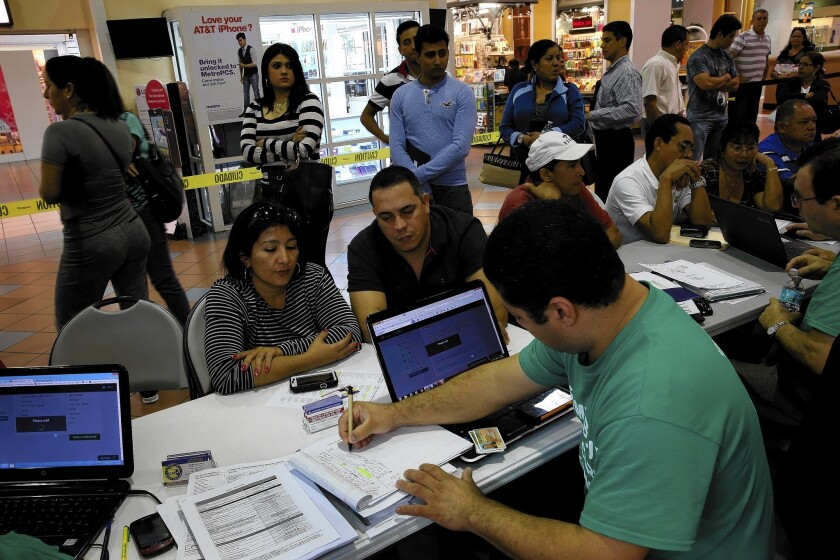 WASHINGTON — Fans of the Jet City Rollergirls are hearing public announcements about Obamacare when they go to the roller derby track north of Seattle.
Univision, the nation's largest Spanish-language television network, is airing half-hour specials about healthy living and educating viewers about how to sign up for coverage under President Obama's health law.
And tax preparers at thousands of Jackson Hewitt and H&R Block offices are talking to their customers about how to enroll in the new insurance plans sold through the law's online marketplaces.
Although many companies are wary of associating with the health law while it remains a political lightning rod, the Affordable Care Act is increasingly entering the mainstream as major corporations, sports teams and others integrate it into their businesses.
The development — little-noticed amid the political skirmishing in Washington — may not erase widespread skepticism about the law, which has deepened in recent months, polls show. But as the law becomes embedded in American life, the Republican drive to dismantle Obamacare will almost certainly become more complicated.
"Once the legislation became the law of the land, we feel it became a reasonable decision to educate our fans as to how it impacts their lives," said Brad Ruiter, a spokesman for the Minnesota Timberwolves. The National Basketball Assn. franchise is running ads at home games paid for by the state's insurance marketplace.
The MNsure ads at the Target Center in Minneapolis — which also run at Minnesota Wild hockey games at Xcel Energy Center in St. Paul — are the kind of promotional campaign that many of the law's critics had hoped to prevent.
Many Republican state officials have tried since the law was enacted in 2010 to block its implementation — rejecting federal aid to expand health coverage, restricting local groups that help people sign up, even refusing in some cases to regulate insurance plans. Conservative groups have urged Americans not to sign up for coverage. And GOP politicians have actively discouraged companies and other organizations from assisting in the rollout.
When Health and Human Services Secretary Kathleen Sebelius said last summer that the administration was talking with the National Football League about promoting the benefits of health insurance, Senate GOP leaders fired off a sharply worded letter to six of the nation's leading sports leagues. They warned that such efforts would risk "damaging its inclusive and apolitical brand."
An NFL spokesman responded that the league had no plans to work with the administration.
State insurance marketplaces created by the law allow Americans who do not get health benefits through work to shop online for health plans that meet new basic standards for coverage.
The success of these marketplaces, a central pillar of the law, hinges on whether millions of healthy people enroll this year and help offset the cost of the sickest customers. The Obama administration and its allies have been scrambling to get consumers signed up since the marketplaces opened in October.
In many places, the effort is heavily dependent on community groups and advocates who work with uninsured populations, as well as on hospitals, health insurers and others whose bottom lines will be directly affected.
But across the country, the health law is getting aid from some less obvious sources.
State leaders running their own marketplaces have actively sought partnerships with sports teams and other businesses whose customers may be more likely to need health insurance.
"From the outset, we were looking at really innovative partners … because we knew that if we wanted to reach young people, this couldn't look like a traditional government program," said Michael Marchand, who heads the marketing effort for the Washington state insurance marketplace.
Among the state's partners is Live Nation Entertainment, the giant Los Angeles-based concert promoter that produces the Sasquatch! Music Festival, a multiday event that sold 110,000 tickets last year. In addition to advertising the marketplace, Live Nation is hosting a sweepstakes on Facebook featuring festival tickets.
In Denver, Colorado's online marketplace reached out to the National Western Stock Show, which hosted a table where marketplace representatives handed out information on health insurance to cattle ranchers and others.
Some major corporations such as Jackson Hewitt see sound business reasons to educate their customers. They are also giving a potential lift to the health law.
At about 6,500 tax offices across the country, including in Wal-Mart and Sears stores, Jackson Hewitt is advertising the importance of getting health coverage on bright yellow signs that urge taxpayers to learn about their options.
The firm's tax preparers ask every customer if he or she has coverage. Customers who are uninsured are referred to newly trained health insurance specialists who use a Jackson Hewitt software program to determine whether they are eligible under the law for free Medicaid coverage or subsidized private coverage.
The program automatically generates a Medicaid application for those who qualify, which customers can mail in. (Next year, Jackson Hewitt hopes to be able to file the application electronically from the tax office.)
Customers leave with a sheet that summarizes their options under the law and reminds them in large print how much their fine could be if they don't enroll. Americans without heath insurance this year may be assessed a tax penalty in 2015. The fines range from $95 for an individual to $1,800 or more for higher-income families. Fines will increase in subsequent years.
Brian Haile, Jackson Hewitt's senior vice president for healthcare policy, said the company decided to provide the health insurance services because its tax preparers would have to help customers with the penalty if they did not enroll. "We don't take a position on any of this," Haile said. "But we asked: How can we be most helpful to our clients?"
Iris Burnell, who runs a Jackson Hewitt office on Capitol Hill, said the new services have been a hit. "People are thrilled to know they are eligible for coverage," she said.
H&R Block, which offers its clients a free health insurance review when they come in for their taxes, has launched a pilot program in Phoenix that places insurance agents in its offices.
Customers at the nation's second-largest drugstore chain can also learn how to enroll. In the first three months of the year, CVS Caremark pharmacies in 15 major metropolitan areas are hosting health fairs where customers can get free health screenings and information about insurance.
At Univision News, Stephen Keppel is overseeing a vast healthcare campaign that includes TV specials, health features that run during popular Saturday soccer broadcasts and community health events hosted by network anchors. The response has exceeded expectations, he said, with viewership for the health specials averaging about 550,000.
"We've always said that we have a pro-Hispanic perspective," said Keppel, the network's director of empowerment initiatives. "And this is something that our community needs to know about.... We have seen education as a responsibility. That has created a relationship with our audience."
The Jet City Rollergirls also wanted to help educate their fans when the roller derby league decided to promote Washington's insurance marketplace with informational tables, announcements and other advertising at their bouts, said Carolyn Sellar, one of the skaters.
"Many of our skaters hadn't had health insurance," said Sellar, 38, who goes by Willow Bliterate on the track. "The ability to have affordable medicine and regular doctor visits … for us, that seemed like a pretty amazing thing."
---
Must-read stories from the L.A. Times
Get all the day's most vital news with our Today's Headlines newsletter, sent every weekday morning.
You may occasionally receive promotional content from the Los Angeles Times.