She's spent years keeping her mom alive. Now a state lawmaker, she's fighting the opioid crisis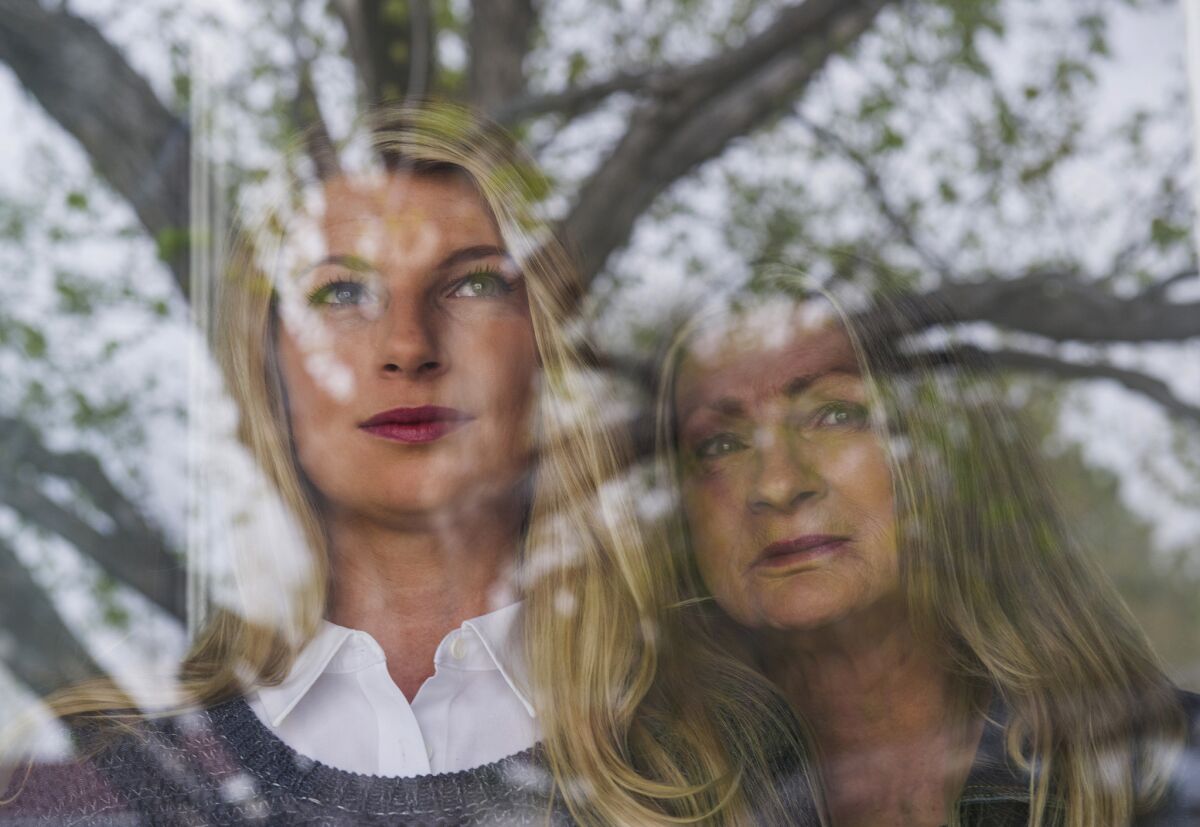 Reporting from Denver —
A friend in high school once asked Brittany Pettersen if her mom ever grounded her.
"No," she replied, "but I wish she would."

For the record:
10:35 a.m. April 19, 2018
An earlier version of this story said that Brittany Pettersen was the only member of her family to graduate from college. She was the first member of her family to graduate from college.
Pettersen was never grounded, never badgered about grades, never hassled about anything. Her mother, Stacy, was too high on prescription opioids, drunk on vodka or strung out on heroin to care.
All the while Pettersen struggled to keep her mom alive. She'd dump the booze and hide the car keys. When her mother passed out, she checked her breathing. By the time Pettersen was 8, she was keeping her mother company in the long lines outside the methadone clinic.
Today Pettersen is a poised, 36-year-old Colorado state legislator, the first member of her family to graduate from college and a Democrat leading the fight here against opioid addiction. She's battling for expanded insurance coverage for inpatient and residential detox treatment, she's working on a clean syringe exchange program and she's championed safer, more restrictive ways of prescribing opioids.
But Stacy Pettersen, 63, remains a work in progress. She's spent the last three decades mired in drug abuse, overdosing 20 times in one 16-month period.
"As a family we have been preparing for my mom's death our entire lives," her daughter said.
Yet as a legislator, Brittany Pettersen rarely spoke of it. She would race from hearings at the Capitol to emergency rooms as doctors resuscitated her mother again and again but said nothing to her colleagues.
"I honestly never wanted to touch the issue of opioids because it was too personal," she said. "I felt like if I can't help my mom how can I help anyone else?"
Their story is like many emerging from the nation's opioid crisis, an epidemic that respects no boundaries and can turn adults into children and children into adults.
More than 64,000 Americans died from drug overdoses in 2016, up to two-thirds of them opioid-related. In Colorado, there were 504 opioid-related deaths in 2016, and provisional data from 2017 shows 536 deaths.
"Nationally, life expectancy has gone down the last two years in row," said Robert Valuck, director of the Colorado Consortium for Prescription Drug Abuse Prevention. "Opioids are the single largest slice of these deaths. Usually it takes a war to make it go down that fast."
Stacy Pettersen's war began 33 years ago when she slipped on a skateboard and hurt her back.
"I was prescribed a ton of opioids. Oxycodone. Valium. Doctors were pretty lenient then," she said. "The person learns in time how to work the doctor. Complain more and maybe get more pills."
When her doctor retired, she could no longer get her pills. She went on methadone but it became too expensive. She turned to vodka, more than a quart a day, to soothe the achy limbs, insomnia and flu-like symptoms of opioid withdrawal.
She once blacked out and dropped a lighted cigarette into her daughter's hair.
"When I hear that I feel really upset. I feel embarrassed and ashamed," she said quietly.
Her daughter stared at her without speaking.
The two were sitting in Brittany Pettersen's living room in suburban Lakewood talking about a past her mother had difficulty remembering.
As a family we have been preparing for my mom's death our entire lives.
— Colorado state Rep. Brittany Pettersen
Pettersen grew up with three brothers. The oldest committed suicide in 2008. She knew her mother was different. She slept all the time and didn't attend school events.
In third grade, Pettersen was summoned to the principal's office.
"Someone had called social services about my house," she said. "They asked about physical abuse, drug use and I just lied because what was even scarier than living there was being taken away from my family."
She credits her teachers for helping her navigate life and school in suburban Littleton, just south of Denver.
Stacy Pettersen, who ran a home hair-dressing business, suffered physical and sexual abuse in her youth. She dropped out of high school and her two marriages ended in divorce.
She cycled through prescription opioids, booze and back to opioids. When a doctor would realize she had a problem, the drug supply stopped. Her neighbor, a heroin dealer eager for new clients, filled the void.
"Heroin is more intense. It enters your system faster and lasts longer than pills," she said. "With heroin you don't need your next dose for like 24 hours."
Brittany Pettersen left home at 18, waiting tables at night and attending college during the day. When she injured her back in a car wreck, she refused pain medication for fear of becoming an addict. Later on, she began volunteering on political campaigns, drawn to the Democratic Party because she felt it promoted positive interventions in lives like hers.
"As a kid it was hard to believe people who said you can be anything you want to be," she said. "I saw the barriers were so much higher for some. But I'm here because of the investments people made in me. When we do that to each other, we change lives."
After winning a legislative seat in 2012, she tried to balance her new career with caring for a drug-addicted mother.
"But nothing I did mattered or changed anything," Pettersen said. "I realized I had to say goodbye and keep my mom at a distance so I could do the things I needed to do in my life. There were long periods when we did not talk. I built a wall around my heart."
Last August, her mom wound up in the emergency room at Swedish Medical Center near Denver for an overdose.
"She was very close to death," said Dr. Donald Stader, who cared for her that night. "We were able to resuscitate her and move her to the intensive care unit."
After recovering, she pleaded for help. All Medicaid could offer was a three-day detox program.
"When my mother asked for help and there was no place to go, it was one of the most hopeless feelings I ever had," Pettersen said. "That was the moment that inspired me to do this work. My mom's been using drugs for more than 30 years, she needs more than three days of detox. That's a joke."
Pettersen and her brother got a court order to have her mother involuntarily committed to an inpatient treatment center for two months. She now resides in a sober living facility.
"My mom is OK with me sharing her story," Pettersen said. "She doesn't like to be reminded but it puts a human face on the discussion."
Pettersen is working on a bill that would require the state's Medicaid plan to cover inpatient and residential drug abuse treatment programs, rather than just a three-day detox. It would cost Colorado an estimated $34 million but would bring in about $100 million in federal dollars, she said.
Pettersen said that's cheaper than sending addicts to emergency rooms and intensive care units.
"It takes upfront costs to get out of a crisis," she said.
A few weeks ago, her mother found herself the star witness at a packed hearing at the Capitol, testifying in support of her daughter's bill. She was dressed in blue, her long blond hair perfectly coiffed.
"Hello, my name is Stacy Pettersen. Some of you know me as Brittany's mom," she began nervously. "My last 30 years have been tragic for my family and me, but I am here to tell the unexpected ending — that I am alive and have been sober for over seven months because I finally got the help I needed."
Pettersen sat beside her, beaming.
Back at the house, she described how their relationship had grown since her mother became sober.
"We were talking about making a bucket list for you," Pettersen said. "What would be on it?"
Her mom teared up.
"I'd like to try and repair the damage I've done to my children," she said. "I want to make the most of the time I have left and be the best mom I can be."
To read this article in Spanish, click here
Kelly is a special correspondent.
Must-read stories from the L.A. Times
Get the day's top news with our Today's Headlines newsletter, sent every weekday morning.
You may occasionally receive promotional content from the Los Angeles Times.