Oregon occupation spokesman reportedly killed, eight other protesters arrested
One person died and eight others were taken into custody Tuesday when authorities confronted an armed protest group responsible for a nearly monthlong occupation of the Malheur National Wildlife Refuge in southeastern Oregon, officials said.
Killed in the confrontation was Arizona rancher Robert "LaVoy" Finicum, who had acted as a spokesman for the group of self-styled defenders of the Constitution, according to Nevada state Assemblywoman Michele Fiore, who spoke with the wife of Ammon Bundy, the son of a renegade Nevada rancher and a leader of the group.
Bundy was among five people initially taken into custody, including his brother, Ryan, who was shot in the arm during the incident, Fiore said.
Finicum's daughter, Arianna Finicum Brown, confirmed her father's death to the Oregonian newspaper. "He would never, ever want to hurt somebody, but he does believe in defending freedom, and he knew the risks involved," said Brown, who was one of 11 children.
A television truck and a reporter in a car sit along Highway 78 near Malheur National Wildlife Refuge in Oregon on Jan. 27.
(Rob Kerr / AFP/Getty Images)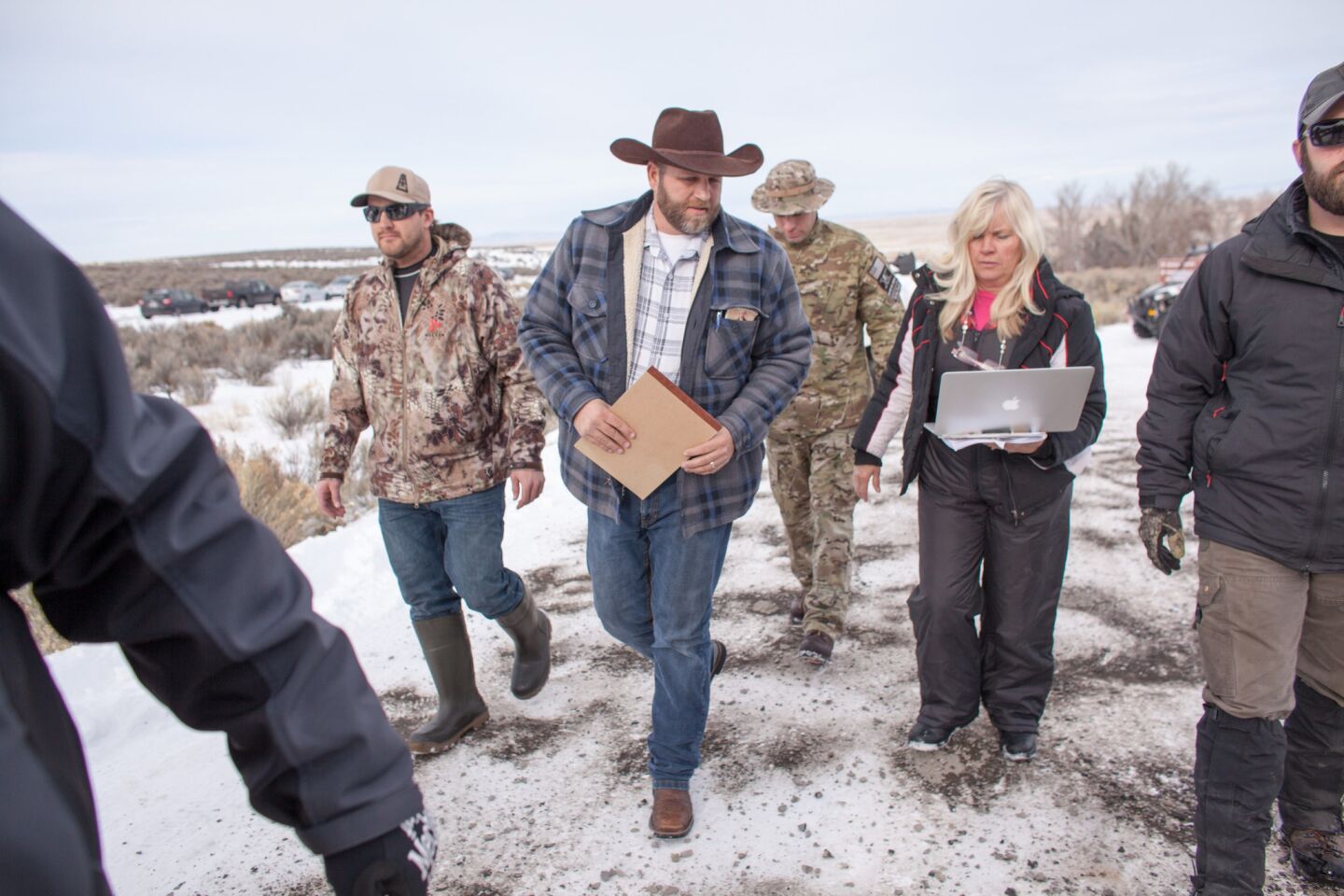 Ammon Bundy, leader of a group of armed anti-government protesters, arrives to speak to the media at the Malheur National Wildlife Refuge near Burns, Ore., on Monday.
(Rob Kerr / AFP/Getty Images)
Ryan Bundy talks on the phone at the Malheur National Wildlife Refuge near Burns, Ore. on Sunday. Bundy, son of Nevada rancher Cliven Bundy, is one of the people occupying the refuge.
(Rebecca Boone / Associated Press)
Federal buildings at the Malheur National Wildlife Refuge. Protesters are occupying the refuge in Oregon to object to a prison sentence for local ranchers.
(Rebecca Boone / Associated Press)
Fiore's account of how the arrests occurred could not be confirmed with authorities, nor was it clear whether any protesters remained at the refuge.
In a statement on the arrests, authorities said that shots were fired during the incident on U.S. 395. The injured person, whom Fiore identified as Ryan Bundy, was treated and released, the statement said.
The highway confrontation began at 4:25 p.m. when authorities from the FBI and Oregon State Police "began a law enforcement action" to take into custody those associated with the armed occupation of the refuge, officials said in a statement.
Authorities did not give details on the killing of the suspect, who they said "was a subject of a federal probable cause arrest."
Police said they made a separate arrest of another man, Joseph O'Shaughnessy of Cottonwood, Ariz., who was taken into custody in the town of Burns, near the occupied wildlife refuge.
About two hours after the initial confrontation, authorities also arrested Internet radio host Pete Santilli, a supporter of the occupation who has documented the case on his program and via live stream since it began.
An eighth suspect, Jon Eric Ritzheimer, 32, was arrested in Peoria, Ariz., about 8:30 p.m. on a federal charge related to the occupation, the FBI said.
Ritzheimer, an antigovernment activist who has organized armed anti-Muslim rallies in Phoenix, turned himself to the Peoria Police Department and was taken into custody without incident, officials said.
All of those taken into custody, including Santilli and Ritzheimer, face a federal felony charge of conspiracy to impede federal officers through the use of force, intimidation or threats, authorities said.
U.S. Sen. Jeff Merkley (D-Ore.) said he congratulated law enforcement officials for ending the "illegal activity" at the refuge.
"I am pleased that the FBI listened to the concerns of the local community and responded to the illegal activity occurring in Harney County by outside extremists," he said in a statement.
"The leaders of this group are now in custody, and I hope that the remaining individuals occupying the Malheur National Wildlife Refuge will peacefully surrender so this community can begin to heal," he said.
Leaders of the group have been largely holed up at the refuge outside Burns since Jan. 2, protesting the federal sentencing of two local ranchers and the government's administration of public lands.
They had been expected to appear at a community meeting Tuesday night in the city of John Day, but never arrived.
Join the conversation on Facebook >>
In addition to Ammon Bundy, 40, a resident of Emmett, Idaho, those arrested included his brother, Ryan Bundy, 43, of Bunkerville, Nev.; Brian Cavalier, 44, also of Bunkerville; Shawna Cox, 59, Kanab, Utah; and Ryan Waylen Payne, 32, of Anaconda, Mont.
"Isn't this a wonderful country we live in?" Nevada rancher Cliven Bundy, father of Ammon and Ryan, said sarcastically when the Los Angeles Times informed him about the arrests and the death.
"We believe that those federal people shouldn't even be there in that state, and be in that county and have anything to do with this issue. ... I have some sons and other people there trying to protect our rights and liberties and freedoms, and now we've got one killed, and all I can say is, he's sacrificed for a good purpose," Bundy said.
Ammon Bundy and a group of about 15 others took over the wildlife refuge after a march in support of Oregon ranchers Dwight and Steve Hammond, a father and son who had been sentenced to prison for setting fires on federal land.
The Hammonds said they were not asking for such support, and the occupation quickly took on much of the rhetoric of the Sagebrush Rebellion of another era.
The activists condemned the federal government's management of public lands in the West, and invoked a constitutional provision that they believe provides that the federal government is not entitled to own land.
"This is the way all wars have happened: The land and the resources get so controlled by one entity and not available to the people that the people get frustrated and then they end up retaliating," Ammon Bundy said earlier this month. "So this is a peaceful effort to make sure that that doesn't happen."
Finicum, 55, who came from his ranch in Cane Beds, Ariz., to join the occupation, gave reporters tours of the refuge early on in the protest.
"This contest is just beginning. But we will not stop, we will not back down. We will not be deterred," Finicum told reporters on Jan. 18, in a statement posted on YouTube.
Wearing a cowboy hat, flannel shirt and denim jacket, Finicum stood in front of an American flag.
"Make it known clearly," he said. "These buildings are very symbolic. They're a bunch of rock buildings, 35 miles away from nowhere. But they're symbolic. We're holding this. It's been the federal government's fortress, their castle. And we're holding it.
"We shall not give it up to them ever. It returns to Harney County when it goes back."
Times staff writer Nigel Duara in Phoenix and Steve Padilla and Alan Zarembo in Los Angeles contributed to this report.
Follow @mattdpearce on Twitter
See the most-read stories this hour >>
ALSO
Antiabortion activists who videotaped Planned Parenthood allegedly used fake licenses
Donald Trump, hoping to slow Ted Cruz's surge, makes inroads with evangelicals
Oregon motorcyclist says he asked, 'What did I do?' Then a cop kicked him
---
Must-read stories from the L.A. Times
Get the day's top news with our Today's Headlines newsletter, sent every weekday morning.
You may occasionally receive promotional content from the Los Angeles Times.