In a turf battle for organs, a policy review rattles the national transplant system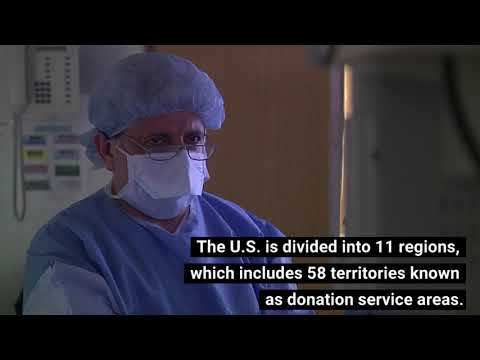 In some parts of the country, a majority of patients become very ill before they have can have a liver transplant. (Jan. 3, 2018) (Sign up for our free video newsletter here http://bit.ly/2n6VKPR)
Tethered to a breathing machine at a Manhattan hospital, 21-year-old Miriam Holman would die without a lung transplant. But her odds of finding a suitable organ were especially low in New York, where waiting times are among the longest in the country.
Just across the Hudson River in New Jersey, patients in far better condition routinely receive lungs much more quickly. Pockets of the South and Midwest also have dramatically shorter waiting times.
The disparities stem from a principle that has always guided the national transplant system: local first. Most organs stay in the areas where they are donated, even if sicker patients are waiting elsewhere.
But a federal judge's recent emergency order in a lawsuit by Holman is threatening to upend decades of organ transplant policy and force places with a relative abundance of organs to start sharing more of them.
With too few donors to meet the demand — last year there were 33,610 transplants while 12,412 patients died on waiting lists or were removed from consideration because they were deemed too sick to survive surgery — transplant centers have long fought over how to allocate organs. California and New York, which have the most severe shortages, have been on the losing side of that battle.
Holman's lawsuit against the federal government has opened a door to change that. The order issued in October by Robert Katzmann, chief judge of the U.S. Court of Appeals for the Second Circuit in New York, spurred the government to immediately broaden access to lungs for many patients across the country. Now, the same legal arguments used in that case are being waged on behalf of liver patients.
"As soon as we had some success on the lung side, my phone started ringing on the liver side," said Holman's attorney, Motty Shulman. "Nobody should be getting a preference based on where they live."
For transplant purposes, the U.S. is divided into 11 regions, which include 58 territories known as donation service areas. In general, each area has first crack at the organs collected there, with the sickest patients there first in line. Only when an organ is deemed unsuitable for all the patients in that area is it made available to patients elsewhere — first within the region, then nationwide.
Waiting times vary by donation service area because organ supply and demand are not spread evenly across the country. One area may be flush with organs because it has lots of fatal motorcycle accidents and transplant programs that don't accept the most gravely ill patients. Another may face severe shortages because it has a large minority population — minorities tend to donate less — and high rates of liver or kidney disease.
The bottom line: How quickly a patient gets a transplant, and sometimes whether a patient gets a transplant at all, depends largely on where they are being treated.
At UC San Francisco Medical Center — which added more liver patients to its waiting list than any other hospital in the country last year — the average wait for a liver is more than three years. At the Ochsner Medical Center outside New Orleans, it is just over two months. The national average is just over 14 months.
Geographic variation in organ availability
In some parts of the country, a majority of patients become very ill before they get a liver transplant. In others, patients spend less time on waiting lists and are healthier when organs become available. Here's a sampling of states:
| Area | 2016 transplants* | Seriously ill** | Currently waiting | Waiting 3+ years*** |
| --- | --- | --- | --- | --- |
| AreaU.S. total | 2016 transplants*7,496 | Seriously ill**48% | Currently waiting14,033 | Waiting 3+ years***28% |
| AreaAlabama | 2016 transplants*149 | Seriously ill**22% | Currently waiting116 | Waiting 3+ years***13% |
| AreaCalifornia | 2016 transplants*776 | Seriously ill**83% | Currently waiting2,593 | Waiting 3+ years***35% |
| AreaFlorida | 2016 transplants*525 | Seriously ill**32% | Currently waiting496 | Waiting 3+ years***11% |
| AreaIndiana | 2016 transplants*160 | Seriously ill**20% | Currently waiting77 | Waiting 3+ years***3% |
| AreaKentucky | 2016 transplants*79 | Seriously ill**29% | Currently waiting169 | Waiting 3+ years***20% |
| AreaLouisiana | 2016 transplants*243 | Seriously ill**28% | Currently waiting179 | Waiting 3+ years***17% |
| AreaNew York | 2016 transplants*361 | Seriously ill**69% | Currently waiting1,104 | Waiting 3+ years***29% |
| AreaOhio | 2016 transplants*332 | Seriously ill**30% | Currently waiting523 | Waiting 3+ years***19% |
| AreaSouth Carolina | 2016 transplants*74 | Seriously ill**28% | Currently waiting49 | Waiting 3+ years***16% |
| AreaTennessee | 2016 transplants*273 | Seriously ill**27% | Currently waiting239 | Waiting 3+ years***17% |
* Does not include transplants from living donors ** At time of transplant, 30 or higher on a standard 6–40 scale that uses three blood tests to gauge severity; also includes cases of sudden liver collapse, in which death is imminent *** As of Dec. 15, 2017
Source: United Network for Organ Sharing
The local-first policy dates back to the early days of transplants, when pioneering hospitals created local networks to look for donors, and technology to preserve harvested organs for long transports was limited. The policy persists even though kidneys, livers, lungs and hearts can now be flown across large swaths of the country.
Tom Mone, chief executive of One Legacy, the nonprofit contracted to coordinate allocation in the donation service area that includes Los Angeles, says he has fought for years to bring more organs to Southern California but has been rebuffed by "the parochial self-interest of transplant centers" seeking to preserve short waiting times for their patients.
"As in politics, we seem to be more tribal than ever," he said.
Defenders of the local-first policy say it allows more transplant centers to stay in business and provide the life-saving procedure to a wider swath of the U.S. population. Without such protections, the worry is that crowded, big-city centers would suck up all available organs.
In Charleston, S.C., the Medical University of South Carolina advertises "one of the shortest wait times in the country." Dr. Prabhakar Baliga, a transplant surgeon there, said eliminating local preference would be akin to taking charity funds raised locally for wildfire victims in California and diverting them to hurricane victims in Texas.
"The success of transplants is based on a gift from the local community," he said. "Taking away organs from South Carolinians is unfair."
Dr. Malay Shah, a liver transplant surgeon at the University of Kentucky in Lexington, says allowing bigger centers to compete for organs donated in Kentucky would mean his patients would have to become sicker before receiving transplants — if they could hang on that long.
Many come from impoverished Appalachia and have other serious health problems that he said increase their risk of death without a transplant.
"It's a challenge to take care of these patients already," he said.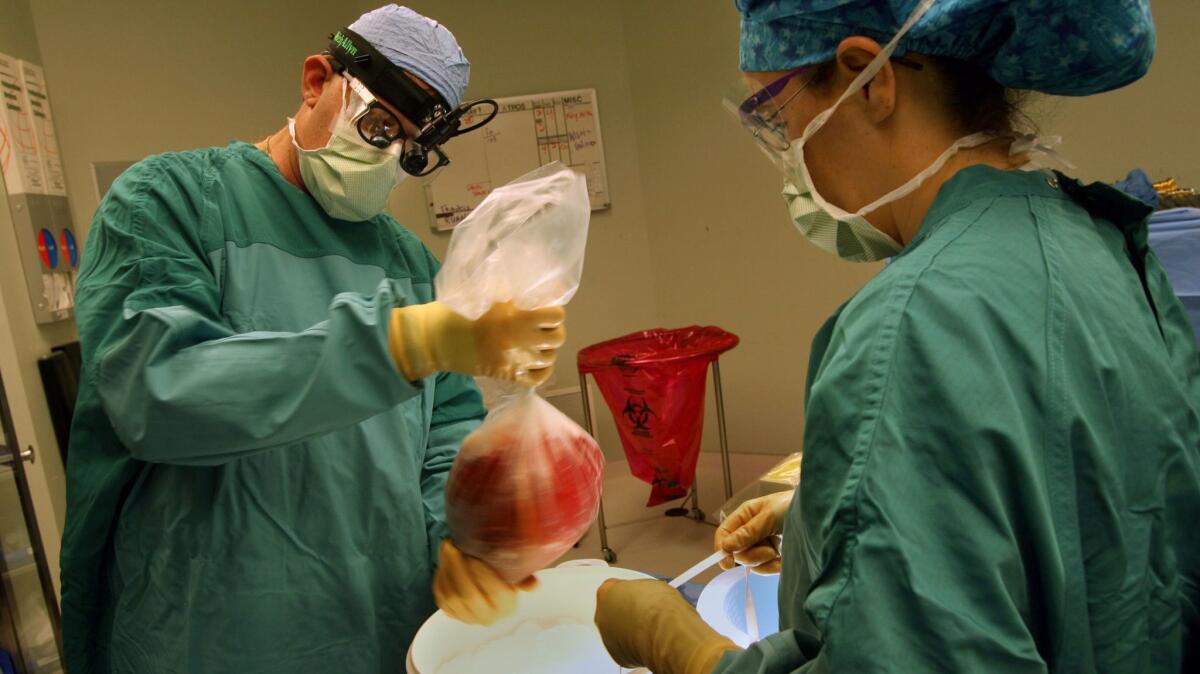 A series of reforms over the years have allowed the sickest patients to compete for hearts and livers beyond their own territories. Those changes usually came after years of debate.
The Holman lawsuit changed the lung policy in five days.
Holman suffers from a rare form of pulmonary hypertension — high blood pressure in the arteries of the lungs — that killed her sister 13 years ago. She entered intensive care at Columbia University Medical Center in late September. Her rare AB blood type added to the difficulty of finding lungs.
Family members, who declined to be interviewed, filed suit after learning how the rules limited her chance for a transplant.
Her surgeon, Dr. Joshua Sonett, had co-written a 2013 analysis showing that for every lung transplant nationwide there was an average of nearly six sicker patients waiting elsewhere in the same region where the transplant was performed. He said he encouraged the lawsuit.
"We'd been trying to change policy through scientific papers and standard petitioning," Sonett said. "If it takes a little policing from the outside to force us to change, that's OK."
Holman's lawyers argued that allocating organs using "arbitrary boundaries" violated the federal law that set up the national transplant system in 1984. The law was updated in 2000 to say that medical need and not "accidents of geography" should be the primary factor in determining how long a patient waits for a transplant.
On Nov. 20, a U.S. District Court judge rejected an emergency motion to give Holman access to lungs outside her donation service area. But two days later Katzmann issued an order giving the government three days to report back on a rapid review of its lung policy.
The federal Department of Health and Human Services went further and on Nov. 25 established a new system for lung allocation that no longer relies on the 58 donation service areas. Instead, effective immediately, when lungs become available, they are offered first to the sickest patient within 250 nautical miles (slightly farther than a standard mile) of the hospital where they were donated.
The new policy will be kept in place for a year and then re-evaluated, officials said.
It will be felt most strongly in the Northeast, where donation service areas are small and densely populated and their boundaries created the most glaring disparities. Patients in New York can now compete for lungs across the state line in New Jersey and as far away as Boston and Washington, D.C. Patients in those places will also be able to claim organs from New York, but the change is expected to reduce the gap in waiting times.
Dr. Christian Bermudez, the head of lung transplantation at the University of Pennsylvania, predicted that the policy would hurt smaller East Coast transplant centers that until now had been able to perform transplants in healthier patients and lacked the ability to keep large numbers of very sick patients alive as they waited to rise to the top of the list.
The effect in the West is expected to be smaller. Most donation service areas are much larger, so the 250 miles generally doesn't stretch into other areas with more plentiful organ supplies.
Still, the case has sent shockwaves throughout the transplant system, with many wondering whether it ultimately will affect the territorial allocation system for other organs.
In a Dec. 1 letter to federal transplant officials, Holman's lawyer demanded similar changes in the allocation of livers on behalf of a new client with liver failure in New York.
The letter came three days before the board of the United Network for Organ Sharing, the contractor that administers the national transplant system, was scheduled to vote on a new liver scheme.
The liver plan it adopted builds on a 2013 policy change that gave the sickest patients — those scoring at least 35 on a 40-point scale used to assess liver condition and rank transplant candidates — priority not just within their donor service areas but throughout their regions.
The new scheme drops the threshold to 32 and adds patients outside the region if they are within 150 nautical miles of the donor hospital. As a counterweight to those changes, it also gives the nearest patients a small boost up the waiting list.
Officials said the policy would take effect late in 2018.
As with the new lung policy, it is expected to reduce the disparities in waiting times in the densely populated Northeast but do little for California.
"This plan is not even a half-measure," said Sommer Gentry, a mathematician at the U.S. Naval Academy who studies geographic inequities in the system.
Some patients have beaten the system by temporarily relocating to places with better organ supplies — an option that Gentry said "undermines public trust" because it is only available to people with means.
Shulman says he is talking with several potential clients about challenging the new liver rules because they still use donation service areas and do little to improve access to organs for patients in vast Western states.
In her lawsuit over lungs, Holman had asked for an allocation zone of 500 miles, not 250. Still, the federal government's new plan has improved her chances.
She remains on life support, waiting.
ALSO
'Kidney for sale': Iran has a legal market for the organs, but the system doesn't always work
Op-Ed: California has long wait lists for liver transplants, but not for the reasons you think
Sign up for Essential California for the L.A. Times biggest news, features and recommendations in your inbox six days a week.
You may occasionally receive promotional content from the Los Angeles Times.