Baby pandas born and bred at National Zoo are not birthright citizens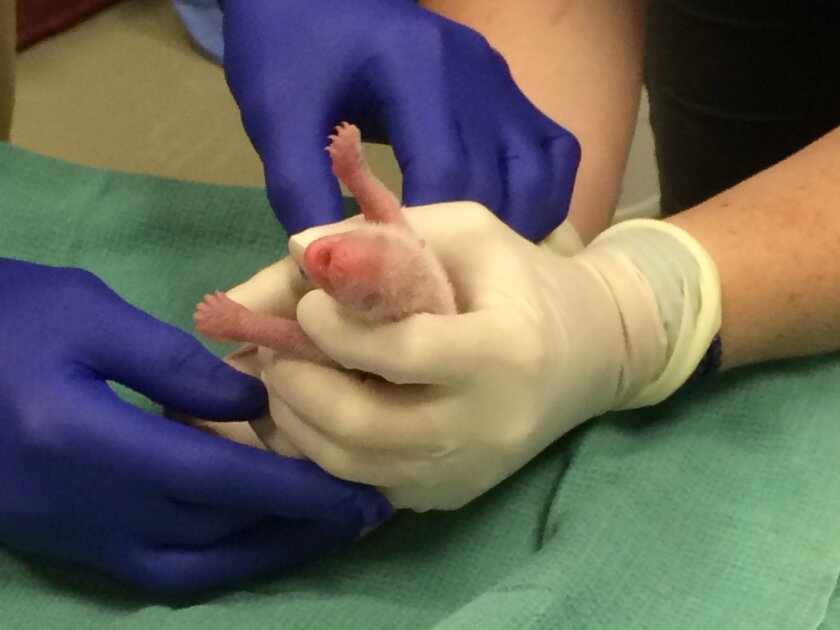 Reporting from Washington —
Zookeepers call pandas their sexiest animals. They fawn over their inclination to make even laziness look so darned cute and covet their ability to draw thousands of visitors who buy plush toys and faux panda ears.
But even as excitement swelled over the birth of twin pandas at the Smithsonian's National Zoo in Washington on Saturday, the cubs themselves are only temporary residents in the nation's capital. Unlike humans born on U.S. territory, the pandas are not birthright citizens.
If they survive a tenuous period of infancy and reach sexual maturity in three or four years, there is a good chance the Chinese government will summon them home to breed.
China, which makes millions of dollars a year for its breeding programs by sending pandas to zoos around the world, controls their whereabouts.
See the most-read stories this hour >>
The cuddly looking bears' popularity, the millions it costs to house and feed them and the Chinese government's ability to control their whereabouts make pandas one of the most complex animals for a zoo to keep.
"At the end of the day, it's a huge business deal for China," said Ron Magill, who has served for 36 years as the communications director for Zoo Miami, which does not have pandas.
The National Zoo and the three others that house pandas – San Diego, Memphis and Atlanta – say they do not make money keeping the fuzzy animals that have become a leading icon for conservationists, though it is difficult to pinpoint how much their presence boosts overall attendance and donations. Zoo Atlanta openly flirted with ending its panda program several years ago, before the Chinese government agreed to renegotiate its contract terms, dropping the price from more than $1 million a year to $575,000.
Zoos in San Diego, Washington, and Memphis have negotiated similar terms in recent years. The payments are earmarked for Chinese government conservation programs. Attempts to reach Chinese government officials were unsuccessful.
"They've become a loss leader. Yes, they are expensive to maintain and exhibit, but they are a tremendous draw," said David Walsh, president of Zoo Advisors, who has consulted for more than 50 zoos, including Atlanta. "It does make economic sense, if you have the right market."
The San Diego Zoo, often ranked among the world's best, says it has spent more than $40 million maintaining giant pandas since 1996, plus $5.8 million on a giant panda exhibit. The maintenance costs include fees to China and other extraordinary expenses, including food, which can run tens of thousands of dollars a year.
"You have to grow bamboo. If you can't grow bamboo you have to source bamboo from someplace," said Jenny Mehlow, spokeswoman for the San Diego Zoo, which grows most of its bamboo and harvests some from local producers, noting that pandas will reject it if not fresh.
All four U.S. zoos that keep pandas say they believe they are good for their institutions and good for conservation missions, even if it is a little painful to see them flown back to China on jumbo jets when they reach sexual maturity.
"We don't have them as a money maker," said Stephanie Braccini, the curator of mammals at Zoo Atlanta, who combines scientific terms with words like "hilarious," "adorable" and "cute" to talk about the animals. "We have them as an opportunity to have that conservation message and to help the overall population."
The Atlanta zoo broke attendance records in the first full year it had pandas, 2000, drawing more than 1 million visitors. Attendance surged again, by 25%, in 2007 after the first cub, Mei Lan, was born. But two subsequent cubs did not affect attendance, said Rachel Davis, spokeswoman for Zoo Atlanta. And the bump after the birth of twins two years ago contributed to a modest 6% rise in attendance.
Admission to the National Zoo, part of the federally supported Smithsonian, is free. But the panda logo is everywhere on the park property, a major piece of the zoo's fundraising and merchandising business. Mei Xiang's suspected pregnancy had made headlines for weeks, and the surprise birth of twins Saturday stirred the panda frenzy.
The newest unnamed panda cubs, whose genders won't be known for several weeks, are only the third set of twins born in the United States. The first set, also born at the National Zoo, did not survive. The second set, born in Atlanta, did.
"It's a very risky and challenging time," said Pamela Baker-Masson, associate director of communications at the National Zoo. "The cubs are very vulnerable."
Because Mei Xiang cannot care for both cubs at once, zookeepers were attempting to take care of one baby at a time, swapping them out every few hours so they get equal attention from their mother. But they are encountering trouble.
But Sunday night, Mei Xiang refused to give one of the cubs up, leaving the second cub in the hands of zoo staff for about eight hours. The cub would not take a bottle, and had to be fed from a tube, Baker-Masson said.
On Tuesday, the cub continued to require special care from staff, drawing concern over weight fluctuation and "signs of regurgitation," which has prompted more tube feeding. Mei Xiang has been unwilling to give up the larger cub to care for the smaller one for long stretches.
Outside the panda exhibit this week, three signs were hoisted on barricades informing visitors that the panda house was closed—but just the birth announcement drew a few visitors. It will be several months before the new cubs make a public appearance.
"I thought we should go to D.C. to check out the pandas.… I just have disappointment to share," said Diane Ma, who traveled to the zoo from Chicago after the twin births were announced. Ma continued to watch Mei Xiang on the panda cam for a few moments before moving on to see the elephants.
"I didn't come to expect to see them," said Alexis Whitted, a veterinarian not affiliated with the zoo who bought a stuffed panda. "I just wanted to be part of the environment because it's a big event."
Sunday was the second birthday of Bao Bao, one of the pandas born at the zoo—and a celebration drew a crowd of panda lovers.
But it was also a reminder that Bao Bao may have already spent half her time at the zoo. Tai Shan, another panda born at the National Zoo, was sent to China in 2010, along with a cub from Atlanta. San Diego has also sent pandas to China. Memphis has not had any births. China does not generally recall adult bears—which can live about 20 years—but it has that right when contracts expire every five or 10 years.
American zookeepers say the move to China will improve the species' survival, because potential breeding partners in U.S. zoos are related to one another.
"It's bittersweet because, for our staff, they come to know our animals very well," said Baker-Masson of the National Zoo. "If you're in this business, you know why you're in the business, and part of that is taking exceptional care of animals so that they will breed."
Times staff writer Mary Ann Toman-Miller contributed to this report.
Follow @noahbierman on Twitter for national news.
ALSO:
GOP strategist says a Trump nomination is 'totally conceivable'
Why presidential candidates are getting heckled by their allies
Violence and barriers won't stem the tide of migrants to Europe, U.N. warns
---
Must-read stories from the L.A. Times
Get all the day's most vital news with our Today's Headlines newsletter, sent every weekday morning.
You may occasionally receive promotional content from the Los Angeles Times.