'We are pro people not dying.' Parkland students captivated the nation, but will their message resonate on election day?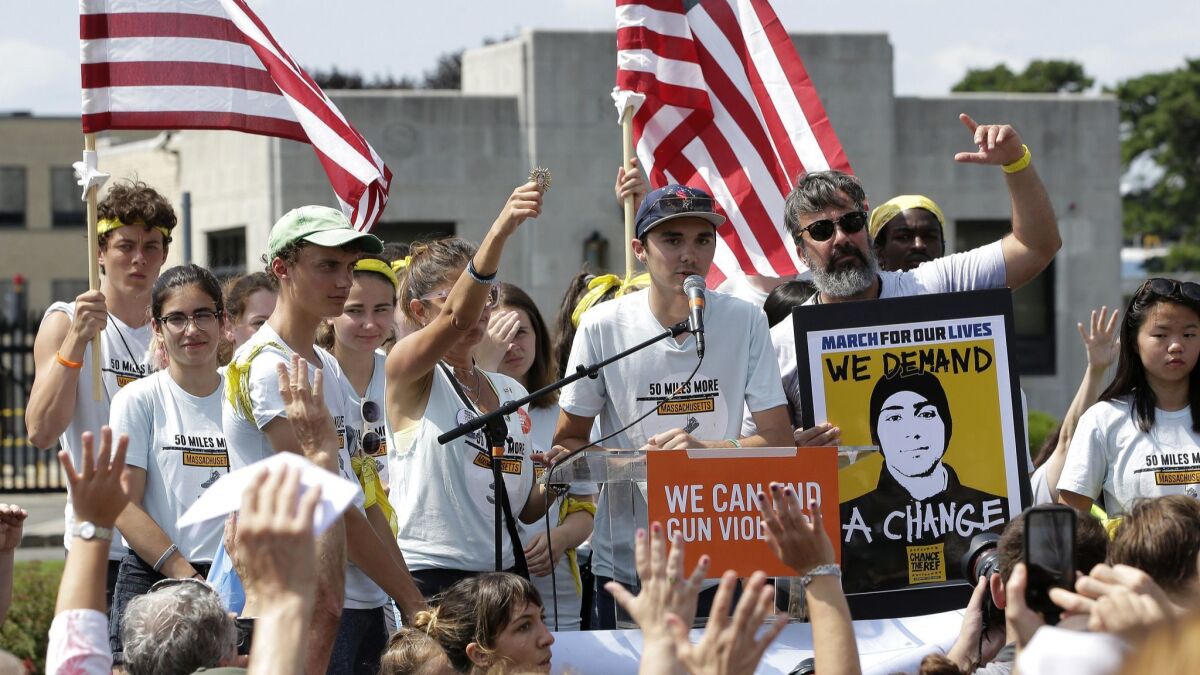 They've held hundreds of rallies including a massive gathering on the National Mall, appeared with Trevor Noah and other late-night television hosts, and challenged elected officials to face-to-face debate.
But nine months after the teenage students from Parkland, Fla., were thrust to the fore of America's daily political discourse following the mass shooting at Marjory Stoneman Douglas High School, their calls for gun control, and for registering and turning out young voters, have been largely overtaken by the nation's daily crush of controversies.
While the effort they ignited was viewed early on as a possible tipping point, even the slaying of 11 people in a Pittsburgh synagogue last weekend with weapons that included an assault rifle triggered a muted response concerning gun control.
Yet as Tuesday's midterm election looms, the students who launched the national movement known as March for Our Lives, have remained undeterred, traveling to dozens of college campuses and registering voters, while keeping gun control at the forefront of their pitch. And they remain confident that even if they have personally receded from the national spotlight, their message continues to resonate.
"The work on the ground is being done — it truly, truly is," said Jaclyn Corin, 18, a senior at Stoneman Douglas and co-founder of March for Our Lives. "We're seeing movement and gaining traction."
Throughout the fall, Corin and more than a dozen other current and former Stoneman Douglas students have traveled from coast to coast holding town halls and meetings with college students to discuss gun control and emphasize the importance of engagement in the political process. The tour has inspired the hashtag #voteforourlives and the group estimates it has registered 50,000 voters — many of them young people between the ages of 18 and 29.
The effort could make a difference in boosting election participation this year among younger voters, who historically turn out in small numbers for the midterms.
A poll released this week by the Institute of Politics at Harvard's Kennedy School of Government found 40% of 18- to 29-year-olds say they will "definitely vote" in Tuesday's elections. The highest rate of youth voter turnout in past midterms was 21%, in 1986 and 1994, according to the survey, which cited U.S. census data.
"We want people to recognize that they can make a difference regardless of their age," Corin said.
Since the Feb. 14 shooting at Stoneman Douglas that left 17 students and instructors dead, activists from March for Our Lives, many of whom have amassed large followers on social media, have seen a bit of movement at the state level in efforts to limit gun sales.
In March, Florida Gov. Rick Scott signed a measure that, among other things, raises the minimum age to purchase a firearm in that state from 18 to 21. Other states, including Vermont and California, have passed similar measures in the wake of the Florida tragedy.
"I'm an NRA member, a supporter of the 2nd Amendment, and the 1st Amendment, and the entire Bill of Rights for that matter. I'm also a father, and a grandfather, and a governor," said Scott, after being lobbied by Parkland students and parents. "We all have a difficult task in front of us, balancing our individual rights with our obvious need for public safety."
States including Florida have also implemented "red flag" laws, which allow family members or law enforcement to seek a court order to temporarily restrict a person's access to firearms when he or she shows signs that they are a danger to themselves or others. (The conduct of the 19-year-old gunman in the Parkland shooting had raised concerns among family members, who contacted the FBI before the rampage). These laws were lauded by the Parkland students.
In addition, the group has called on major corporations to sever any ties with the National Rifle Assn., which has continued to vehemently oppose gun-control measures even after a barrage of further mass shootings, including at a newspaper office in Maryland in June, an e-sports tournament in Florida in August and at the Pittsburgh synagogue, the most deadly attack on the Jewish community in U.S. history.
Shortly after the Parkland massacre, Delta Airlines announced that it would no longer offer discounted fares to NRA members to attend annual meetings, and asked the NRA to remove any reference to the company from its website. More recently, FedEx announced that it was ending its partnership with the NRA, in which discounts were offered to members of the gun-rights group.
David Hogg, a leader of March for Our Lives who graduated from Stoneman Douglas in June, said the student group's effort remains primarily about "public health advocacy."
"We advocate in the same way that people who advocate for safer cars and roads — they aren't pro-car or anti-car, they are pro people not dying," Hogg, 18, said this week before a get-out-the-vote rally at the University of Central Florida. "We are pro people not dying."
A Gallup poll released last month showed that 61% of respondents said they favor stricter laws concerning the sale of firearms, down slightly from March, when 67% expressed that view shortly after the Parkland shooting.
Issue fatigue may also be showing in campaign finance efforts. In May, parents of Parkland students started a political action committee to oppose politicians funded by the NRA. Last month, however, the parents who started the committee, Families vs. Assault Rifles, told local media that the group was scaling back its 2018 plans after the PAC raised $230,000 of an initial goal of $10 million.
Dudley Brown, president of the National Assn. for Gun Rights, predicts that despite the students having captivated the nation's attention earlier this year, their effort will have minimal results on Tuesday.
"There's been a lot of stomping and screaming, but has there been any federal laws passed? No," Brown said. "There won't be after the midterms either, because politicians know it's not wise to infringe on 2nd Amendment rights."
Hogg and other students counter that their movement will make a difference not just on Tuesday — but far into the future.
"This fight doesn't end in 2020 or 2022," Hogg said. "This fight doesn't even end in this generation … we can't just give our thoughts and prayers to these things, we have to go out and take action. We have to pray with our votes."
Twitter: @kurtisalee
---
Must-read stories from the L.A. Times
Get the day's top news with our Today's Headlines newsletter, sent every weekday morning.
You may occasionally receive promotional content from the Los Angeles Times.