Elliott Abrams, U.S. envoy for Venezuela, faces combative House hearing as policy stalls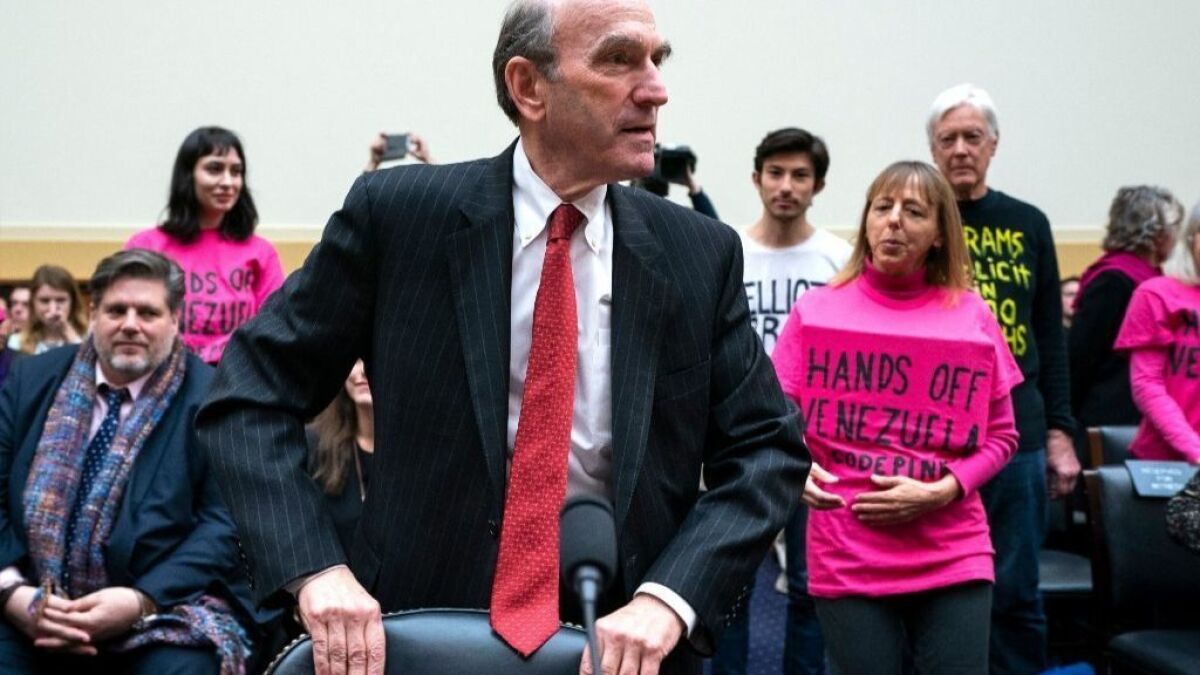 Reporting from Washington —
In his first appearance in Congress as special U.S. envoy for Venezuela, Elliott Abrams on Wednesday defended the Trump administration's seemingly stalled efforts to oust President Nicolas Maduro, saying the authoritarian ruler's "time is up."
"There is a storm brewing inside the Maduro regime," said Abrams, a veteran diplomat best known for his role in the Iran-Contra scandal of the late 1980s. "He will not be able to weather it much longer."
In a sometimes combative hearing before the House Foreign Affairs Committee, Abrams described a diplomatic and political effort aimed at driving a wedge between Maduro and his top military commanders on one side, and the civilian population and lower ranks of the army on the other.
Abrams said analysts has detected "cracks" in Maduro's support, indicating the approach might be working, but he declined to go into detail in a public setting.
To increase pressure on Maduro, the administration has slapped sanctions on Venezuelan officials and income sources such as oil exports. Abrams said the State Department will revoke U.S. visas for judges on Maduro's Supreme Court. It previously revoked visas for members of the pro-Maduro parliament.
The Trump administration recognized opposition leader Juan Guaido as Venezuela's interim president on Jan. 23, and Secretary of State Michael R. Pompeo appointed Abrams to his post two days later. Most of Latin America and Europe also has recognized Guaido's shadow government.
Maduro has refused to step down, however, and his grip on power appears to have tightened despite large-scale protests in a country roiled by political and economic turmoil.
Abrams was an unusual choice for the job, and not just because he denounced Trump in a magazine piece titled "When You Can't Stand Your Candidate" during the 2016 presidential race.
During the Reagan administration's Iran-Contra scandal, which revolved around the illegal sale of arms to Iran to help support rebels trying to overthrow a leftist regime in Nicaragua, Abrams pleaded guilty to two counts of withholding information from Congress as part of a plea agreement. He was pardoned by President George H.W. Bush in 1992.
Abrams was interrupted twice at the start of his testimony by protesters who chanted against staging a "coup" in Venezuela. They were removed by security guards.
When Abrams concluded his opening statement, another protester jumped up and shouted, "War criminal!" He, too, was removed.
Lawmakers urged Abrams to persuade the administration to admit more refugees from Venezuela and to consider giving those already here temporary protected status, a category that shields specific groups of nonresidents from deportation. Trump has ordered those protections removed for several groups, including Salvadorans and Haitians.
More than 3 million Venezuelans are believed to have fled their country in recent years, creating a refugee crisis in the region.
Several Democratic lawmakers, including the committee chairman, Rep. Eliot Engel of New York, expressed concern that Trump has publicly floated the idea of sending U.S. troops into Venezuela.
"This is not the path … the United States is pursuing," Abrams responded. He added, "We always take the position that all options are on the table."
"That plays right into the hands of the dictator who is our adversary," Rep. William Keating (D-Mass.) snapped back.
Use of force "is not the preferred path and not the path we are going down," Abrams reiterated.
Asked to pledge that the Trump administration would not send U.S. troops into Venezuela without consulting Congress, Abrams said he was "not in a position" to do so.
Two Democrats, Rep. Joaquin Castro of Texas and Rep. Adriano Espaillat of New York, revived Abrams' Iran-Contra past to question his ability to perform his current job.
Castro asked if the Trump administration has sent weapons to Venezuela's opposition. When Abrams gave an emphatic "No," Castro asked, "Can we trust your testimony today?"
Castro noted that Abrams' previous troubles involved supplying lethal weapons to rebels in Nicaragua "against the will of Congress."
Tempers flared when Espaillat said the "baggage" Abrams carried disqualified him to lead the anti-Maduro effort.
Abrams, who served as an assistant secretary of State from 1981-89, angrily said that numerous military dictatorships were replaced by civilian governments in that period.
He added that not a single Latin American official he has met since becoming special envoy has brought up his controversial past.
Abrams grew red in the face when Rep. Ilhan Omar (D-Minn.) recounted his statements from the past that attempted to discredit as communist propaganda journalists' reports of massacres by U.S.-trained troops in El Salvador.
"I've been attacked!" he shouted at one point, when Omar would not let him speak to defend himself.
tracy.wilkinson@latimes.com
For more on international affairs, follow @TracyKWilkinson on Twitter
---
Must-read stories from the L.A. Times
Get the day's top news with our Today's Headlines newsletter, sent every weekday morning.
You may occasionally receive promotional content from the Los Angeles Times.