Legalized pot scores big as voters decide on state ballot measures, including the death penalty and minimum wage
Voters in six states approved measures Tuesday that will expand legal use of marijuana as millions across America weighed in on some of the most contentious issues facing the nation.
California, which was the first state to allow marijuana to be used for medical purposes two decades ago, voted to allow adult recreational use of the drug along with Massachusetts and Nevada.
Florida and Arkansas became the first Southern states to legalize medical pot, and they were joined Tuesday by North Dakota. Medical marijuana was already legal in 25 other states.
Three other states were considering ballot questions on the drug, which is still prohibited by the federal government.
Proposals on gun control, the death penalty and raising the minimum wage were also among the more than 150 initiatives under consideration across the country.
In California alone, voters were deciding on 17 ballot questions, including whether to require actors in adult films to wear condoms when filming sex scenes.
Supporters of legalizing marijuana hope Tuesday's state votes will put more pressure on the federal government to lift its ban on the drug.
"This is a major tipping point," said Tom Angell, chairman of the Marijuana Majority group, in a statement. "A majority of states in the U.S. now have laws allowing patients to find relief with medical marijuana, and these protections and programs are no longer concentrated in certain regions of the country like the West and Northeast."
Opponents have likened the legalization effort to "Big Tobacco," accusing the campaign of endangering children and prioritizing corporate profits over public health.
Voters in Arizona rejected a measure that would have allowed recreational pot in the state. Maine was considering a similar proposal.
And Montana was deciding whether to ease restrictions contained in an existing medical marijuana law.
Here is a look at some of the other issues at stake in this election.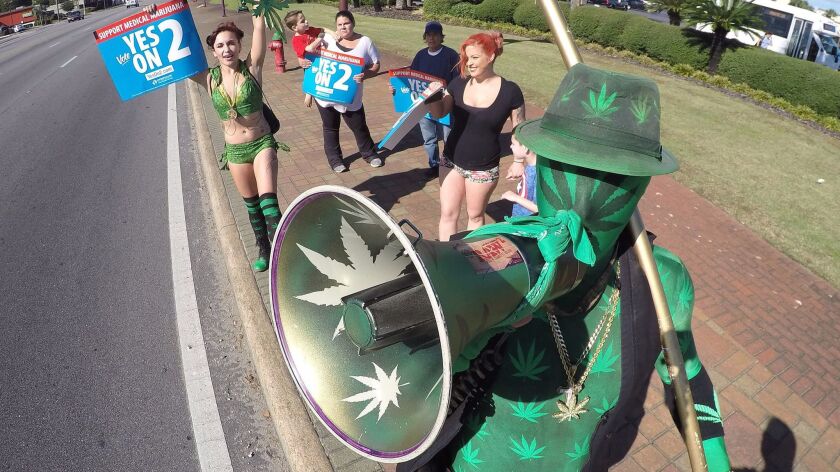 Guns
Four states were deciding on whether to increase restrictions on the sale of guns and ammunition.
California, which already has some of the nation's toughest gun laws, voted to strengthen the state's regulation of ammunition sales, with a ballot measure that requires background checks for ammunition purchases and bans high-capacity magazines.
Washington voted to allow families or authorities to obtain a court order to temporarily seize guns from individuals who are deemed a threat to themselves or others.
Nevada and Maine had proposals on the ballot to expand federal background checks on firearm sales between private parties, closing a loophole that supporters say has allowed convicted felons, domestic abusers and the mentally ill to buy firearms at gun shows and online.
Death penalty
The death penalty made it onto ballots in three states.
Nebraska voted to reinstate capital punishment after state lawmakers repealed it last year.
There are currently 10 men on death row in the state and Nebraska has not executed a person since 1997.
Oklahoma decided to enshrine capital punishment in the state constitution with a measure that ensures the state can carry out the penalty by other means if a method is blocked.
California had two competing measures on its ballot. One that would repeal the death penalty was trailing another that would speed up appeals so sentences could be carried out.
Minimum wage
The federal minimum wage of $7.25 an hour hasn't changed in seven years. But Arizona, Colorado and Maine voted to phase in an increase to $12 an hour by 2020, and Washington voted for a minimum of $13.50.
Voters in South Dakota, meanwhile, rejected a measure that would have reduced the minimum wage for workers under 18 there to $7.50 from $8.55.
Other issues
In Colorado, voters decided to allow physicians to help terminally ill people die, which is the practice in five other states.
But they rejected a proposal to set up a universal healthcare system funded by payroll taxes that would have replaced the system based on private insurers.
Colorado also voted against raising taxes on tobacco products, along with Missouri and North Dakota. But Californians supported a measure that increases the price of a pack of cigarettes by $2 and levies new taxes on e-cigarettes.
In Washington, voters rejected an initiative that would have introduced the nation's first statewide tax on carbon emissions.
The measure was cast as a bipartisan effort to fight climate change that could build momentum toward creating a national carbon tax — and Washington, a liberal, environmentally minded state, seemed a promising place to do that. But the campaign met opposition from an unlikely alliance: environmental groups, which argued it did not do enough to expand renewable energy and help communities most affected by climate change, and conservative groups including the Koch brothers and the fossil fuel industry.
Maine was deciding whether its elected officials can be selected through a system allowing voters to rank their choices of candidates.
Times staff writers William Yardley in Seattle and John Myers in Sacramento contributed to this report
Twitter: @alexzavis
---
UPDATES:
Nov. 9, 12:35 a.m.: This article was updated with more results.
11:55 p.m.: This article was updated with more results.
9:20 p.m.: This article was updated with more results.
This article was originally published at 7:40 p.m.
---