Stacey Abrams ends bid for Georgia governor and pledges to fight 'gross mismanagement' of election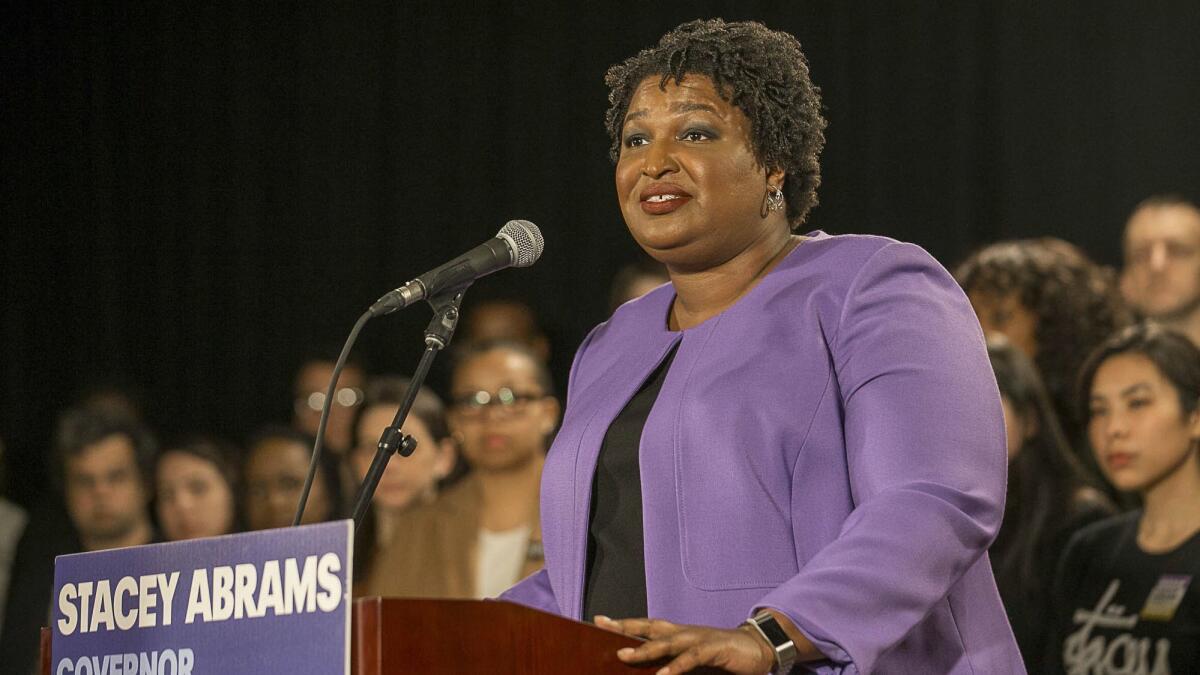 Reporting from Atlanta —
Democrat Stacey Abrams ended her historic quest to become the nation's first black female governor Friday as Georgia officials prepared to certify the election in favor of Republican Brian Kemp.
But she did not go quietly.
"Let's be clear: This is not a speech of concession," Abrams said Friday evening at her campaign headquarters in Atlanta. "Concession means to acknowledge an action is right, true or proper. As a woman of conscience and faith, I cannot concede that."
With more than 3.9 million votes cast, Kemp, a President Trump loyalist, has maintained a steady lead of more than 54,000 votes. In order to trigger a mandatory runoff, the lead would have to shrink by more than 17,500 votes.
After filing a flurry of federal lawsuits in the days after the election, Abrams said Friday she had come to the conclusion that "the law currently allows no further viable remedy."
"Now, I could certainly bring a new case to keep this one contest alive," she told reporters. "But I don't want to hold public office if I need to scheme my way into the post. The title of governor isn't nearly as important as our shared title: voters. And that is why we fight on."
Rather than concede, Abrams said she would launch a new PAC, Fair Fight Georgia, to pursue accountability in Georgia elections. In coming days, she said, the group would file a major federal lawsuit against the state of Georgia for its "gross mismanagement" of the election and to protect future elections from unconstitutional actions.
Throughout the acrimonious campaign, Abrams complained that Kemp, who presided over the election as secretary of state until he resigned last week, had purged hundreds of thousands of voters from electoral rolls.
After election day, Kemp was quick to declare victory and appoint a chief of staff for his transition.
Abrams' campaign, in turn, raised a barrage of complaints, saying they had heard from about 25,000 voters who had problems casting their ballots: some waiting for four hours at the polls or arriving at polling stations that had run out of paper ballots, they said, while others did not receive ballots or had their voter registration application rejected.
Yet some voters who encountered problems were still able to vote and the Abrams campaign did not have a definitive list of Georgians who ended up disenfranchised.
On Friday, Abrams acknowledged Kemp would be certified the winner, but she did not pull back from her criticism.
"Under the watch of the now former secretary of state, democracy failed Georgia — Georgians of every political party of every race, every region," she said. "To watch an elected official who claims to represent the people in the state boldly pin his hopes for election on the suppression of the people's democratic right to vote has been truly appalling."
While Abrams' defeat represents a major setback for Georgia Democrats, legal experts said Abrams would have faced an uphill battle in challenging the election result in court and requesting a do-over of the governor's race. To do so, her attorneys would have to prove that tens of thousands of Georgians were blocked from voting in the election — enough to change the course of the result.
"From a judicial perspective, the question is: Do we have enough evidence that the magnitude of these problems are such that it puts the actual result in doubt?" said Edward Foley, a law professor at Ohio State University and author of "Ballot Battles: The History of Disputed Election in the United States."
"That would be a very, very difficult claim to prove factually, even though conceptually it's available," he added. "A judge isn't going to void an election unless they can show that the problem really undermines the outcome."
"What Democrats wanted was to see her not giving up without a fight," said Andra Gillespie, associate professor of political science at Emory University. "She demonstrated that, for sure…. Once the judges have determined which votes have been counted, there is the question of what is to be gained by continuing to wage a court battle."
Though some true-blue backers would support a fight to the end, Gillespie said, Abrams could risk losing support from other Democrats if she dragged out the legal challenge to Kemp's gubernatorial victory.
"The big issue is does the Abrams strategy align with the state party strategy?" Gillespie said. "Would the national Democratic Party be supportive of it?"
In an impassioned speech, Abrams vowed to channel her campaign's work into a robust demand for election reform, urging Georgia voters not to lose faith in democracy or turn away from politics under the belief it is "rigged and rotten."
"I implore each of you to not give in to that anger or apathy but instead turn to action," she said. "The antidote to injustice is progress. The cure to this malpractice is a fight for fairness in every election held, in every law passed, in every decision made."
Acknowledging that her words stood apart from the rituals of typical political concession speeches, Abrams anticipated her critics would rebuke her for not adopting a conciliatory tone and for persisting with complaints of the fairness of election.
"I'm supposed to say nice things and accept my fate," she said. "You see, as a leader, I should be stoic in my outrage and silent in my rebuke. But stoicism is a luxury and silence is a weapon for those who would quiet the voices of the people, and I will not concede because the erosion of our democracy is not right."
---
UPDATES:
5:15 p.m: The story was updated with Los Angeles Times staff reporting.
The story was first published at 2:54 p.m.
Sign up for Essential California for the L.A. Times biggest news, features and recommendations in your inbox six days a week.
You may occasionally receive promotional content from the Los Angeles Times.