With party switch in West Virginia, Republicans now have matched record number of governors' seats. Will it last?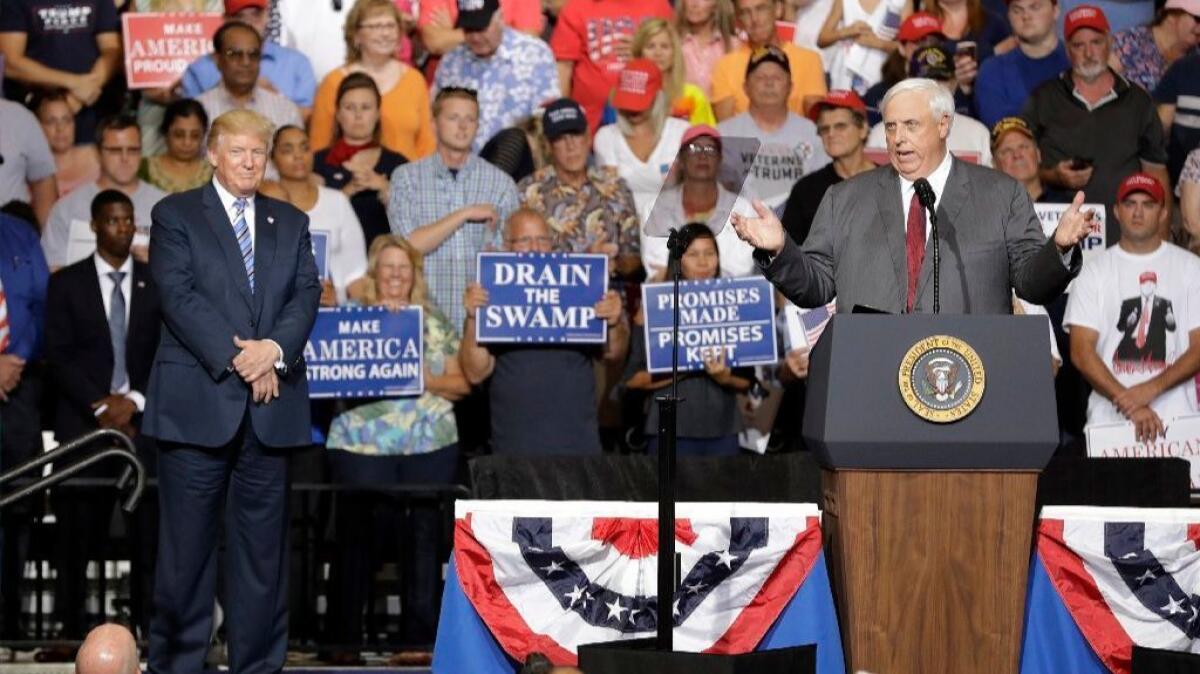 The moment was filled with political pomp and pageantry: Thousands of cheering supporters packed into an arena, a sea of poster-board signs and a big announcement.
"The Democrats walked away from me," West Virginia Gov. Jim Justice, standing beside President Trump, told his constituents Thursday night. "I can't help you any more being a Democrat."
So, Justice said, the time for change had arrived: He'll be joining the Republican Party — a statement that brought a wide smile to Trump's face.
The move by Justice, who on Friday officially changed his political affiliation, continued a trend in recent years that has seen Republicans dominate gubernatorial offices and state legislatures across the country. During the Obama administration, Democrats invested millions of dollars in bolstering organizational efforts in field operations and technology. But so far, it hasn't translated into significant victories at the state level.
With Justice's flip, Republicans now hold 34 governorships, matching the party's all-time high in 1922. Moreover, Republicans control both the state legislatures and the governors' mansions in 26 states, compared with total Democratic control in six states, according to the National Conference of State Legislatures. In the other 18 states, power is divided among Republicans and Democrats.
"Having control at the state level is vitally important," said Nathan L. Gonzales, editor of Inside Elections, a nonpartisan group that handicaps congressional and gubernatorial races nationwide. "Governors and state legislatures have a strong hand in things like redistricting, which have consequences."
While parties historically lose ground when in control of the White House, Obama, in his two terms, saw losses in gubernatorial and state-level races that outpaced setbacks of his predecessors. In total, Democrats lost 12 governors' seats while Obama was in office, compared with nine each for Presidents Bush and Clinton, based on an analysis by the Atlantic. Obama significantly exceeded his predecessors in losing state legislative seats, as Democrats handed over a total of 918 nationwide between 2009 and 2016, the NCSL said.
In a push to make inroads at the state level, former Atty. Gen. Eric H. Holder Jr., with the support of Obama, helped launch the National Democratic Redistricting Committee in January. The group, which consists of members of the Democratic Governors Assn. and Democratic Legislative Campaign Committee, aims to help the party win state-level races and, in turn, have an impact on redistricting battles in 2020.
"Presidential elections are obviously important, but we lost sight of the fact that if you want to have a representative in Congress, you've got to make sure that you have state legislatures that are drawing districts that will yield a representative in Congress," Holder said in January during a speech before the Center for American Progress, a left-leaning advocacy group based in Washington.
Rick Tyler, a longtime Republican political strategist who has worked on several state-level campaigns, said that for Trump — whose approval numbers hover near 37% and whose support among Republicans is undergoing a slow decline — it will be difficult to help his party maintain its advantages in state legislatures and governors' offices.
In 2018, for example, Republicans will have to defend 27 of 38 governors' seats, with several of those races in states that have a politically diverse electorate.
"It's always difficult for the incumbent party that has the presidency to keep seats in state capitols and governors' mansions," Tyler said Friday. "It's especially difficult when you have a president who often bashes his own party."
In recent days, Trump has assailed Senate Republicans for failing to pass a measure to repeal the Affordable Care Act — a key pillar of Trump's presidential campaign last year. He's also castigated members of his party for passing a bill that places additional sanctions on Russia (though he ultimately signed it).
"When you need to rally the troops, that doesn't help," Tyler said. "That creates divisions in the party that won't help next year."
On Thursday night, however, Trump lauded Justice's flip and shied away from targeting members of his party.
"Having Big Jim as a Republican is such an honor," Trump said to deafening applause from those in attendance.
Ronna McDaniel, chairwoman of the Republican National Committee, said Justice's switch was "another blow" to the Democrats.
"Gov. Justice's announcement is just the latest rejection of a party that is leaderless from top to bottom and unable to find a positive, unifying message," she said in a statement.
In West Virginia, Justice, a grain farmer worth nearly $1.6 billion, had been a lifelong Republican. But in 2015, Justice jumped into the gubernatorial race as a Democrat. He bested two primary challengers, then went on to win the general election by 7 percentage points over Republican Bill Cole, a state senator. (He plans to run for reelection — this time as a Republican — in 2020.)
Last year, the Democratic Governors Assn. doled out $1.5 million to help Justice's candidacy. This week, the group was far from pleased.
"Jim Justice deceived the voters of West Virginia when he ran as a Democrat eight months ago," Executive Director Elisabeth Pearson said. "West Virginians have learned that they simply can't trust Jim Justice."
Twitter: @kurtisalee
ALSO
Trump urges officers and immigration officials to be 'rough' on 'animals' terrorizing U.S. neighborhoods
Kris Kobach says Trump's voter fraud panel will keep voter data secure. Some states aren't buying it
President Trump says it's illegal to be registered to vote in two states — but he's wrong
Sign up for Essential California for the L.A. Times biggest news, features and recommendations in your inbox six days a week.
You may occasionally receive promotional content from the Los Angeles Times.