White House: There's no 'micromanagement' of reopened FBI probe into Kavanaugh accusations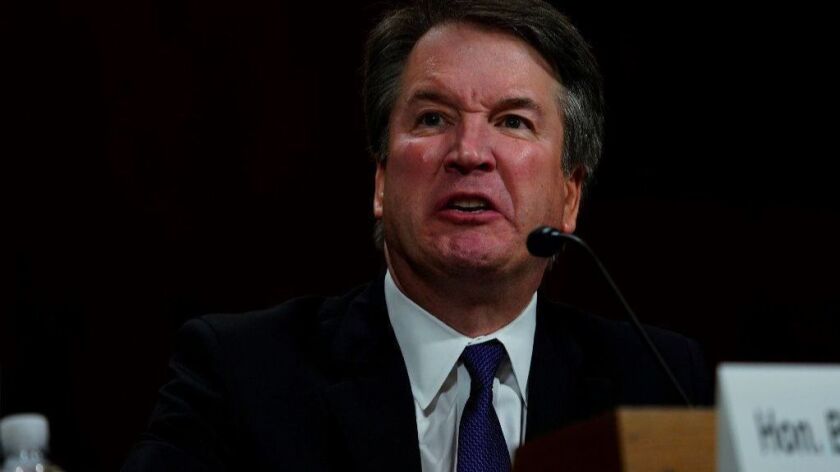 Reporting from Washington —
President Trump is not seeking to "micromanage" the FBI's new probe of sexual misconduct allegations against Supreme Court nominee Brett Kavanaugh, his spokeswoman said Sunday, but Democrats raised concerns that key lines of inquiry were being placed off limits to investigators.
The scope of the reopened background check, already limited to one week, has become the latest flashpoint in the highly fraught political contest between supporters and opponents of confirming Kavanaugh, a 53-year-old federal appellate judge, to a lifetime appointment to the nation's highest court.
While the president had to authorize the FBI to act on Friday, and did so only under pressure from several wavering Republican senators, the White House made a point of saying that the Senate – whose Republican leadership has shown near-total fealty to Trump -- is responsible for oversight.
''The White House isn't intervening," press secretary Sarah Huckabee Sanders said on "Fox News Sunday." "We're not micromanaging this process. It's a Senate process. It has been from the beginning, and we're letting the Senate continue to dictate what the terms look like."
White House counselor Kellyanne Conway, interviewed on CNN's "State of the Union," said the reopened investigation was "not meant to be a fishing expedition." But Conway, who said without detail that she, too, was a victim of a sexual assault, avoided a flat denial that White House counsel Donald McGahn had sought to place any particular interviews out of bounds.
"I don't think Don McGahn would do that, but I've not talked with him about it," she said.
McGahn, a friend of Kavanaugh's, has shepherded him through the Senate confirmation process for the White House and has been coordinating with Senate Majority Leader Mitch McConnell (R-Ky.).
Kavanaugh's nomination, seemingly on track for Senate endorsement, was thrown into doubt two weeks ago after Christine Blasey Ford, a Northern California research psychologist, went public with her allegation that he had sexually assaulted her when they were both in high school. In July she initially told two Democratic California lawmakers — Rep. Anna Eshoo of Menlo Park and Sen. Dianne Feinstein — on the condition that she not be publicly identified. Two other women subsequently came forward with accusations of their own.
After Ford and Kavanaugh testified Thursday before the Senate Judiciary Committee – with Ford providing an emotional but composed account of the alleged assault and Kavanaugh responding with a furious denial and attacks on Feinstein and other committee Democrats – the White House and Senate Republican leaders reluctantly agreed to a limited re-examination given the uncertainty of the confirmation vote.
Amid news reports Saturday that agents were being told to refrain from pursuing certain leads and potential witnesses, Trump told reporters that the bureau has "free rein" to investigate as it sees fit. The White House has said the investigation should encompass "current credible allegations" and be completed by week's end.
The seeming ambiguity about the probe's parameters places new pressure on Sen. Jeff Flake, the Arizona Republican and key swing vote on the Judiciary Committee whose last-minute insistence led to the reopening of the investigation.
He was supported by moderate Republican Sens. Lisa Murkowski of Alaska and Susan Collins of Maine, who are not members of the committee. Both are undecided on Kavanaugh's confirmation, and their support is considered essential given Republicans' narrow 51-49 majority in the Senate.
Sen. Amy Klobuchar, a Minnesota Democrat whose questioning of Kavanaugh led to one of the most striking and tense exchanges of Thursday's hearing, said his response left unanswered whether his memory of events had ever been impaired by heavy drinking.
During the hearing, Klobuchar, who had just related her father's struggles with alcoholism, asked Kavanaugh whether he had ever had a "blackout" from drinking too much, and he twice answered with a combative "Have you?" Later, he apologized.
Klobuchar and other Democrats said her question was relevant because Ford — like the other two accusers -- had described him as being highly inebriated at the time of the alleged assault, which might have left him unable to recall accurately whether it took place. "I was actually trying to get at the truth, and that's why I was stunned by how he answered," the senator said on CNN.
"I think it's really important that the FBI get to the bottom of the evidence here," Klobuchar said in a separate interview on CBS.
Here's what experts who study sexual violence say about the credibility of Christine Blasey Ford's testimony »
The New York Times reported that former classmates who have talked about Kavanaugh's heavy drinking were left off the list of those the FBI planned to interview. The paper cited two people "familiar with the matter" as saying that the FBI would question four potential witnesses concerning the attack Ford alleges, and seek permission from the White House if those interviews argue for further checking.
Sen. Lindsey Graham of South Carolina, the Republican who has been perhaps Kavanaugh's strongest champion on the committee, suggested there was no reason for investigators to pursue the subject of the judge's drinking habits through interviews with college or high-school classmates.
"He's had six FBI background checks," Graham said on ABC, referring to routine probes dating to the 1990s for Kavanaugh's past appointments to lower-level federal offices. Kavanaugh was not "a stumbling, bumbling drunk," he added.
Graham also said constraints on the scope of the FBI investigation were not the doing of the White House, but rather of the moderate Republican senators who called for the reopened background check.
"I know that Sens. Flake, Collins and Murkowski wanted a limited review," he said in the ABC interview.
However, Sen. Mazie Hirono, a Hawaii Democrat on the Judiciary Committee, called on the three Republicans to use their leverage to assure that the background check would be sufficiently thorough.
"The question is, are we going to get the kind of investigation that is thorough and fair?" she said in an interview on ABC.
Trump strongly supported Kavanaugh in the wake of Ford's account of the alleged assault, and did so again at a campaign-style rally Saturday night in West Virginia.
"On Thursday, the American people saw the brilliant and really incredible character, quality and courage of our nominee for the United States Supreme Court, Judge Brett Kavanaugh," he told the crowd, which whooped in response.
With very few exceptions, congressional Republicans have joined Trump in denouncing the confirmation process as tainted by partisan politics, but most – mindful of the upcoming midterm elections – have avoided direct criticism of Ford or the other accusers and concentrated their fire on committee Democrats.
Most Republicans also have called the reopened investigation unnecessary but say they are willing to see what the FBI turns up.
"If there's some shocking new evidence and proof, I'm open to evaluating that evidence," said Sen. Tom Cotton of Arkansas, speaking on CBS' "Face the Nation."
But he added that Kavanaugh had "100% denied these allegations."
The FBI, which carries out background checks of federal nominees, has come under extremely harsh criticism by Trump in recent months in connection with the wide-ranging Russia investigation headed by special counsel Robert S. Mueller III. The president has repeatedly characterized the nation's premier law-enforcement agency as corrupt and inept; earlier this month, he called it a "cancer."
With the midterm elections just over a month away – and Democrats feeling more confident about prospects for seizing control of the House of Representatives – some lawmakers said if such a scenario comes to pass, Kavanaugh could still face scrutiny, even impeachment, if he has by then ascended to the Supreme Court.
Rep. Jerrold Nadler of New York, the Democrat who is in line to become chairman of the House Judiciary Committee if his party wins a House majority, said on ABC that if the current investigation is lacking, the House would need to carry out its own probe of "things that haven't been properly looked into," including whether Kavanaugh had perjured himself in his testimony, as many critics and legal observers have suggested.
---
Must-read stories from the L.A. Times
Get all the day's most vital news with our Today's Headlines newsletter, sent every weekday morning.
You may occasionally receive promotional content from the Los Angeles Times.