Manafort faces new indictment with witness tampering allegations. His attorneys deny he's a flight risk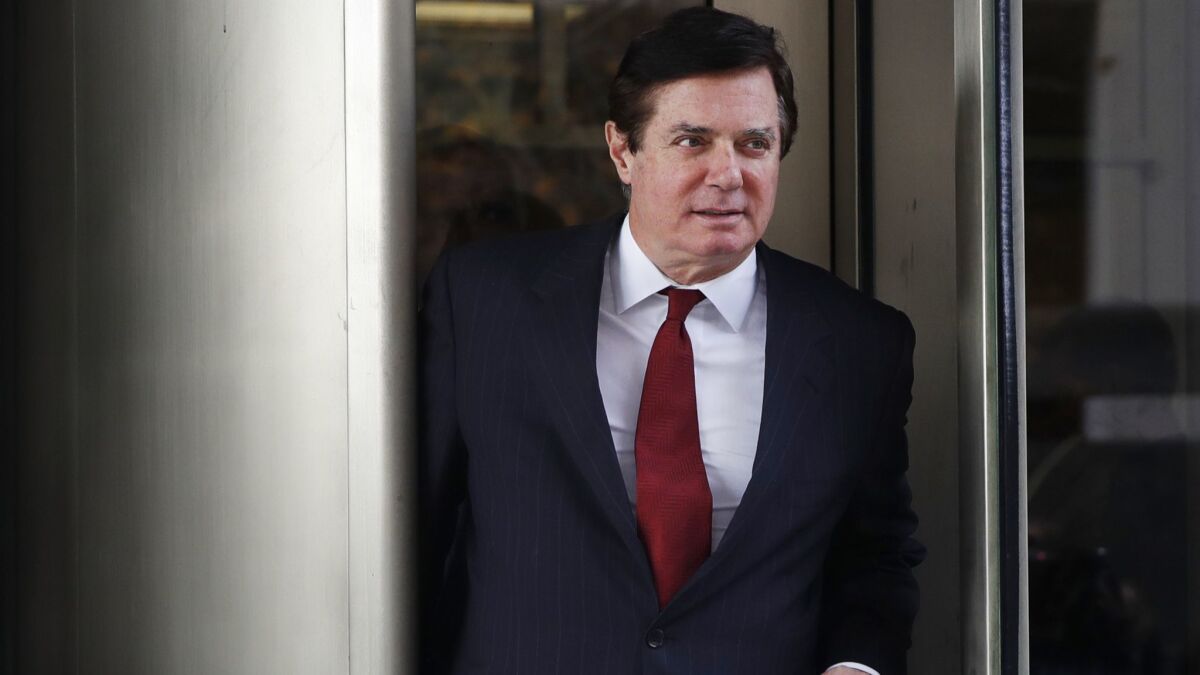 Reporting from Washington —
Special counsel Robert S. Mueller III ramped up the pressure on Paul Manafort on Friday, releasing a new indictment accusing President Trump's former campaign chairman of obstructing justice and conspiring to do so by contacting potential witnesses in his case.
Manafort was already facing two rounds of previous indictments, starting in October, with nearly two dozen charges of financial crimes, including tax evasion and bank fraud related to his lobbying for Ukraine's former pro-Russian government. He has pleaded not guilty and is scheduled to face trial in Virginia next month and in Washington later this year.
Manafort's legal team defended him in a court filing Friday evening, saying the allegations "come nowhere near" conduct that would qualify as tampering.
"Mr. Manafort asked no one to provide a false affidavit or false testimony at trial, or perjure themselves, and he has not given — nor offered to give — any potential witness anything in exchange for false testimony," the filing said.
The latest indictment also levies the same obstruction charges against Konstantin Kilimnik, a Manafort business partner who Mueller alleges has ties to Russian intelligence. Kilimnik had not been previously charged.
According to Mueller, Manafort and Kilimnik tried to convince two public relations professionals who had previously worked with them to provide false information about Ukrainian lobbying. Although prosecutors said the advocacy included work in the United States — which would be a violation of federal law because it wasn't disclosed — Manafort and Kilimnik allegedly wanted the men to say the lobbying took place only in Europe.
Mueller first detailed the witness tampering allegations in a court filing Monday in which he asked a judge to reconsider whether Manafort should be allowed to remain free while awaiting trial. If the judge agrees with Mueller that Manafort violated the terms of his release, the former Trump aide could be sent to jail until his trial concludes.
A hearing has been scheduled for next week.
Manafort has not been charged with any crimes related to the Trump campaign or Russian meddling in the 2016 presidential election. But the latest indictment is a reminder that he's facing an avalanche of accusations that could send the 69-year-old to prison for the rest of his life.
Renato Mariotti, a lawyer who worked for nine years as an assistant U.S. attorney in Chicago and has been writing about the case, noted that Mueller's prosecutors have extensively documented the charges against Manafort and appear to have built a powerful case.
Unless Manafort is expecting a pardon from Trump, Mariotti said, "he should be pleading guilty, now."
Alex Whiting, a Harvard Law School professor and former federal prosecutor who has written about the special counsel case with Mariotti, said Mueller is moving forward "by the book."
"There is no overcharging, no nefarious strategy," he said. "This is how it's done day in, day out, in federal court."
Manafort's lawyers said there was no reason for a judge to revoke his pretrial release.
"The Court should not condone such heavy handed gamesmanship by the Special Counsel when there is no reason to believe that the latest charge has somehow increased the risk of flight in this case," they wrote.
Prosecutors said Manafort and Kilimnik began attempting to tamper with witnesses after Richard Gates, another former business partner and Trump campaign aide, pleaded guilty in February to charges of conspiracy and lying to federal agents. As part of his plea deal, Gates is cooperating with the special counsel investigation.
Manafort and Kilimnik "repeatedly contacted" their former colleagues "in an effort to secure materially false testimony concerning the activities of the Hapsburg group," a collection of former European politicians helping promote Ukrainian interests, according to Monday's court filing.
Manafort began calling one of the public relations people, who avoided him, the court filing said. Manafort later followed up with a message about the Hapsburg group on an encrypted app.
"We should talk. I have made clear that they worked in Europe," he wrote.
The target of Manafort's outreach became concerned that he was being asked to provide false testimony and provided the messages to prosecutors.
Kilimnik followed up with his own messages to the two public relations people and urged them to talk with Manafort, according to the court filing.
"Basically P wants to give him a quick summary that he says to everybody (which is true) that our friends never lobbied in the US, and the purpose of the program was EU," Kilimnik wrote.
The outreach continued until the end of February, and then restarted in April, according to the court filing.
"My friend P is looking for ways to connect to you to pass you several messages," Kilimnik wrote. "Can we arrange that."
Manafort's lawyers said he had done nothing wrong.
"Mr. Manafort's disagreement with the Special Counsel's theory — and the freedom that he, and any defendant in this country, has to express those views — does not provide a basis to revoke or revise the current Release Order," they wrote in the court filing.
Twitter: @chrismegerian
---
UPDATES:
7:45 p.m.: The article has been updated with a response from Manafort's legal team.
3:10 p.m.: The article has been updated with reaction from legal analysts.
This article was originally published at 1:35 p.m.
---
Must-read stories from the L.A. Times
Get the day's top news with our Today's Headlines newsletter, sent every weekday morning.
You may occasionally receive promotional content from the Los Angeles Times.