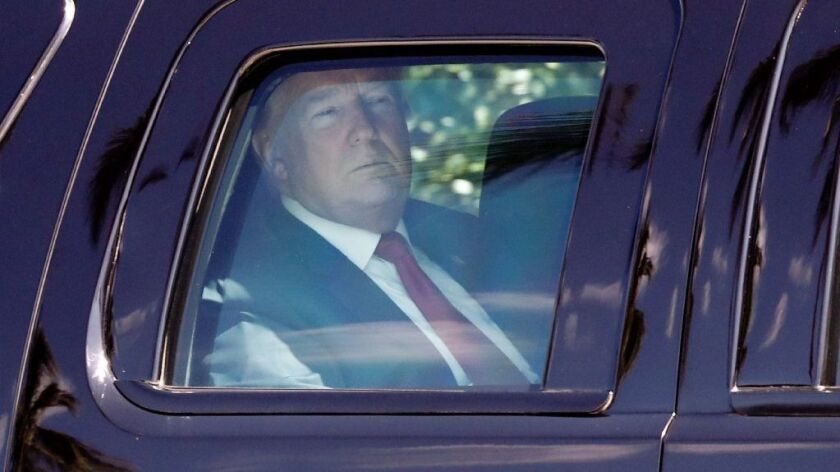 Reporting from Washington —
Several leading Democratic lawmakers said Sunday that impeachment of President Trump must at least be considered on the basis of behavior detailed in the Mueller report released last week, while the president's allies aggressively pressed their contention that Trump was exonerated.
Rudy Giuliani, the president's lawyer, said there was nothing wrong with accepting information from the Russians, and insisted that Trump would not have been guilty of criminal obstruction even if he had fired Robert S. Mueller III, the special counsel who spent nearly two years investigating Russian links to the Trump campaign.
But Rep. Adam Schiff (D-Burbank), who has been one of Trump's fiercest critics, redoubled his criticism of the president, saying the report depicted presidential conduct that was as bad as or worse than Watergate, the scandal that forced the resignation of President Nixon.
Another influential Democrat, Rep. Jerrold Nadler of New York, declared that there was "plenty of evidence of obstruction" that lawmakers would need to weigh.
"Obstruction of justice, if proven, would be impeachable," Nadler said on NBC's "Meet the Press." Nadler chairs the House Judiciary Committee, where impeachment proceedings originate.
Nadler said he was puzzled by Mueller's decision not to bring charges against the president's eldest son, Donald Trump Jr., in connection with a June 2016 meeting in Trump Tower with Kremlin-linked figures proffering material that would be harmful to Trump's opponent, Hillary Clinton.
"I do not understand why he didn't charge Don Jr. and others in that famous meeting with criminal conspiracy," he said. "They entered into a meeting of the minds to attend a meeting to get stolen material on Hillary....They went to the meeting. That's conspiracy, right there."
Trump's White House, though, pronounced the president thoroughly vindicated.
Senior counselor Kellyanne Conway, interviewed on ABC's "This Week," blasted Mueller for saying Trump could not be exonerated of obstruction, although the special counsel — acting at least in part in accordance with a Justice Department rule against indicting a sitting president — did not recommend criminal prosecution either.
"You just don't do that," Conway said. "You either prosecute or you don't. You either bring an indictment or you don't."
Conway also sought to cast doubt on key information in the redacted report based on former White House lawyer Don McGahn's descriptions of the president's actions.
Those included a vivid recounting to investigators of Trump reacting with a furious expletive upon learning of Mueller's appointment, and repeatedly ordering McGahn to help get the special counsel fired. The White House lawyer did not comply.
Conway said she did not believe McGahn would have stayed on the job for another 18 months if the president had behaved in the manner described.
Schiff, interviewed on the same program, said it "may be" that Democrats will decide to begin impeachment proceedings, but acknowledged that conviction in the GOP-controlled Senate was unlikely because Republicans "are willing to carry the president's water, no matter how corrupt or unethical or dishonest the president's conduct may be."
The Burbank Democrat, who chairs the House Intelligence Committee, said the obstruction of justice evidence laid out in the Mueller report was "far worse than anything that Richard Nixon did."
On CNN's "State of the Union," Giuliani drew a sharp reaction from host Jake Tapper when he asserted that "there's nothing wrong with taking information from Russians."
While the president's personal lawyer said he himself would have counseled against such a step out of "an excess of caution," he told Tapper: "There's no crime."
"We're going to get into morality?" Giuliani added rhetorically. "That isn't what prosecutors look at."
Interviewed on the same program, Rep. Tim Ryan (D-Ohio) called Giuliani's statement "ridiculous."
"I think that shows that how toxic the politics are today, this win-at-all-costs attitude that the president has and his administration has," said Ryan, who is part of a crowded field of Democratic presidential hopefuls. "That's disgusting, to think that any major official, let alone someone so closely tied to the Trump administration, would think that that's a good idea."
Also on "State of the Union," former federal prosecutor Preet Bharara called Giuliani's statement tantamount to inviting foreign adversaries to interfere in future U.S. elections.
Bharara, the former district attorney for the Southern District of New York, where a number of investigations involving the president and his associates remain active, added that the Mueller report was a signal that Trump might face legal jeopardy once he is no longer president.
"The Mueller view, it seems to me, if you look at the document, is that they absolutely believe there is a potential viable prosecution once Donald Trump leaves office," he said.
From Florida, where he is vacationing at his Mar-a-Lago private club, Trump used familiar language in a pair of Easter Sunday tweets denouncing the investigation, saying he had been through "the worst and most corrupt political Witch Hunt in the history of the United States."
"Disgraceful!" he added.
As the president arrived for Easter services in Palm Beach, a reporter asked him whether he felt betrayed by the way his staff, speaking to Mueller's team, had characterized his actions.
According to a pool report, Trump clearly heard the question, but merely smiled and turned away.
---