Mueller reveals Trump's efforts to conceal details of Trump Tower meeting with Russian lawyer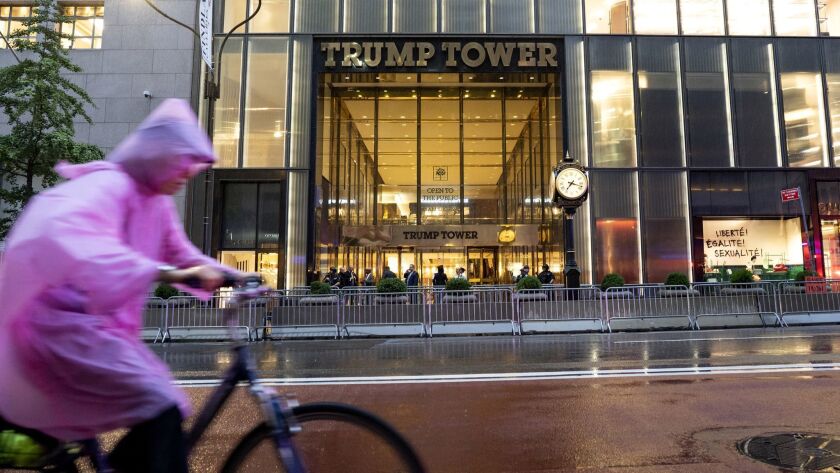 Reporting from Washington —
The Mueller report reveals more than previously known about President Trump's efforts to conceal details about a controversial June 2016 meeting at Trump Tower in New York.
The meeting involved a Kremlin-connected Russian lawyer and three senior Trump campaign officials who believed the lawyer was going to give them damaging information about Hillary Clinton.
The unusual gathering at the height of the presidential race involved Trump's eldest son, Donald Trump Jr.; his son-in-law, Jared Kushner; and his campaign manager, Paul Manafort. They met with the lawyer, Natalia Veselnitskaya, plus a Russian-born lobbyist, a translator, a U.S.-based employee of a Russian real estate group, and a British music promoter with Russian business ties who helped bring the group together.
According to Mueller, Trump was directly involved a year later in trying to prevent details of the meeting from becoming public.
Trump was alerted at a White House meeting in late June 2017 with Kushner, daughter Ivanka Trump and press aide Hope Hicks that emails written by participants in the meeting looked "really bad," as Hicks later put it.
Trump "directed aides not to publicly disclose" the emails written by his son and others. Trump also "dictated a statement" issued by his son that claimed the meeting was about adoption of Russian children, not about seeking negative material about Clinton.
But Trump's action did not amount to obstruction of justice, the report concluded, because he did not try to block evidence about the meeting from being given to Mueller's investigators or to lawmakers.
"The evidence does not establish that the President took steps to prevent the emails or other information about the June 9 meeting from being provided to Congress or the Special Counsel," the report says.
Emails written by Trump Jr. and later made public showed he had agreed to the meeting not to talk about adoptions, but because he had been assured that the Russian lawyer had "official documents and information" that would "incriminate" Clinton, "and be very useful to your father."
Rob Goldstone, the music promoter who arranged the meeting, told Trump Jr. that the damaging information on Clinton was "part of Russia and its government's support for Mr. Trump."
"If it's what you say, I love it," Trump Jr. replied.
---
For reporting and exclusive analysis from bureau chief John Myers, get our California Politics newsletter.
You may occasionally receive promotional content from the Los Angeles Times.