After years of election fraud complaints in rural North Carolina, a congressional vote dissolves into scandal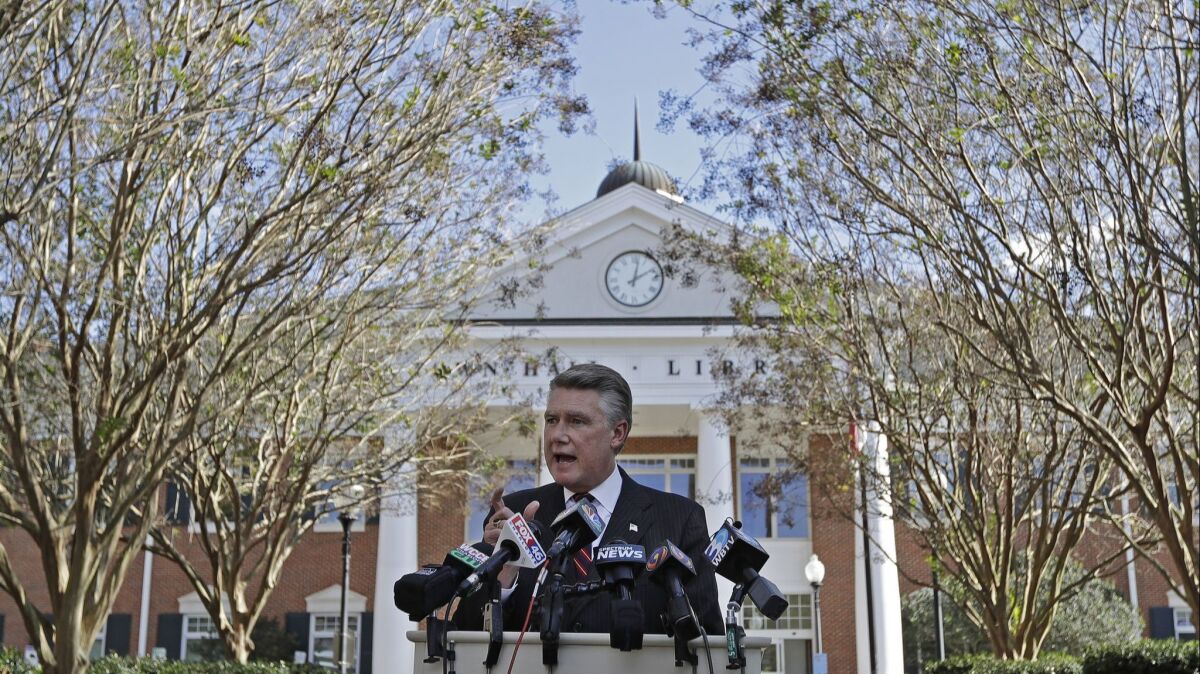 Reporting from Elizabethtown, N.C. —
In the run-up to the Nov. 6 general election, North Carolina officials were so concerned about ballot fraud in Bladen County that they sent letters to every voter who requested a mail-in absentee ballot, warning them not to hand it over to someone who might knock on their door.
"Only you or your near relative or legal guardian can mail or deliver your ballot to the elections office," the State Board of Elections and Ethics Enforcement reminded Bladen County voters. "Has someone else tried to take your ballot?"
Apparently some residents didn't get the message.
A month after the election, North Carolina's 9th Congressional District race has dissolved into scandal and may have to be done over. State election officials are serving subpoenas and opening multiple investigations into allegations of irregularities involving absentee ballots in this rural part of the state that has long been dogged by complaints of election fraud.
Republican Mark Harris, a former Baptist preacher, leads Democrat Dan McCready by just 905 votes, but his victory is in doubt as investigators focus on the activities of Leslie McCrae Dowless, a longtime independent political contractor with a criminal record who was hired to work for Harris and lead a "get out the vote" team focused on absentee ballots.
On Friday, the state board confirmed that four investigators — led by Joan Fleming, a 26-year veteran of the FBI who specializes in fraud investigations — are now working on the case.
After days of silence, Harris said Friday in a video posted on Twitter that he was "absolutely unaware of any wrongdoing" and was "cooperating fully" with investigators.
"I'm hopeful that this process will ultimately result in the certification of my election to Congress before the next House sessions begins," Harris said. "However, if this investigation finds proof of illegal activity on either side, to such a level that it could have changed the outcome of the election, then I would wholeheartedly support a new election to ensure all voters have confidence in the results."
McCready withdrew his concession on Thursday, calling on Harris to "tell us exactly what he knew and when he knew it."
Later Thursday, Harris submitted a federal campaign filing acknowledging he still owed $34,310 to the Red Dome Group, a right-leaning political consulting agency that hired Dowless, for "Reimbursement Payment for Bladen Absentee" and "Reimbursement Door to Door."
The North Carolina State Board of Elections was already investigating alleged irregularities in Bladen County after complaints were lodged in 2016 following that year's elections. This year, after receiving reports that a large number of absentee ballot requests were being turned in by people who were still under investigation, officials began to send out their warning letters in October telling people not to hand over their absentee ballots.
Some Democratic voters in this predominantly rural area of 33,000 residents have complained that they handed their ballots — sometimes partially filled out and unsealed — to a person who knocked on their door, only to learn their votes were never submitted.
Part of the reason they were willing to hand over the ballots, some said, was because groups on both sides of the political aisle have long operated door-to-door campaigns to walk the city streets and collect absentee ballots before election day.
The practice, known as "harvesting," is a felony in North Carolina, where only a relative or legal guardian can assist a voter with an absentee ballot, whether it's filling it out or turning it in.
"Some girls go around and do that," said Emma Shipman, 87, who lives in a modest home down a sandy dirt road on the outskirts of the small town of Tar Heel. "I thought she was assigned to do it, like them other girls were."
Shipman signed a sworn affidavit, submitted to the state elections board by the state Democratic Party, stating she handed her absentee ballot to a young woman who came to her door, thinking "she was legitimate."
Her ballot, on which she voted a straight Democratic ticket, was never turned in.
Jaroy Traquin Montgomery, 25, a welding student at Bladen Community College, said get-out-the-vote workers came to his home in October, first to get him to sign an absentee ballot request form and later to pick up his ballot.
State documents show Montgomery's absentee application was witnessed by a woman associated with a Democratic-affiliated political action committee.
The process was "pretty rushed," Montgomery recalled. They "had everything all set in" and "were telling me what to put." After he signed, he handed them the form and they told him they would turn it in, which they did.
Lola Wooten, who witnessed Montgomery's ballot, turned in 230 absentee ballot request forms to the Bladen County Board of Elections in the 2018 general election. Under North Carolina law, collecting ballot request forms is legal. Collecting the actual ballots, however, is not.
"I didn't do anything wrong," Wooten said in a telephone interview. "We have always done stuff the correct way, whether we lost or whether we won."
Wooten said she helped elderly members of her church and in the community, and did not collect any ballots.
Complaints of election fraud and manipulation of voters have been raised for years in this largely agricultural county dotted with cotton, peanut and tobacco fields, where the main employer is a massive pork-processing plant and about a quarter of residents live below the poverty line.
"Bladen County has a troubled history of political groups exploiting the use of absentee ballots in an effort to skew support for a specific candidate or group of candidates," Jon David, district attorney for Bladen, Brunswick and Columbus counties, wrote in a January letter to the interim assistant director of the State Bureau of Investigation. "These groups package the anticipated ability to garner absentee ballots as a commodity to be brokered."
After the 2012 primary, Robert Wayne Brooks, a Democratic candidate for Bladen County commissioner, filed a protest with the state board, complaining that people had signed multiple ballots as witnesses.
In 2016, Dowless, who had just won an election for Bladen County Soil and Water Conservation District supervisor, filed a protest alleging that hundreds of fraudulent ballots were cast, pinpointing several individuals who were paid for their get-out-the-vote efforts.
State election officials, however, turned the table and put the focus on Dowless at a subsequent hearing, prompting him to admit that he'd paid people about $20 a day to obtain absentee ballot request forms and turn them in. He said he did not look at the ballots or tamper with votes.
In the recent election, Dowless personally turned in 592 of the 1,341 applications for absentee ballots in Bladen County.
Dowless declined to comment to The Times, but told the Charlotte Observer that he had committed no wrongdoing.
William R. Gilkeson, a Raleigh-based lawyer who advises political groups, nonprofits and candidates on campaign finance and election law, said absentee ballot fraud had long been "a pretty bipartisan" affair in the state's remote, sparsely populated pockets.
"There are people on behalf of both parties doing it," he said. "In rural areas where the electorate is fairly small and it doesn't take that many votes to swing an election one way or the other, different kinds of political operatives would attempt to manipulate voters or use voter registration identities to vote and to cast votes in illegal ways."
While the allegations have been bipartisan, the state board of elections appears to be homing in on Dowless' work for Republicans. So far, it has issued subpoenas to the Mark Harris for Congress Committee, the Red Dome Group and a local committee Dowless was working on for Sheriff James Atlas McVicker, who won reelection in the November contest.
The board has announced it plans to hold a public evidentiary hearing by Dec. 21. Republican legislators, including state Sen. Dan Bishop, who represents parts of the district, have asked Democratic Gov. Roy Cooper to set up a bipartisan task force to examine electoral fraud. Bishop suggested absentee voting could potentially be eliminated now that more people have the opportunity to vote early.
"If the absentee ballot involves too many compromises of security," Bishop said, "maybe it has outlived its usefulness?"
While some residents said they would rethink absentee voting in the light of the growing scandal, others said it remains a convenient way to vote, rather than going to a polling station.
Stacy Holcomb, 57, a resident of the Village Oak public housing complex who describes himself as Republican, said he was pleased this year when a woman came to his home to help him fill out a ballot request form and then collect his ballot.
"It's a whole lot better than walking to the polling station," he said, noting he suffers from diabetes and arthritis and does not have a car.
Holcomb's ballot was submitted.
Next time, he said, he would send it himself in the mail.
Twitter: @jennyjarvie
---
Must-read stories from the L.A. Times
Get the day's top news with our Today's Headlines newsletter, sent every weekday morning.
You may occasionally receive promotional content from the Los Angeles Times.