Democrats' report details Russian meddling in European elections and threats to U.S. campaigns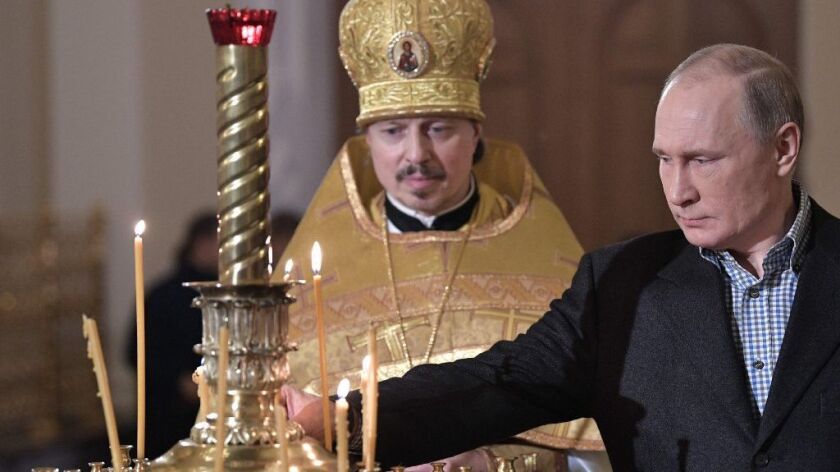 Reporting from Washington —
Russian President Vladimir Putin has systematically attacked democratic institutions across Europe and in his own country for two decades in efforts to undermine elections and other governments, Senate Democrats charged Tuesday.
Democrats on the Senate Foreign Relations Committee issued a 206-page report that said President Trump's failure to recognize the danger or to challenge Putin means Russia is likely to interfere in the next U.S. presidential race in a repeat of the 2016 campaign.
"Never before in American history has so clear a threat to national security been so clearly ignored by a U.S. president," said the report, which was released Wednesday by Sen. Benjamin L. Cardin of Maryland, the ranking Democrat on the committee.
"President Trump must be clear-eyed about the Russian threat," Cardin said, and "take action to strengthen our government's response and our institutions."
The House and Senate intelligence committees, and the Senate Judiciary Committee, are all investigating aspects of Russia's interference in the 2016 presidential election, conducting multiple hearings and interviews. The Senate foreign affairs panel did not conduct a similar probe.
The report details Putin's use of what it called his "asymmetric arsenal" to thwart fragile democratic processes in neighboring Ukraine and Georgia, both former Soviet Republics, as well as efforts to undermine elections in long established democracies in England, Germany and France.
Putin has used disinformation, cyberattacks and financial support for fringe political parties and groups, the report says. He honed the strategy at home by repressing civil society, journalists and independent opposition groups while co-opting or manipulating religious and cultural institutions, media, organized crime and others, the report adds.
U.S. intelligence agencies have concluded that a Russian intelligence operation, approved at the highest levels of the Kremlin, used hacked Democratic Party emails, phony social media accounts, disinformation and other tactics to try to help Trump beat Hillary Clinton in the 2016 race. The agencies did not look at whether the Russian effort affected any votes.
Russia has denied interfering in the campaign and Trump has repeatedly denounced the allegations as a partisan hoax meant to de-legitimize his election.
In addition to the congressional probes, special counsel Robert S. Mueller III is conducting a criminal investigation to determine if anyone in Trump's orbit assisted the Russian intelligence operation or otherwise broke the law.
Mueller has charged four individuals so far, including Trump's former national security advisor, Michael Flynn, and Trump's former campaign manager, Paul Manafort. Flynn has pleaded guilty to lying to the FBI and Manafort has pleaded not guilty to fraud, conspiracy and money laundering.
For more on international affairs, follow @TracyKWilkinson on Twitter.
---
Must-read stories from the L.A. Times
Get the day's top news with our Today's Headlines newsletter, sent every weekday morning.
You may occasionally receive promotional content from the Los Angeles Times.