Annual U.S. human rights report condemns Khashoggi killing but avoids assigning blame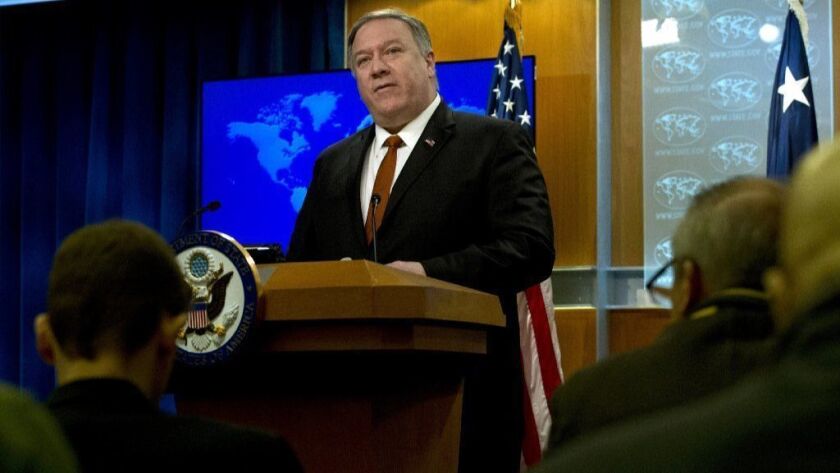 Reporting from Washington —
The State Department released its annual human rights report Wednesday with blistering criticism for China, a pass for ally Saudi Arabia and less harsh views on North Korea.
The report says the killing of journalist Jamal Khashoggi by Saudi government agents last year constituted a human rights abuse because it was an "arbitrary" or "politically motivated" killing.
But it avoided assigning blame despite the reported conclusion of U.S. intelligence services that the crown prince, Mohammed bin Salman, most likely had approved the operation.
The prince, who is the de facto leader of Saudi Arabia, is close to President Trump and his son-in-law, Jared Kushner.
Trump and Secretary of State Michael R. Pompeo have publicly cast doubt on the prince's responsibility for the Oct. 2 slaying, when Khashoggi was strangled and dismembered inside the Saudi Consulate in Istanbul, Turkey.
Michael Kozak, a senior State Department official who oversaw writing the human rights report, dismissed as "opinion-driven speculation" that Mohammed ordered the killing.
"That investigation is still underway," Kozak told a news briefing after the report was released.
For North Korea, the report dropped the word "egregious" when describing abuses that ranged from forced labor camps to torture and extrajudicial killings, conditions that have not improved despite nuclear negotiations between Trump and the country's ruler, Kim Jong Un.
Kozak said the Trump administration has been "at the forefront of trying to expose what North Korea is doing," although Trump, who has met Kim twice in the last nine months, has not publicly condemned its human rights record.
"Implicitly, it's egregious," Kozak said of North Korea's behavior. "It's still one of the worst human rights situations in the world."
At the same news conference, Pompeo singled out Iran, South Sudan, Nicaragua and China for criticism.
He said "even some of our friends, allies and partners" are guilty of abuse, but he did not mention any.
The annual human rights report has been mandated by Congress since the late 1970s and usually spurs at least some criticism of its review of abuses around the globe.
Activists bemoan what they see as the Trump administration's downgrading of human rights concerns. Pompeo rarely mentions the issue in public when he is abroad, although his aides say he often brings up individual cases in private discussions with foreign rulers.
"The policy of this administration is to engage with other governments, regardless of their record, if doing so will further U.S. interests," Pompeo said.
Human rights groups said Pompeo's call for engagement sends a signal that despotic leaders can continue to abuse their populations.
It shows "that the U.S. doesn't care about human rights and will forgive or forget even the most atrocious human rights abuses," Amnesty International said in a statement.
China, with Iran, came in for special criticism in the State Department report.
"China is in a league of its own," Kozak said, noting the detention of more than 1 million Muslims was something "not seen since the 1930s." He said China is attempting to "erase the culture, religion, the DNA" of Muslim Uighurs.
The White House has said Trump may meet with Chinese President Xi Jinping in coming weeks in an effort to resolve trade talks between the two countries.
For the second year, the State Department report did not mention reproductive rights for women as a fundamental human right. Kozak said the term was omitted because it included abortion for some advocates.
For Israel, the report no longer refers to the West Bank and other Palestinian-dominated regions over which Israel holds sway as occupied.
The Golan Heights, which Israel seized from Syria in 1981, was referred to as "Israeli-controlled." Israeli Prime Minister Benjamin Netanyahu has sought to persuade other countries to recognize Golan as part of Israel, and has received support from some U.S. conservatives.
"'Occupied territories' has a legal meaning and we were trying to shift to more of a geographical description," Kozak said.
"It is the legal situation that creates the abuse," responded Sarah Margon, Washington director of Human Rights Watch.
In the report "you can see that where the administration wants no daylight between itself and a particular ally, they are not grappling with the hard issues — from occupied territories to [the role of Mohammed] in the killing of Khashoggi."
For more on international affairs, follow @TracyKWilkinson on Twitter
---
Must-read stories from the L.A. Times
Get all the day's most vital news with our Today's Headlines newsletter, sent every weekday morning.
You may occasionally receive promotional content from the Los Angeles Times.