The most important elevator in New York: Who's riding to the top of Trump Tower?
Reporting from New York —
They are the elevators that scale the tower of power.
Through their gold-hued doors step courtiers and critics, job-seekers and publicity hounds. Punching the "up" button over the last several weeks have been all manner of celebrities, from the worlds of politics, entertainment and sports — united by their desire to enter the private offices of President-elect Donald J. Trump.
In the weeks before Trump's official inauguration, the 58-story Trump Tower in Manhattan has become an incubator for the incoming administration — White House North, as some call it.
Trump lives in a three-level penthouse at the top of the tower; his offices are on the 26th floor. The meetings take place behind closed doors, hundreds of feet above public view.
But a glimpse of the machinery is possible by watching who is going into those elevators.
Four lead up from the lobby. In front of them, a concierge stands at a podium emblazoned with the initials "TT,'' and visitors who have cleared the metal detectors are ushered to the crucial elevator on the right.
Because of a deal Trump struck with the city in 1970 that allowed the building to rise higher than what normally would have been permitted, its atrium is designated as public-access space. That has allowed the media, pooling their resources, to keep a camera permanently aimed at the elevator doors.
Members of the media stand in a holding pen behind a red velvet rope, shouting out questions as the elevator doors open — though it's often merely a Trump employee making a beeline for the nearby Starbucks.
C-SPAN is carrying all the action live, effectively turning the pink-marbled lobby into the set of New York's newest reality television show.
Businessman Bill Gates in the Trump Tower lobby on Dec. 13
(Drew Angerer / Getty Images)
Singer Kanye West and President-elect Donald Trump after their meeting at Trump Tower on Dec. 13.
(Timothy A. Clary / AFP/Getty Images)
Former professional football players Jim Brown, from left, amd Ray Lewis, joined by Pastor Darrell Scott speak to reporters at Trump Tower on Dec. 13.
(Drew Angerer / Getty Images)
Andy Puzder, the head of CKE Restaurants chosen by Donald Trump to be Labor secretary, leaves Trump Tower on Dec. 7.
(Drew Angerer / Getty Images)
Chicago Mayor Rahm Emanuel speaks to the media after a meeting at Trump Tower on Dec. 7.
(Spencer Platt / Getty Images)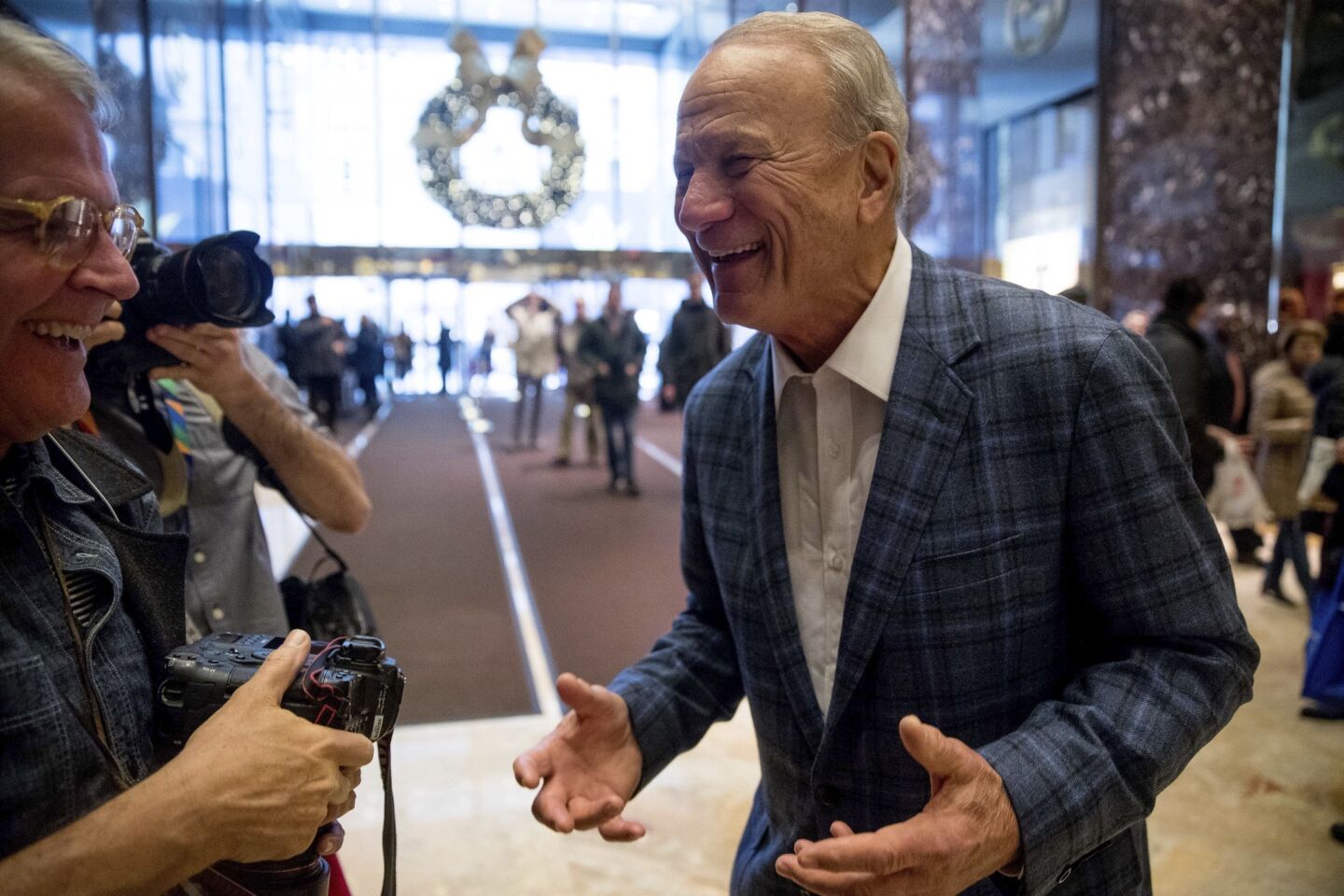 Former Dallas Cowboys coach Barry Switzer joked with reporters on Dec. 7 that he had discussed becoming Trump's "minister of Offense."
(Andrew Harnik / Associated Press)
Former Vice President Al Gore leaves Trump Tower on Dec. 5.
(Dominick Reuter / AFP / Getty Images)
Former Vice President Dan Quayle talks with reporters in the lobby of Trump Tower on Nov. 29.
(Evan Vucci / Associated Press)
Fred Smith, center, chief executive officer of FedEx, arrives at Trump Tower on Nov. 17.
(Drew Angerer / Getty Images)
Marla Maples, former wife of President-elect Donald Trump, steps onto an elevator at Trump Tower on Nov. 15.
(Carolyn Kaster / Associated Press)
Robert Kraft, owner of the New England Patriots, arrives at Trump Tower on Nov. 16
(Drew Angerer / Getty Images)
Former Speaker of the House and Trump advisor Newt Gingrich arrives at Trump Tower on Nov. 21.
(Eduardo Muñoz Alvarez / AFP / Getty Images)
Sen. Ted Cruz (R-Texas) leaves Trump Tower on Nov. 15.
(Carolyn Kaster / Associated Press)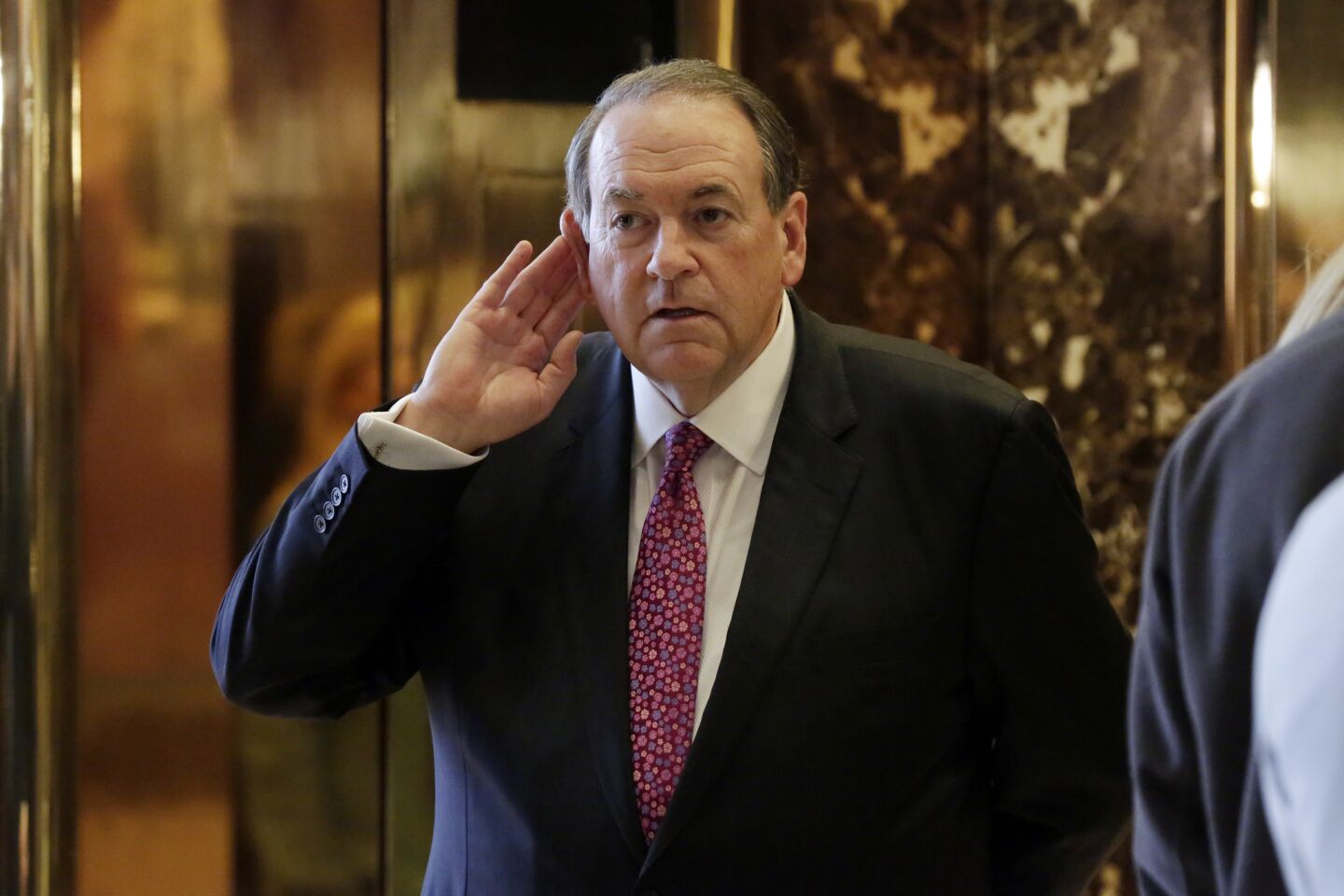 Former Arkansas Gov. Mike Huckabee listens to a reporter's question at Trump Tower on Nov. 18.
(Richard Drew / Associated Press)
Former Hewlett-Packard CEO and presidential candidate Carly Fiorina talks with Trump aide Kellyanne Conway, left, in a Trump Tower elevator on Dec. 12.
(Richard Drew / Associated Press)
U.K. Independence Party leader Nigel Farage arrives at Trump Tower on Nov. 12.
(Evan Vucci / Associated Press)
Filmmaker and Donald Trump critic Michael Moore was stopped before he could reach the Trump Tower elevators on Nov. 12, but he did leave a note.
(Andres Kudacki / Associated Press)
The elevator doors have yielded early hints of who would join Trump's government: Alabama Sen. Jeff Sessions (chosen as attorney general), banker Steven Mnuchin (Treasury secretary), fast food tycoon Andrew Puzder (secretary of Labor).
Trump has also favored figures from the world of sports. He saw retired National Football League stars Ray Lewis and Jim Brown, apparently to discuss problems of gang violence among African American youth. Bob Kraft, owner of the New England Patriots, was an early well-wisher the week after the election. Former Dallas Cowboys head coach Barry Switzer jokingly told reporters he had discussed becoming Trump's "minister of Offense." Another figure from the sporting scene was Linda McMahon, the former chief executive of World Wrestling Entertainment. But that was no joke: He named her head of the Small Business Administration.
Many visitors do not revel in the attention. Henry Kissinger somehow got in and out without being detected. Former Vice President Dan Quayle stood around for several minutes before anybody recognized him. On the other hand, there was no hesitation about last week's most famous guest: hip-hop artist Kanye West. Indeed, Trump was so energized by the visit that he accompanied West down the elevator so they could pose for photographs together, the president-elect putting an arm around the rapper's shoulders and murmuring, "Just friends, just friends."
The only foreign government leader so far to wrangle an invite to the court has been Shinzo Abe, the Japanese prime minister. To the immense irritation of the British government, Nigel Farage, a fellow populist politician who led the drive to lead Britain out of the European Union, has been seen at the tower three times since the Nov. 8 presidential election.
To Trump's credit, not all of his visitors are supporters or people who might want a piece of the new administration. He has invited to the tower several of his rivals for the Republican presidential nomination: Ted Cruz, Mike Huckabee, Carly Fiorina and Ben Carson. Ex-wife Marla Maples was an early visitor. Trump has met with Chicago Mayor Rahm Emanuel and New York Mayor Bill de Blasio, both Democrats who have vowed to resist the president-elect's calls to deport everyone in the country illegally. Environmental activist and former Vice President Al Gore came calling, presumably in an attempt to convince the president-elect that climate change is not, as Trump has suggested, a Chinese hoax. (How that meeting went can be assessed by the fact that, two days later, Trump named climate change denier Scott Pruitt as his choice to head the Environmental Protection Agency.)
Most of Trump's opponents are left cooling their heels in the lobby with the hoi polloi — tourists taking selfies, a group of country and western singers clad in little more than their underwear who call themselves the Naked Cowboys, a guy who stood in the lobby reading aloud passages from Elie Wiesel's "Night."
Filmmaker Michael Moore — who wrote a lengthy essay for Facebook this week warning that "Donald Trump Is Gonna Get Us Killed" — wasn't permitted in the elevators, though he tried.
He left a note with the doorman that read, "Mr. Trump. I'm here. I want to talk to you."
ALSO
Fears of Russia and Trump drive EU leaders to boost defense budgets
Trump administration could upend decades of U.S. policy on Israel and Palestinians
Obama says election cyberattack came from the 'highest levels' of the Russian government and vows retaliation
---
Must-read stories from the L.A. Times
Get the day's top news with our Today's Headlines newsletter, sent every weekday morning.
You may occasionally receive promotional content from the Los Angeles Times.