Hawaii residents to Trump: 'Wish you weren't here'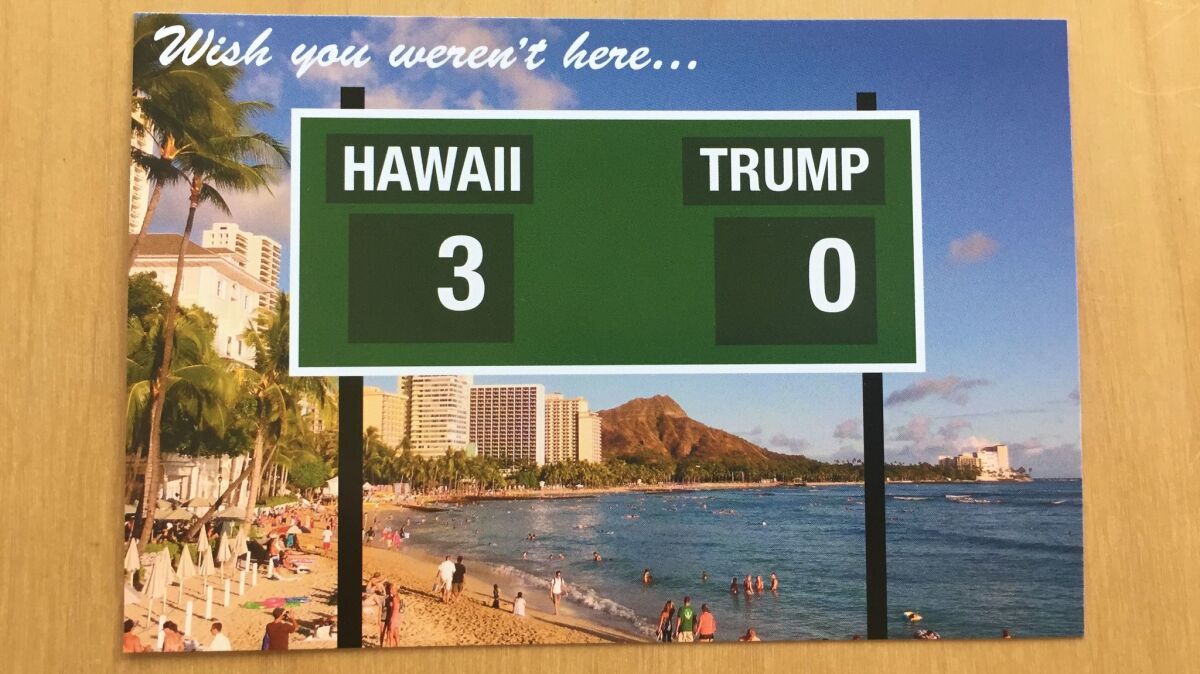 HONOLULU —
There's a popular postcard of Hawaii that shows the blue waters of Waikiki Beach and the famed Diamond Head with the greeting "Aloha" — a symbol of the open-arms, easygoing way of life touted by the state.
But this week, a different image has spread around the islands through fliers and social media. It shows the same picture with a green scoreboard: "Hawaii 3, Trump 0" — a nod to the state's judicial defeats of the president's travel ban — under the words, "Wish you weren't here."
When President Trump arrives in Honolulu on Friday, he'll be in enemy territory. This is still Obama country, a place where the former president was born and raised, and tourists continue to flock to his childhood haunts. The islands, where 30% of voters supported Trump in the 2016 presidential election — the lowest of any state — are ones the president has long derided. For years he led the "birther" movement that sowed doubt that Obama was born here. Trump has railed for months against a Honolulu judge who repeatedly struck down his travel ban.
Presidential visits always bring concerns of gridlock and protest and give the White House a chance to meet with federal and state officials, items on Trump's list for his visit that will feature tours of military and historic sites. But with Trump, the stakes of a one-day stop in Honolulu ahead of his five-country Asia tour seem higher because he will be in a state that ignores or challenges him at every turn.
If there's a headquarters of the Trump resistance, this state -- run nearly entirely by Democrats -- might be it.
"Oh no. It's horrible," said Honolulu resident Jon Osorio, who said he'd rather see the president skip the state altogether. "He's bound to say something foolish on nuclear weapons, or North Korea, or race or native Hawaiians or the large number of Asian people who live here," said Osorio, a professor of Hawaiian studies at the University of Hawaii at Manoa.
"I don't know if Hawaii even registers on the Trump scale. We seem so low-priority to him," said Robert Kay, a freelance writer who runs the website ObamasNeighborhood.com that guides tourists to spots where Obama spent his youth. They include places like the Hawaii Kai bungalow where he lived as a child, the Baskin Robbins where he got his first job at age 16, and Sandy Beach, where the former president would bodysurf.
"I've lived here 20 years and I don't hear about Trump much. But Obama is a homeboy. He's still on people's minds," Kay said.
Trump's visit to Hawaii will last less than 24 hours. He arrives at Joint Base Pearl Harbor-Hickam on Friday afternoon before he meets with military officials at Pacific Command, tours Pearl Harbor and lays a wreath at the Arizona memorial. He'll then spend the night before taking off for Japan, South Korea, China, Vietnam and the Philippines, where he will attend meetings with the Asia-Pacific Economic Cooperation Economic Leaders group and the Assn. of Southeast Asian Nations.
But many Hawaii residents hope a visit to the state will expose the president, whose presence here is limited to a Trump-branded Waikiki tower that is not owned by his family's company, to the environmental and security threats that face the state, 2,471 miles from the mainland.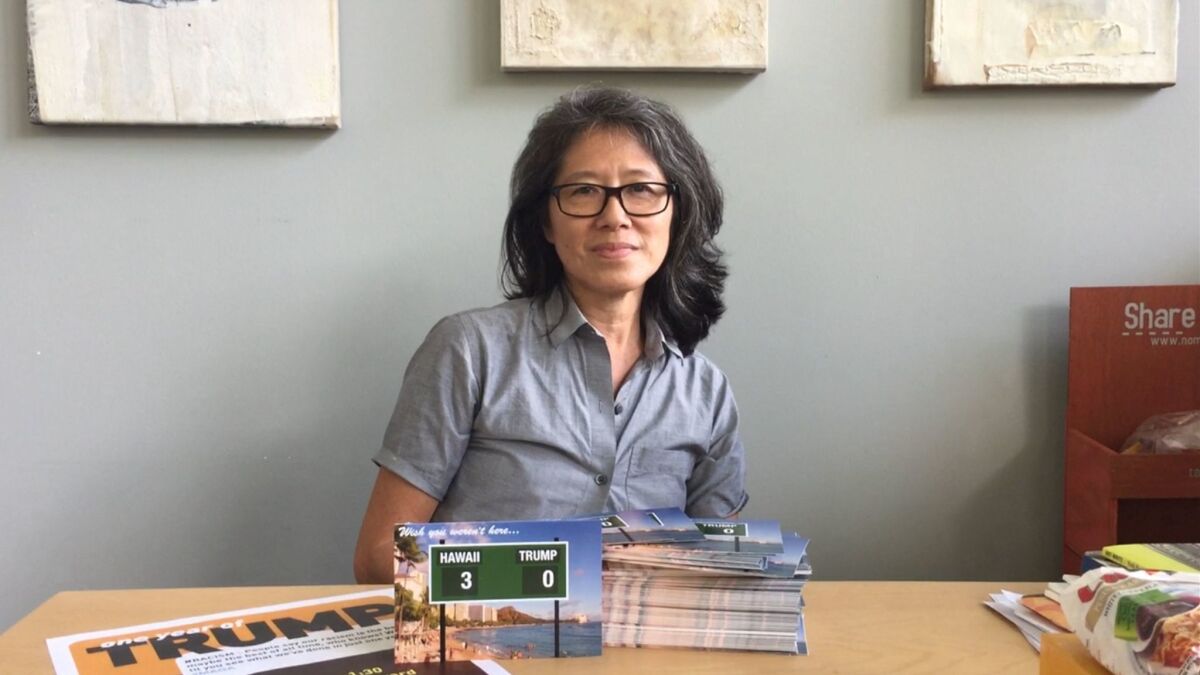 "When I first found out he was coming here, my reaction was a physical one, like you touch something sticky and slimy," said Gaye Chan, an art professor at the University of Hawaii who formed an anti-Trump coalition, Hawaii J20+, that's demonstrated since the inauguration. The group is spearheading the protest outside the Hawaii state Capitol on Friday that's advertised in the "You're not welcome here" postcards. The American Civil Liberties Union, Sierra Club, Women's March Oahu chapter and dozens of other organizations have endorsed it.
"Most of what his administration is doing just feels so wrong to us. He's harming the environment, he's harming LGBTQ people, he's insulting races and ethnicities for us in a state where the majority of us are not white," said Chan.
Police are also preparing for two other anti-Trump protests over the weekend, including one Saturday that coincides with a national series of "refuse fascism" demonstrations.
It's unlikely Trump's motorcade will pass by demonstrators, but he will get face-time with more high-profile critics.
Speaking to reporters this week, Gov. David Ige, a Trump critic, said he would greet the president and First Lady Melania Trump on Friday afternoon with an "Aloha."
"I don't intend to have a heated issue or political debate on the tarmac," said Ige, a Democrat. "Whenever any president visits the state of Hawaii, I think it's an opportunity to learn about the people, place and culture. We all learned a long time ago that when we work together we accomplish great things."
State officials were infuriated this year when Atty. Gen. Jeff Sessions called Hawaii "an island in the Pacific" in response to a Honolulu-based federal judge blocking the travel ban. Sessions said he was making a joke when he said he was "amazed" that a judge so far away could take on the president. But for Hawaii residents, it added to a sense that mainlanders such as Trump see them as foreigners.
"We realize President Trump's time in the Hawaiian islands is short, but hope he appreciates the history and values our state contributes to the national fabric," said Atty. Gen. Douglas Chin. His office launched court filings against the travel ban, the president's halting of the Deferred Action for Childhood Arrivals program and Trump's attempt to block transgender Americans from serving in the military.
Hawaii is essentially a one-party state, with Democrats holding all statewide offices. The state House of Representatives has just five Republicans among its 51 members, and all 25 members of the state Senate are Democrats. In its small Republican Party, representatives said the visit could be a boon.
"President Trump is taking a very important trip for our national security interests. We're very focused on his agenda to reaffirm our leadership in the Asian-Pacific region," said Shirlene Ostrov, chair of the Hawaii Republican Party. "We're incredibly excited."
Ostrov, who traveled to Washington this week to finalize plans for the president's visit, said Trump would not be meeting with local party members while in town.
For some residents and tourists, the president's visit may go unnoticed.
"I had no idea he was coming," said Tayte Alan, 19-year-old employee at Island Snow, a clothing store and shave ice shop in Kailua. The business, about 30 minutes northeast of Honolulu, is a favorite of Obama's, and photographs of the former president from past vacation visits line a wall. "We're busier here with people who come for photos on the bench where Obama eats his dessert," Alan said.
This week, one of those visitors was Shigeru Kithikoshi, who dropped by during his vacation from Sapporo, Japan, as part of a family tour of famous Oahu sites.
Kithikoshi, 69, said he didn't know Trump would be in Hawaii and Japan, where he'll meet Prime Minister Shinzo Abe over the weekend.
"I like, I respect Obama," he said as he posed for photos in front of the shop with shave ice in-hand. "I don't understand Trump."
Jaweed Kaleem is The Times' national race and justice correspondent. Follow him on Twitter, Facebook and Instagram.
Must-read stories from the L.A. Times
Get the day's top news with our Today's Headlines newsletter, sent every weekday morning.
You may occasionally receive promotional content from the Los Angeles Times.