Congress and Western allies demand answers on fate of journalist as Saudi Arabia balks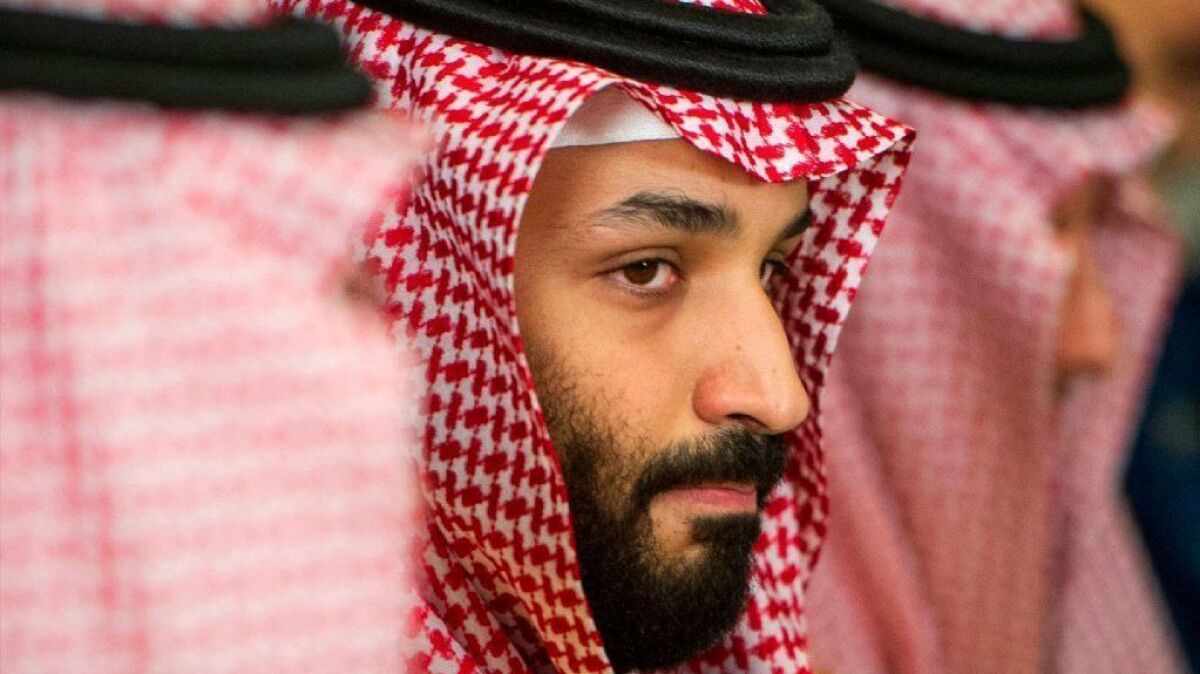 Reporting from Washington —
President Trump faced growing pressure from congressional allies and Western partners to vigorously seek answers from Saudi Arabia over the fate of Jamal Khashoggi, even as the kingdom on Sunday harshly threatened anyone seeking to punish its ruling royals over the journalist's disappearance and reported death.
Khashoggi, a former palace insider turned critic of Saudi Arabia's absolute monarchy and of its impetuous young crown prince in particular, walked into the Saudi consulate in Istanbul, Turkey, on Oct. 2 and has not been seen since. The journalist lived in Virginia and wrote opinion columns for the Washington Post.
Saudi Arabia had until now confined itself to disavowing any knowledge of what happened to Khashoggi, saying he freely left the consulate, but on Sunday the kingdom unleashed threats of major economic retaliation against anyone who sought to act against it.
"The kingdom affirms its total rejection of any threats and attempts to undermine it, whether through economic sanctions, political pressure or repeating false accusations," said the official communique from Riyadh, which did not mention Khashoggi by name.
It added that if Saudi Arabia is targeted, "it will respond with greater action."
Trump, who has sealed a close alliance with the kingdom, was initially silent about Khashoggi's disappearance. Amid reports that there was audio and video proof that the journalist had been killed and his body dismembered in the consulate, Trump said it was important to find out what happened. But he rejected the idea of a retaliatory cutoff of arms sales to Saudi Arabia if the reports were borne out.
In an interview taped for airing Sunday on "60 Minutes," Trump said proof of Saudi involvement in anything "terrible and disgusting" that had befallen Khashoggi would be met with "severe punishment."
But the president, who sometimes publicly touts denials of wrongdoing by those he supports as evidence of innocence, said Crown Prince Mohammed bin Salman had spoken by phone with Trump's son-in-law Jared Kushner and disavowed knowledge of anything untoward.
"They deny it," Trump said. "They deny it every way you can imagine."
Congress has taken a far tougher stance, and even GOP allies of the president insisted that Saudi Arabia must produce proof it did not harm Khashoggi.
Sen. Marco Rubio (R-Fla.), a member of the Senate Intelligence Committee, said Khashoggi's fate was still unknown, but that it was incumbent on Saudi Arabia to provide swift answers.
"I can tell you he walked into that consulate, and we have never seen him come out. And something happened," Rubio said on NBC's "Meet the Press." "And if he's not alive, then it is the Saudis who would know what happened."
If Saudi culpability is established, Rubio predicted lawmakers would act in concert in support of punitive measures, despite Trump's aversion to using an arms cutoff as punishment.
"If this is proven to be true, there is going to be a response from Congress," he said. "It's going to be nearly unanimous. It's going to be swift. And it's going to go pretty far."
In a separate interview on CNN's "State of the Union," Rubio was asked whether Treasury Secretary Steven Mnuchin should cancel his appearance at a high-profile upcoming economic gathering in Saudi Arabia. The senator said the United States should not conduct "business as usual" while the Khashoggi disappearance is unresolved.
The White House's top economic advisor, Larry Kudlow, appearing on ABC's "This Week," defended Mnuchin's plan to attend the conference later this month, although some influential business leaders have dropped out. JPMorgan Chief Executive Jamie Dimon joined that list Sunday.
"He's intending to go because of the importance of the issue of ending terrorist financing," Kudlow said, adding that plans could change.
Meanwhile, Germany, Britain and France expressed "grave concern" over the Khashoggi affair and said Saudi Arabia needed to provide a "complete and detailed" account of what had happened to the journalist.
The joint statement also offered an understated but sharp contrast to Trump's frequent depiction of the news media as an "enemy of the people."
"Defending freedom of expression and a free press and ensuring the protection of journalists are key priorities for Germany, the United Kingdom and France," the statement said.
A number of retired intelligence professionals have said that any move to kidnap or kill Khashoggi would have had to come at the behest of the highest echelons of the Saudi government. Former CIA director John Brennan, a frequent Trump critic, said on "Meet the Press" that the Saudi denials "ring hollow."
It would be "inconceivable," Brennan added, that such an operation would take place without "the knowledge of the day-to-day decision maker of Saudi Arabia — that's Crown Prince Mohammed bin Salman."
The Saudi statement denouncing a "campaign of false allegations and falsehoods" against the kingdom was unprecedentedly strident, coming from the Trump administration's closest Arab ally. Hours later, the Saudi Embassy in Washington sought to soften the tone by offering up seeming praise for Trump's thus-far noncommittal stance.
"To help clarify [the] recently issued Saudi statement, the Kingdom of Saudi Arabia extends its appreciation to all, including the U.S. administration, for refraining from jumping to conclusions on the ongoing investigation," the embassy tweeted.
---
UPDATES:
4:40 p.m.: This article was updated with JPMorgan Chief Executive Jamie Dimon's decision not to attend the investment conference
This article was originally published at 12:10 p.m.
Must-read stories from the L.A. Times
Get the day's top news with our Today's Headlines newsletter, sent every weekday morning.
You may occasionally receive promotional content from the Los Angeles Times.