Trump declared the North Korea nuclear threat over. The United Nations isn't so sure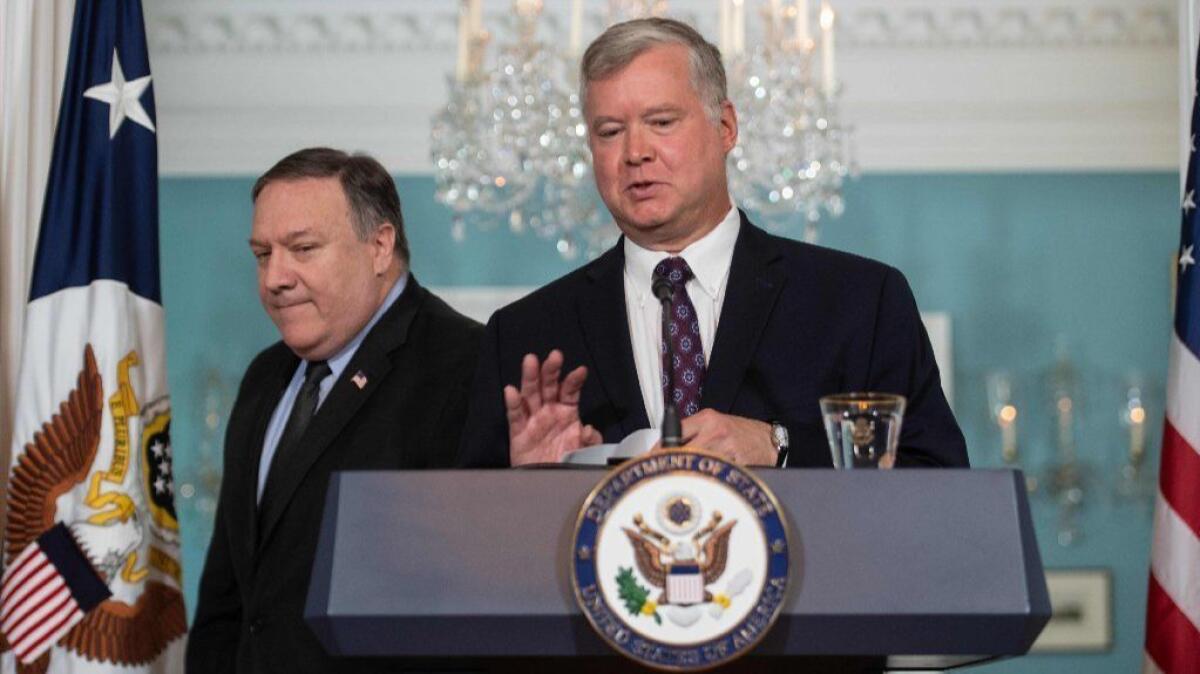 Reporting from Washington —
Two months after President Trump boasted that North Korea is "no longer a nuclear threat," growing evidence suggests that leader Kim Jong Un has not shut down the country's illicit production of bomb-making material and other nuclear activities, raising concerns that the proposed denuclearization deal has stalled at the starting gate.
Hoping to pressure the government in Pyongyang, Secretary of State Michael R. Pompeo said Thursday he would return to the reclusive nation next week and bring a newly appointed U.S. special representative, Stephen Biegun, to take over the challenging negotiations.

For the record:
6:10 p.m. Aug. 23, 2018A previous version of this article incorrectly stated that next week's visit to North Korea would be Secretary of State Pompeo's third since President Trump's summit with Kim Jong Un in June. It will be the second.
The visit will be Pompeo's fourth to North Korea since March, and the second since Trump and Kim met in Singapore in June and agreed to a brief, vaguely worded statement that served to lower tensions in northeast Asia, but contained few specifics or clear promises.
The White House has asserted since the summit that Kim pledged to dismantle his nuclear infrastructure and give up his arsenal of several dozen nuclear weapons in exchange for U.S. security guarantees. Kim has not confirmed that publicly, focusing instead on his call to ease economic sanctions against his country.
After the summit, Trump announced he would halt long-planned joint annual U.S. military exercises with South Korean forces as a goodwill gesture. North Korea, in turn, last month handed over the remains of 55 soldiers from the Korean War that it said were probably American. U.S. officials said it would take months to identify them.
While North Korea has not tested any nuclear weapons or ballistic missiles since the summit, the far more difficult goal of denuclearization has gone nowhere. On Monday, the International Atomic Energy Agency, the United Nations' nuclear watchdog agency, said it had detected no signs that North Korea has begun to dismantle critical nuclear infrastructure or halt production of fissile material.
The IAEA report said Pyongyang's continued nuclear activities, including the operation of a reactor, a uranium enrichment facility and related infrastructure at the Yongbyon nuclear facility, were "cause for grave concern" and were "clear violations" of several U.N. resolutions.
North Korea "has not abandoned its existing nuclear program in a complete, verifiable and irreversible manner or ceased all related activities," the report said.
The IAEA also noted that it has no access to nuclear production and research sites in North Korea to carry out inspections, as Pompeo has said would be required. The agency's inspectors were kicked out of the country in 2009.
"As further nuclear activities take place in the country, [the agency's] knowledge is declining," the report added.
The international 2015 Iran nuclear deal allowed the most intrusive IAEA inspections to date. But Trump walked away from that accord, saying it didn't go far enough in curtailing Tehran's support for militants in Yemen, Iraq, Lebanon and elsewhere.
Under the Iran deal, Iran gave up most of its ability to enrich uranium and disabled a reactor intended to produce plutonium, another bomb fuel. The IAEA has consistently said Iran was largely in compliance with the requirements of the accord, and the five other nations besides the U.S. that signed it have continued to abide by it.
Pompeo has repeatedly said progress was being made in North Korea, but has not offered evidence. On his last trip to Pyongyang, on July 5, he came away without new pledges of cooperation or a chance to meet with Kim, who had received him in March and June.
On Thursday, Pompeo made clear he would step aside from the day-to-day effort. He said Biegun would "direct U.S. policy towards North Korea," lead negotiations with Pyongyang and "spearhead diplomatic efforts with our allies and partners" in the effort to produce a final, verified disarmament deal.
Russia and China, which have voted for U.N. sanctions on North Korea, have begun to ease them in the wake of the summit. The Trump administration blacklisted several Russian shipping companies for allegedly supplying North Korea with oil in violation of the sanctions.
Biegun, who spent nearly two decades working on foreign policy issues in the Senate and in the George W. Bush White House, most recently worked as vice president of international government affairs at Ford Motor Co. In his comments, Biegun made clear the challenge ahead.
"The issues are tough, and they will be tough to resolve," he said. "But the president has created an opening, and it's one that we must take by seizing every possible opportunity to realize the vision for a peaceful future for the people of North Korea."
It wasn't immediately clear if Pompeo had simply decided that the negotiations were going nowhere and he needed to hand them off to focus on other issues. One analyst argued that Biegun's appointment suggested negotiations have reached a critical point and Pompeo needs to beef up his team.
Their visit to Pyongyang "is critical to regain momentum on the stalled denuclearization talks," said Bruce Klingner, a senior fellow at the conservative Heritage Foundation and former CIA deputy director for North Korea.
By all accounts, Biegun is not particularly partisan. Writing for Foreign Policy magazine in 2009, he assessed the first 100 days of the Obama presidency in glowing terms.
"Many solid personnel appointments, no apparent turmoil inside the administration, no noteworthy mistakes on the international stage, and Congress is following the president's lead," he wrote. "Four years of this would be great."
Foreign policy experts praised Biegun on Thursday as sharp and talented, and no stranger to tough negotiations.
Michael McFaul, a former ambassador to Russia and frequent critic of the Trump administration, called his appointment a "terrific" choice for a "huge, hard, important job."
Richard Fontaine, president of the Center for a New American Security think tank, with which Biegun is affiliated, said on Twitter it was "hard to think of a better person to take on a harder challenge." Biegun, he added, "will once again serve our country, this time tackling North Korea. Good news."
Pompeo has taken heat on Capitol Hill for the continued impasse with North Korea. Last month, he appeared before skeptical senators on the Foreign Relations Committee, who decried the absence of a "coherent" strategy.
"We've only seen a vague agreement of promises to make more promises, [and] of weaker commitments than North Korea has previously made," Sen. Robert Menendez of New Jersey, the ranking Democrat on the committee, told Pompeo. "The United States and North Korea seem to remain far apart on even basic issues such as the definition of denuclearization."
On Thursday, State Department spokeswoman Heather Nauert defended the diplomatic effort.
"We're on pretty solid footing here," she said. "We continue to have conversations with them. Our goals have not changed."
Asked about the IAEA report, she said the Trump administration "shared those concerns" but was determined to "work forward."
For more on international affairs, follow @TracyKWilkinson on Twitter
Sign up for Essential California for the L.A. Times biggest news, features and recommendations in your inbox six days a week.
You may occasionally receive promotional content from the Los Angeles Times.