Here's why a growing number of states are pushing back against Trump's voter fraud commission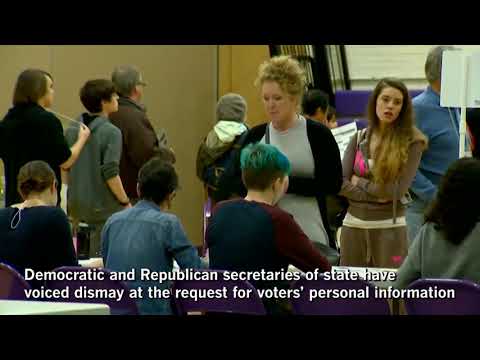 States are pushing back against the Trump administration's voter fraud commission. (July 6, 2017) (Sign up for our free video newsletter here http://bit.ly/2n6VKPR)
The Trump administration's new voter fraud commission is lacking a crucial component in these early days: momentum.
A growing chorus of secretaries of state — both Democrats and Republicans — has voiced dismay at the commission's request for voters' personal information. On June 28, the panel's vice chairman, Kansas Secretary of State Kris Kobach, sent a letter to top elections officials in each state asking that they supply, among other things, names, addresses and the last four digits of Social Security numbers.
As of Wednesday, at least 40 secretaries of state had either rejected the request or said that state law did not permit them to share all of the requested data.
Minnesota Secretary of State Steve Simon, a Democrat, called the request "intrusive and unnecessary" and said he would not hand over the personal information of his state's nearly 4 million voters.
"For me, it was an obvious call that we were not going to comply," Simon said on Wednesday. "This commission does not seem trustworthy. I just cannot justify handing this information over."
Sen. Amy Klobuchar, siding with fellow Minnesotan Simon, offered the commission advice while noting in a tweet the state's nearly 12,000 lakes. "When they ask for private voter info, time to tell the 'Election Integrity' Commission to GO JUMP IN A LAKE!"
The Democratic senator's comments were an aquatic echo of the reaction of Delbert Hosemann, Mississippi's Republican secretary of state. Last week, he said the commission "can go jump in the Gulf of Mexico, and Mississippi is a great state to launch from."
In May, President Trump established a 15-member Presidential Advisory Commission on Election Integrity, led by Vice President Mike Pence, to study registration and voting processes. The group, which consists of elected officials from across the country, is set to hold its first meeting on July 19. It will later submit a report to the president.
The formation of the committee came after Trump alleged in January — without evidence — that between 3 million and 5 million illegal votes were cast in last year's presidential election. Though Trump prevailed in the electoral college, Democrat Hillary Clinton led the popular vote by nearly 3 million votes.
Wyoming Secretary of State Ed Murray is among the Republican officials who have rebuffed the commission's request. Insisting he was going to "safeguard the privacy of Wyoming's voters," Murray said the commission's request "could lead to federal overreach."
Simon and Murray are joined by secretaries of state from California, Indiana, Kentucky, Massachusetts, North Dakota, New York, Pennsylvania, Rhode Island, South Dakota, Tennessee, Virginia and Mississippi to fully reject the commission's proposal.
Officials from other states, including Colorado, Nevada, Ohio, Oklahoma, Connecticut, Missouri, Kansas, Utah and Texas, will turn over some of the requested information.
Nationwide, studies have shown that voter fraud is almost nonexistent.
A recent comprehensive report into voter fraud, conducted by the nonpartisan Brennan Center for Justice, found 31 credible instances between 2000 and 2014 of voter impersonation out of more than 1 billion votes cast. The report examined every federal election in that time period.
Danielle Lang, senior legal counsel at the nonpartisan Campaign Legal Center, which focuses on election law, said the commission was "built on a lie."
"And now it's seeking evidence to essentially prove a lie," she said.
Trump's allegation of voter fraud led to a strong rebuke by some in his party, including Ohio Secretary of State Jon Husted. He said Ohio investigated voter fraud in past elections and came up with nothing.
"We conducted a review 4 years ago in Ohio & already have a statewide review of 2016 election underway. Easy to vote, hard to cheat #Ohio," Husted tweeted in January.
So what's Husted's response to the commission's request?
"Voter registration information is a public record and is available online," Husted said in a statement.
He added that confidential information, such as the last four digits of a voter's Social Security number, was not available to the public and he would not provide it to the commission. (Even Kobach announced that Kansas law forbade him from handing over Social Security numbers.)
Kobach on Wednesday called reports that more than three dozen states were pushing back against the commission "fake news."
Colorado Secretary of State Wayne Williams said he would provide some publicly available information, but not the Social Security digits, which are private.
Williams, a Republican, on Wednesday applauded some of the commission's efforts. He said he was pleased that the panel, in addition to seeking voter data, was asking for the views and recommendations of secretaries of state on several specific issues outlined in Kobach's letter. They include, among other things, how the commission can support election administrators with security issues and how voters can be protected from intimidation or disenfranchisement.
"This is encouraging some of the work they're doing," Williams said.
Still, when asked whether he believed widespread voter fraud took place last year — as Trump proclaimed — Williams did not hesitate.
"I have not seen any indication that occurred," he said.
ALSO: In Poland, a right-wing, populist, anti-immigrant government sees an ally in Trump »
Twitter: @kurtisalee
ALSO
Here's how voter fraud once tipped an election — and why that doesn't happen very often
President Trump says it's illegal to be registered to vote in two states — but he's wrong
Jersey City has turned sharply against Donald Trump's son-in-law, Jared Kushner
Sign up for Essential California for the L.A. Times biggest news, features and recommendations in your inbox six days a week.
You may occasionally receive promotional content from the Los Angeles Times.