A Democrat won a reliably GOP seat in Wisconsin, causing angst among some Republicans. Not so fast, say others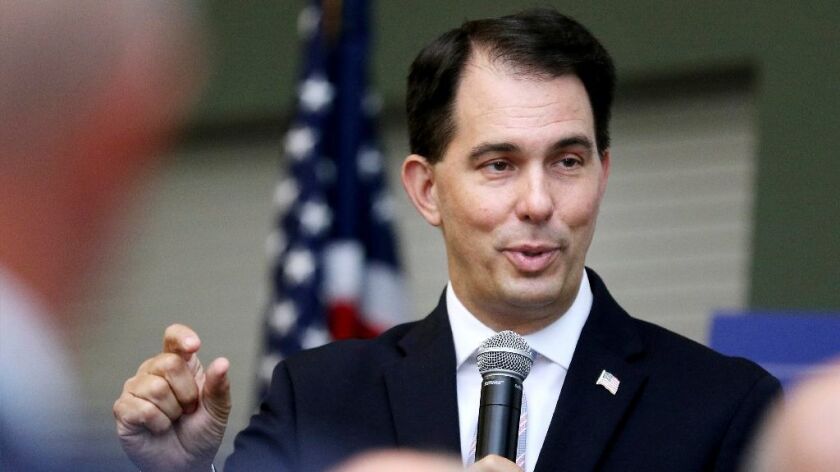 The Wisconsin state Senate district was reliably red, a place where winning came easy to Republican candidates up and down the ticket.
But that's come to an end.
Democrats on Tuesday won a surprising victory in Wisconsin's Senate District 10, part of what's become a wave of wins nationwide in state legislative and federal races, stoking concerns among Republicans ahead of the midterm elections this fall.
"Senate District 10 special election win by a Democrat is a wake up call for Republicans in Wisconsin," tweeted Republican Gov. Scott Walker, who later Wednesday sent out several tweets that began with "WAKE UP CALL" and touted his party's achievements in the state.
Washington Gov. Jay Inslee, who is head of the Democratic Governors Assn., said: "Democratic voters are fired up and making their voices heard in record numbers. That should terrify every single Republican on the ballot this year."
Well, yes and no. Analysts caution recent wins by Democrats do not necessarily foreshadow what's to come in the months ahead. They add that for all the talk about Democratic victories in recent months, Republicans have won many elections, too.
Still, the results in Wisconsin's 10th District, which spans several counties near the Minnesota border, came as a surprise, if not a shock. Democrat Patty Schachtner, a local medical examiner, handily won a special election over Republican state Rep. Adam Jarchow.
Republicans had held the seat since 2001, raking up easy victories. Two years ago, Donald Trump won the district by 17 percentage points over Hillary Clinton. Trump went on to narrowly win the state by about a percentage point.
Schachtner's victory kicks off a 2018 election season where Democrats hope for major gains in state legislatures nationwide, as well as in House and Senate races. Historically, the party in control of the White House loses ground on the ballot during midterm elections.
Even so, Rick Tyler, a GOP strategist who has run state and federal campaigns, said that Republicans have a strong economy to bolster their campaigns.
"When voters go to the polls, that will help this year," he said. "There is a lot of noise out there, but voters will look at the economy and see that it's been working under Republicans."
But public support of Trump — or lack thereof — has not helped. The president's approval rating has hovered between 35% and 45% during his first year in office — the worst record of any recent president, according to Gallup.
Nathan L. Gonzales, editor of Inside Elections, a nonpartisan group that handicaps state and federal races nationwide, said the Wisconsin contest was a significant local win for Democrats, but warned against reading too much into it.
"We can't be quick to say this will mean big wins for Democrats in 2018," Gonzales said. "Also, state legislative races are different from congressional contests. There's a lot of different issues at play."
In recent months, Democrats have made big gains in state and federal races that have built momentum headed into the midterms. Democrats picked up 15 seats in the Virginia state House in November, thanks in part to robust turnout at the polls. The most notable win came in Alabama a month later, when Democrat Doug Jones captured a U.S. Senate seat.
More recently, high-profile Republicans have decided not to run for what are widely viewed as two winnable U.S. Senate seats for Republicans.
Former Minnesota Gov. Tim Pawlenty cited a "tough" outlook for Republicans in 2018 as one reason he passed on a Senate bid there. And Rep. Kevin Cramer announced he would not challenge Democratic Sen. Heidi Heitkamp in what could be a competitive North Dakota Senate race, even though Trump had encouraged him to run.
Still, Republicans go into the midterm elections year with strengths of their own. In special elections last year, Republicans won five out of seven congressional races.
Also, the GOP holds significant advantages at the state level. Republicans currently hold 33 governorships, just one below the party's all-time high.
Moreover, Republicans control both the state legislatures and the governors' mansions in 25 states, compared with total Democratic control in seven states, according to the National Conference of State Legislatures. In the other 17 states, power is divided between Republicans and Democrats.
But, Gonzales said, looking at the special legislative race in Wisconsin, it's clear more enthusiasm to get out and vote must be on display by Republicans.
"Or else this year they're going to get crushed," he said.
Twitter: @kurtisalee
---
The Latinx experience chronicled
Get the Latinx Files newsletter for stories that capture the multitudes within our communities.
You may occasionally receive promotional content from the Los Angeles Times.