Texas had no right to seize sect children, appellate court says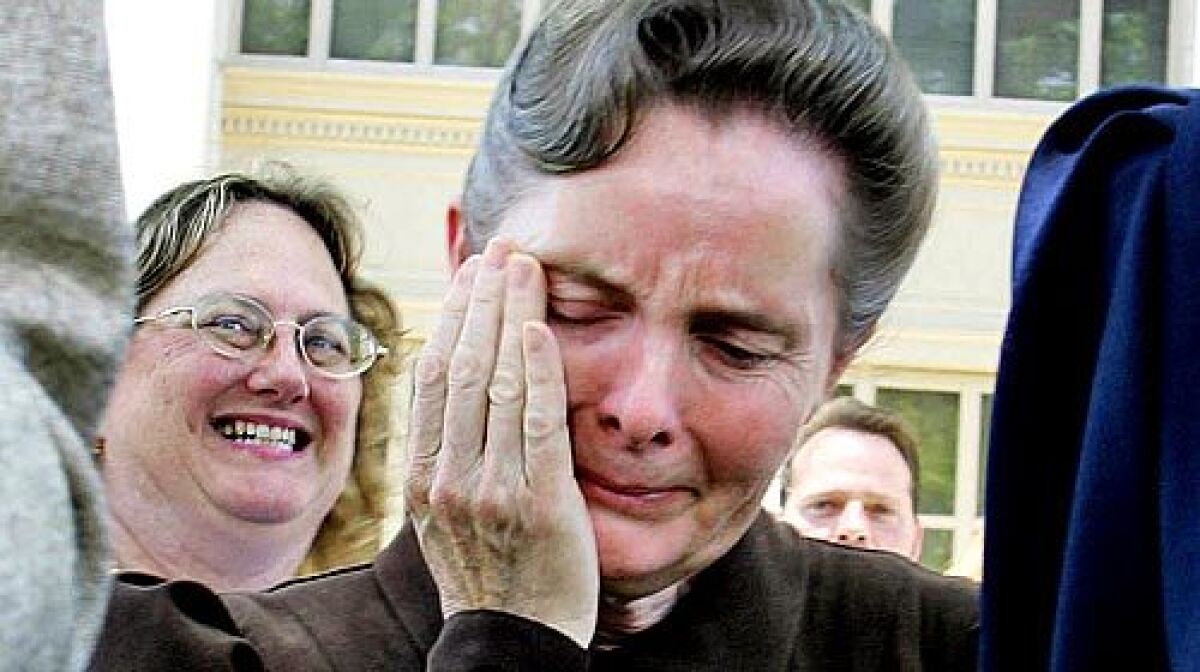 Los Angeles Times Staff Writer
HOUSTON —
Texas authorities had no right to take more than 400 children from a secluded polygamist compound last month because officials never proved that the children were in imminent danger, a state appeals court ruled Thursday.
The ruling by the 3rd Court of Appeals in Austin did not specifically call for the state to return the children to their mothers. But it laid waste to the state's arguments for taking the children, opening the door for at least some of the polygamist families to be reunited within weeks.
The decision was triggered by a lawsuit brought by Texas RioGrande Legal Aid, a nonprofit group that represents 38 mothers in the ongoing child custody battle, one of the largest in U.S. history.
"The way that the courts have ignored the legal rights of these mothers is ridiculous," said Julie Balovich, an attorney for the legal aid group, in a statement. "It was about time a court stood up and said that whathas been happening to these families is wrong."
The ruling was another setback for Texas officials, who in recent days have conceded that at least 15 of the mothers the state had initially detained as child brides are, in fact, adults. One turned out to be 27 years old.
Texas officials have maintained that they were legally compelled to remove all the children from the Yearning for Zion Ranch because their investigation had uncovered widespread evidence that children were being sexually abused and that teenage girls, some visibly pregnant, were in polygamous marriages with older men.
But members of the Fundamentalist Church of Jesus Christ of Latter Day Saints -- a 10,000-member sect that long ago split from the Mormon Church, which banned polygamy in 1890 -- have strongly denied state claims that all the children were in danger of abuse in the compound's communal dormitories.
The appeals court sided with the sect, ruling that the Texas Department of Family and Protective Services erroneously treated the entire 1,691-acre YFZ Ranch in western Texas as an individual household.
It concluded that even if state officials could prove abuse was occurring in some families, it did not mean all children were at risk. The court also noted that state officials had presented no evidence showing that boys and prepubescent girls were in peril.
"Even if one views the FLDS belief system as creating a danger of sexual abuse by grooming boys to be perpetrators of sexual abuse and raising girls to be victims of sexual abuse, as the department contends, there is no evidence that this danger is 'immediate' or 'urgent,' " the ruling stated.
It gave a trial court in San Angelo 10 days to vacate orders granting Texas temporary custody of more than 400 children, which allowed the state to send the children to foster-care homes from Amarillo to San Antonio until their future was determined. At one point, Texas stated that it had 468 children in custody, but some have proved to be adults.
Though the case was not filed on behalf of all parents or children, attorneys said they were optimistic that the ruling had established a foundation for all the children to be returned to their parents soon.
"My head is still spinning," said Susan Hays, a Dallas appellate lawyer who represents a 2-year-old girl. "Removing a child from home should be the last option, not the first. I'm so happy we still have the rule of law in Texas."
State officials said Thursday that they were still studying the ruling and weighing whether to appeal it. Legal experts said the state might still be able to show that the children should be removed from a culture of abuse. But they said the ruling raised questions about whether Texas was justified in doing so on an emergency basis.
"We are trying to assess any impact this may have on our case and decide what our next steps will be," said Marissa Gonzales, a spokeswoman for Texas Child Protective Services.
Attorneys for the mothers have accused Texas officials of whipping up mass hysteria about the polygamist religion based on scant evidence and of taking breast-feeding infants from mothers and separating brothers and sisters without just cause.
Custody proceedings in court have shown that some girls were underage when they entered into "spiritual marriages" inside the sect. But authorities have been unable to determine the identities of numerous children in custody. Many reportedly do not know their ages and answer to multiple mothers.
Texas officials invited FLDS members to take DNA tests to prove they were the biological parents of some of the children, but few men showed up for the tests. The results have not been revealed.
The April 3 raid on the compound, located just outside the town of Eldorado, about three hours northwest of San Antonio, followed phone calls made by someone who identified herself as a 16-year-old named Sarah.
She said she was inside the YFZ Ranch compound and was being abused by her husband. State officials later disclosed that the calls appeared to have been made by a Colorado woman with a history of making false accusations. An arrest warrant for the man the caller had identified as her abuser -- who was living in Arizona -- was eventually withdrawn.
Texas' sweeping action alarmed other religious groups, which worried that it would set a troubling precedent if parents lost custody of children based on general claims about a religion rather than specific evidence of abuse.
"This is a huge reminder that the government cannot come into your house and say, 'We know what is best for your children, and we are going to take them,' " said Kelly Shackelford, an attorney for the Plano, Texas-based Liberty Legal Institute, which filed a brief in the case.
"The burden is on the government to prove that children are in danger of being abused, and if the state can't prove that, they have no business ripping families apart."
Times staff writer Jenny Jarvie contributed to this report.
Must-read stories from the L.A. Times
Get the day's top news with our Today's Headlines newsletter, sent every weekday morning.
You may occasionally receive promotional content from the Los Angeles Times.