Portland ordinance to protect renters may be a model for other cities. But landlords are fighting back.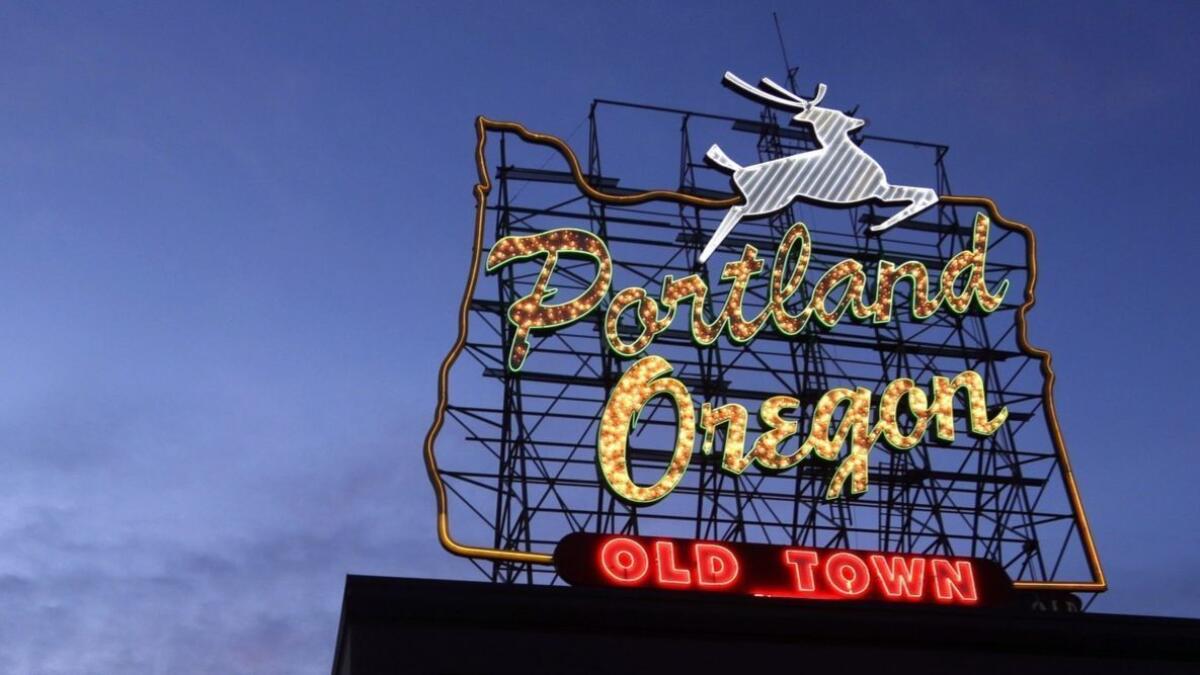 Reporting from PORTLAND, ORE. —
The idea seemed simple enough. Last year, Portland passed a law to ease the pain of renters being forced out of their homes or facing large rent hikes.
Officials and housing advocates in particular were worried about those facing "no-cause" evictions. Such renters aren't compelled to relocate because they damage property or fail to pay rent; their landlords just want them out.

For the record:
2:55 p.m. Nov. 26, 2018An earlier version of this story said Michael Simon had upheld Portland's new rental law. The ruling was by Multnomah County Circuit Court Judge Henry Breithaupt.
The ordinance requires landlords to pay tenants from $2,900 to $4,500 for a no-cause eviction, a rent increase of 10% or more, a "substantial change" to the lease or a lease nonrenewal.
Now, landlord groups that have sued to overturn the law hope they will prevail when the Oregon Court of Appeals hears the case in January, even as tenant advocates nationwide study the ordinance as a tool to prevent renter displacement.
"As far as I know, no place else has taken this sort of approach," said Emily Goldstein, a senior organizer for the Assn. for Neighborhood and Housing Development in Manhattan.
The group hopes to educate the public and officials about the ordinance and possibly "replicate and improve" the law in the New York region.
Jamey Duhamel, a policy advisor for Portland City Commissioner Chloe Eudaly and co-author of the ordinance, said cities across the nation have asked for information about the law. "I think our relo ordinance is unique, and the only one of its kind in the country," she said.
In California, where Proposition 10 was defeated in the Nov. 6 election, tenant advocates see Portland's ordinance as a kind of Plan B to protect renters.
Outside Oregon, tenant advocates see the law as a viable tool to mitigate what Josh Butler, executive director of the group Housing Long Beach, calls "a rental housing catastrophe." The Portland ordinance is a "really great first step for a city to take," Butler said. "I see it more as displacement mitigation."
In their lawsuit challenging the ordinance, Oregon landlord groups argue that, by discouraging rent increases, it violates a state law "preempting" local rent control. Multnomah County Circuit Court Judge Henry Breithaupt disagreed and upheld the law last year, triggering the landlords' appeal.
John DiLorenzo, the lead attorney representing landlords, called the law the wrong fix for the problem, comparing it to "the doctors of old who thought that applying leeches would help a patient."
Ron Garcia, president of the Rental Housing Alliance of Oregon, called it "draconian." Garcia's group represents 2,000 members, 60% of whom are small "mom and pop" landlords.
"I'm a guy who owns a duplex, and I'm getting stymied by city government," Garcia said. "I want my property back."
Tenant advocates far from Portland see the law as a way to help renters targeted for mass evictions in a deregulated rental marketplace.
Minnesota's Twin Cities have seen a surge in evictions in apartment buildings with as many as 700 units, said Tim Thompson, president of the Housing Justice Center, an advocacy group.
Minneapolis and four suburbs recently adopted tenant protection ordinances, he said, after discussions that included the Portland law. Minneapolis is now considering a tenant "bill of rights" package, which could include mandatory relocation payments.
The number of renters in the U.S. is near its high-water mark for the last half-century, a Pew Research Center study found. In cities up and down the West Coast, gentrification and eviction have led to increasingly volatile political battles.
In Portland, 123,157 of the city's 265,700 occupied housing units — or 46% — are rentals, Martha Calhoon, spokeswoman for the Portland Housing Bureau, said. The bureau's most recent "State of Housing" report found that almost every neighborhood in the city is now unaffordable for "extremely low income" individuals, and many black, Latino and single-parent households.
Duhamel called Portland's ordinance a "really big and important protection for tenants in a moment of crisis." However, "it doesn't solve all of our problems," she said.
The law allows landlords to apply for an exemption if they meet criteria in any of 12 categories, and it does not stop a landlord from raising rent 9.9% each and every year.
But Portland's law mandates payments that could make a difference to many ousted renters: $2,900 for a studio or single room occupancy, $3,300 for a one-bedroom unit, $4,200 for a two-bedroom and $4,500 for three or more bedrooms. Nationwide, the average renter's net worth is a fraction of the average homeowner's: $5,400 versus $195,400, the Federal Reserve found late last year.
The law, Ordinance 188219, went into effect in February 2017. Three Portlanders who received payments since then said in interviews that it empowered them to face the daunting challenge of finding a new home in a tight market.
"Who has three months of money in the bank that they can just pick up and move?" Amanda Potter, 37, asked, referring to the usual payments required to execute a lease. "We rent because we are not in a position to buy." Potter and family lived in a Portland neighborhood for 15 years, but received a no-cause eviction notice in July 2017. They ended up 10 miles away, in Troutdale.
Sophia Jarvis, 29, was served an eviction notice in February 2017. Finding out about the ordinance, she said, "was the first whiff I had ever caught that there was anything on our side as tenants."
"It was the difference between us feeling like we would end up living on the street or sleeping on a friend's couch — or being able to stand up for ourselves," Jarvis said.
In 2016, actor Adam Lisser and his parents sold the North Portland duplex he lived in. He remained in his unit as a renter, and a year later, the company they sold to handed him a 90-day no-cause notice. The landlord never tried to get out of paying the relocation fee, he said. On the other hand, "it was just radio silence," he said.
Lisser pursued the issue "like a pit bull," and he and two roommates shared $4,500.
"Having that extra cushion allowed me to look for a new place from a position of strength," Lisser, 35, said. "If I didn't have the relocation assistance, I feel like I would have experienced a lot of paranoia and uncertainty."
Is the relocation assistance law working?
Matthew Tschabold, assistant director for the Portland Housing Bureau, sighed when asked about its effectiveness. "That's something we're still working on," he said. From community-based partners, he said, the bureau has heard "it is having a stabilizing effect."
One possible measure of the law's effectiveness is the number of cases heard in local eviction court. Studies have shown that only a small percentage of overall evictions land in eviction court, but it's clear that the number of residential eviction cases in the Portland area is declining.
Data provided by Multnomah County, one of three counties that include parts of Portland, shows that residential eviction cases have declined for a decade, from a high of 6,713 in 2008 to 5,353 last year — a 20% drop. (So far this year, the numbers are similar to 2017.)
Housing experts say the decrease could reflect various factors, particularly an improved economy, but Ann Witte, an attorney who has helped tenants in local eviction courts for four decades, sees it differently. "It is clear that this approach that the City Council took is working for cutting down evictions," she said.
Since March, when the bureau began tracking data, 198 landlords have applied for exemptions. Calhoon, the housing bureau spokeswoman, said "roughly half" of those who apply for exemptions receive them. Landlords have made 168 payments to renters, she said. However, they're not required to report payments, so the true number is unknown, and likely higher.
Are landlords trying to skirt the ordinance?
Tschabold wouldn't characterize landlords' actions that way, but said the housing bureau occasionally fields "interesting" queries about how the measure can be applied. But such instances are rare — only "one landlord out of tens of thousands," he said.
Katrina Holland, executive director of the Oregon Community Alliance of Tenants, which operates a tenant rights hotline, believes otherwise. "We see a lot of different methods that folks try to use to get around relocation assistance," Holland said. "We've seen efforts from some landlords to try to trick tenants into thinking that they're trying to make a choice to leave."
An organizer with renter advocate group Portland Tenants United agreed with Holland. "It's true that some landlords are abusing [the ordinance]," Margot Black said, "but that doesn't mean it was better before there was relo." She called the ordinance a "paradigm shift."
Tschabold said the housing bureau is prioritizing education and outreach, responding to what he called a rapidly changing rental landscape.
Landlords, meanwhile, are placing their hopes in the appellate court. Garcia, the president of the Rental Housing Alliance of Oregon, believes the public dialogue over rent has been hijacked "by a small minority of radical tenant rights groups" who scream the loudest at City Hall. "The people that I speak for feel like the city has betrayed them," he said.
Schmid is a special correspondent.
Sign up for Essential California for news, features and recommendations from the L.A. Times and beyond in your inbox six days a week.
You may occasionally receive promotional content from the Los Angeles Times.