Portland educators want to strip 'Lynch' from school names. But it refers to a family, not lynching
Tom Singerhouse lives at the same southeast Portland address he did in 1965 when, rising late from bed, little Tom could dash to his nearby grade school and still beat the last bell.
"I'm close enough I could hit it with a rock," said Singerhouse, a 64-year-old retired warehouseman.
His former school, Lynch View Elementary, looks much as it did more than a half-century ago, he observed. "They painted it, made a few improvements, and the parking area's different. Otherwise," Singerhouse said with satisfaction, "it seems the same."
Change is likely coming, however.
The Centennial School District, which operates Lynch View and 10 other grade, middle and high schools, is moving to rename three of them in response to some parents and school officials who feel "Lynch" is a bleak reminder of a time in America when blacks were publicly hanged — lynched — by white mobs and the Ku Klux Klan.
Lynch View, along with Lynch Wood and Lynch Meadows, will become simply View, Wood and Meadows elementary schools.
The Census Bureau estimates that more than 4,700 lynchings occurred between 1882 and 1968. From 1882 to 1930, about 2,800 people were lynched in the South, about 580 in the West and 260 in the Midwest.
On average, between the 1880s and 1930, black Southerners were dying at the hands of white mobs more than twice a week.
It's got nothing to do with lynching.
— Tom Singerhouse, Portland resident
Next week, the Centennial School District board will consider that history and, if it approves the change, Lynch will be removed from all school signs, logos and homepages.
"I'm against that," Singerhouse said. "It's got nothing to do with lynching."
He and other Portlanders dissenting on talk radio, social media and through online comments accuse the board of politically correcting history.
The schools were named to honor pioneering berry farmers Patrick and Catherine Lynch, who donated land to build a one-room school in 1900. Officials were so pleased with the donation and a later bargain land sale by the Lynches, they named the whole district Lynch. It subsequently merged with another nearby district to become Centennial in 1976 and now serves southeast Portland and nearby Gresham.
A poll on a Centennial alumni website turned up 360 people opposed to the name change, with just 17 in favor. Wrote one alum: "The overwhelming majority of Centennial/Lynch families (past and present) understand the importance and significance of the Lynch Family name on the schools. The passion behind keeping this history alive is palpable, and for good reason."
No Lynch descendants have surfaced so far to speak out on the proposed changes, but Singerhouse took up their defense.
"I think the Lynch family is being insulted," he said. "Why not keep the name and just teach kids the true history about their schools?"
The dispute is viewed by some as another example of the national debate over offensive historical names, from sports mascots — such as the Washington Redskins — to buildings and geographic sites branded with racist titles.
In Washington state, for example, Rep. Pramila Jayapal, a Seattle Democrat and the first Indian American woman elected to Congress, is leading an effort to change 36 offensive geographical names, including Negro Spring, Redman Slough, Chinamans Hat and more than a dozen locales named Squaw or Coon.
Some names have been banished because of unsavory personal histories. One of the most recent examples came two weeks ago at the University of Oregon, where new signs went up changing Dunn Hall to Unthank Hall. In response to student complaints, original namesake Frederick Dunn, a onetime UO teacher and "exalted Cyclops" in the KKK, was replaced by the late DeNorval Unthank Jr., the first black man to graduate from the university's architecture school, in 1951.
Oregon, and particularly Portland -- considered by some to be America's "whitest big city" based on Census Bureau data – are sensitive to their long-ago past as a welcome place for Klan activity and race-based laws.
Portland's new mayor, Ted Wheeler, in the throes of hiring a new police chief, has made race relations a major job component, candidly reminding candidates in an advertisement that "The State of Oregon and its largest city, Portland, share a history of legally sanctioned systemic racism with legally enforced exclusionary practice."
But the newest Portland dispute is less about race and more about a misunderstanding. Though the terms "lynching" and "lynch laws" can be traced to Charles Lynch (1736-96), a Virginia revolutionary figure who tracked down British loyalists and dealt with them in a kangaroo court (but didn't hang anyone), the Portland Lynches are shown in history to have been big-hearted Irish homesteaders.
Portland isn't the first locale to reconsider the racial ring to "Lynch." At Lebanon Valley College in Pennsylvania two years ago, officials came up with a solution after students said Lynch Memorial Hall had racial overtones. So the sign was simply changed to Clyde A. Lynch '18 Memorial Hall in recognition of the school's 18-year president.
So how about Patrick Lynch Elementary, or Catherine Lynch Elementary, as some Portlanders have suggested? That has been considered, said school board member Rod Boettcher in an interview. "But there's no decision yet."
The district is on record as preferring that Lynch be removed. Paul Coakley, appointed district superintendent in February, is currently on vacation. But background documents generated by his office state "the Lynch school names have proven to be a disruption to the learning environment for our increasingly diverse student population."
The documents recommend the school board approve the name change at its Aug. 9 meeting "to foster a sense of inclusion for our ever-changing student population."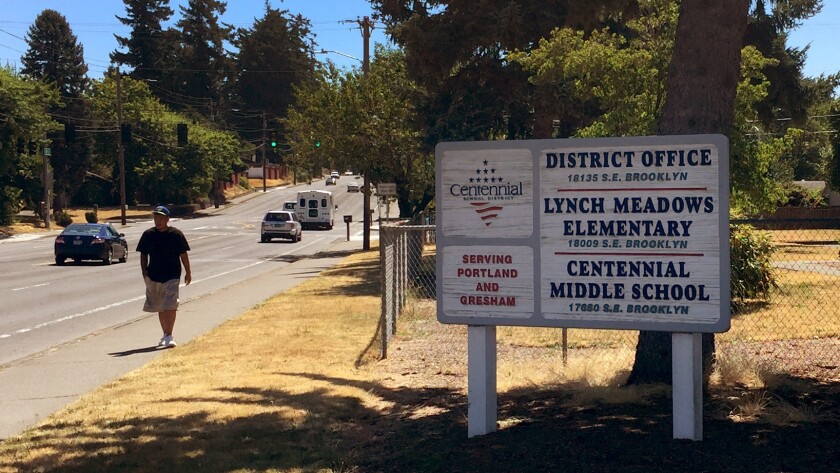 With a student enrollment of 6,100, Centennial's minority student population has grown from less than 16% to 54% in the past decade, the district says. The fastest growing ethnic group, Latinos, make up 26% of the enrollment.
Due to gentrification in other parts of Portland, the district says, more people of color are moving southeast: "Feelings of being displaced, alone, can build resentment and hostility towards the new community that they are being forced to move into based on economic circumstances. The majority of these families are not familiar with the history of the Lynch family or Centennial's relationship with the Lynch Schools."
Board member Boettcher says the district has been mulling the changes for more than a year. "It's not something new, although it is getting publicity now that a decision may be made," he said. "There are many different perspectives we have to consider."
Portland's major daily, the Oregonian, editorially urged the board to reject the changes and use the dispute as a teaching moment, observing that the Lynches were immigrants who did a good thing for the city.
"It's not just the obvious lesson that words have multiple meanings or that people bring different perspectives to the same issue," the paper stated. "There's the lesson of who the Lynches were" and how "their donation in 1900 to support education exemplifies the kind of significant contributions immigrants have and will continue to make to the local community."
Tom Singerhouse seconds that. "View" isn't much of a name for a school, he said. "Besides," he added, "if they do change it, everyone will still call it Lynch."
Anderson is a special correspondent.
ALSO
These voters in Arizona are fed up with Democrats, Republicans and, most of all, Trump
'Pharma Bro' Martin Shkreli convicted of securities fraud
Asian Americans are divided after the Trump administration's move on affirmative action
---
Must-read stories from the L.A. Times
Get the day's top news with our Today's Headlines newsletter, sent every weekday morning.
You may occasionally receive promotional content from the Los Angeles Times.