Complaint alleges harm to pregnant women in immigration detention centers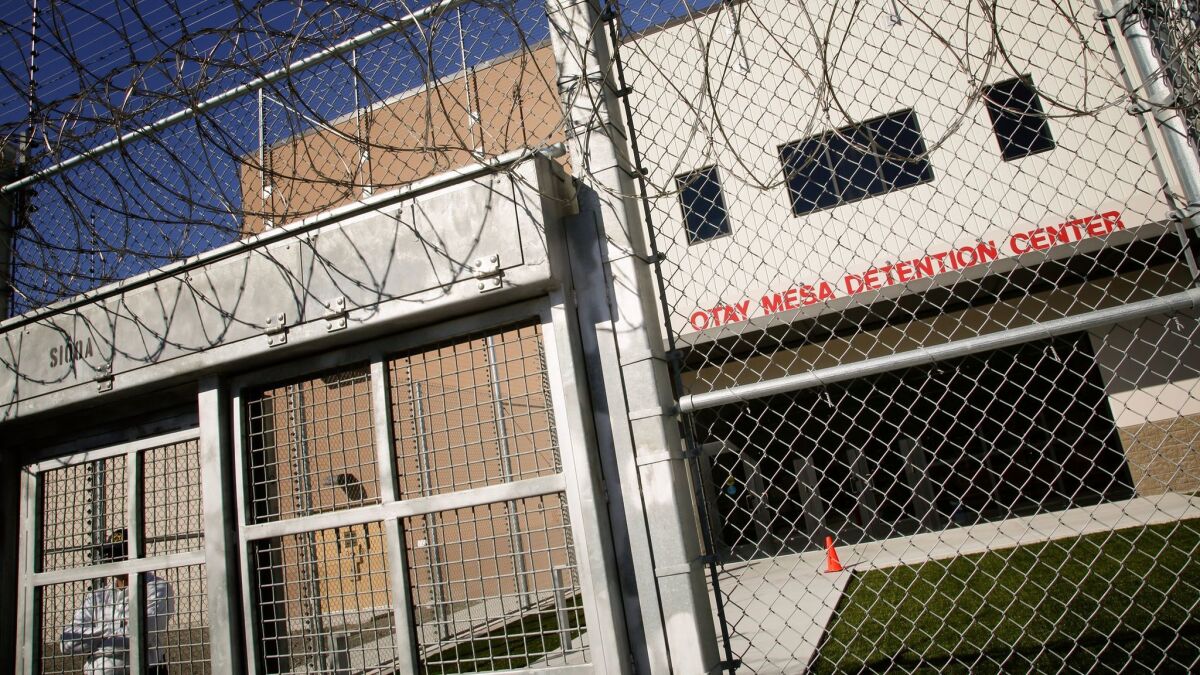 When Jennye Pagoada Lopez arrived at the U.S. border post of San Ysidro in July seeking political asylum, she showed agents ultrasound images of her pregnancy and told them she was bleeding and needed immediate medical attention.
But instead of taking her to the hospital, they detained her for more than a day before transferring her to the Otay Mesa Detention Center in San Diego.
It took two days to get a medical exam. Four days after that, she was informed that she had a miscarriage.
That was the account she gave in a sworn declaration to her lawyers.
"I was neglected, subjected to abusive conditions and denied medical treatment when requested," she testified.
Pagoada is among ten women whose testimony was included in a complaint filed this week against the U.S. Department of Homeland Security by seven rights groups accusing immigration officials of improperly detaining pregnant women and failing to provide them with adequate medical care.
The complaint — made to the department's inspector general and civil rights officer — alleges that the women suffered physical and psychological harm and asks the department to investigate the cases and report on what steps immigration authorities will take to enforce its policies on the detention and treatment of pregnant women.
"We are gravely concerned with the agency's failure to abide by its own policy against detaining pregnant women, the detention conditions that have been reported by pregnant women in various detention facilities across the country, and the lack of quality medical care provided to women who are pregnant or have suffered miscarriages while in custody," the complaint said.
Since August 2016, U.S. Immigration and Customs Enforcement has had a policy of not detaining pregnant women unless under "extraordinary circumstances," and in those cases providing access to "immediate counseling" and "full range of reproductive health care options."
But in recent months, immigrant advocates said they've seen an increasing number of examples in which the government appeared to break its own guidelines.
"In the last few months we have seen an uptick of cases of pregnant women being detained," said Katharina Obser, a senior program officer at the Women's Refugee Commission who helped write the complaint. "For someone who is already fleeing trauma and violence and seeks asylum, to be doing that while pregnant and fearful of being separated from family exacerbates the stress."
"The complaint shows that people in these individual cases could have been released to family members rather than being held in detention, where access to medical care is inadequate," she said.
Immigrant advocates also alleged that pregnant detainees have been complaining that they did not receive adequate medical care.
"Some women have had miscarriages while in detention and had anxiety about their healthcare while in ICE facilities," said Victoria Lopez, legal director at the American Civil Liberties Union of Arizona, which helped author the complaint.
An immigration official said that while the August 2016 memo remains in effect, officials still conduct case-by-case reviews.
All women 56 and younger entering detention facilities are screened for pregnancy.
Of the 67,730 women taken into into custody between October 2016 and late September, a total of 525 — or less than 1% — were pregnant, according to ICE. As of Sept. 13, a total of 33 were still detained.
Pagoada, 31, was born in Honduras but spent most of her life in El Salvador, where she was sexually abused by her stepfather and for years threatened by gangs, according to her testimony.
When she arrived in the U.S., she told border agents she was pregnant and was provided "routine and recurring welfare checks" during the 27 hours she spent in U.S. Customs and Border Protection custody, an agency spokesman said.
"There is no evidence to indicate Ms. Pagoada requested medical attention or appeared to be in need of medical attention at any time during her temporary detention by CBP," the spokesman said.
Immigration officials said they could not immediately comment on her detention.
Pagoada's attorney, Allegra Love, with the nonprofit Santa Fe Dreamers Project in New Mexico, flew to California a few days after Pagoada was detained and said she made a formal request to immigration officials to parole her client for medical reasons.
"They denied it, and they didn't give a reason for denying it," Love said.
Pagoada remains at Otay Mesa awaiting an interview with immigration officials to hear her asylum case.
Follow me on Twitter @melissaetehad
Must-read stories from the L.A. Times
Get the day's top news with our Today's Headlines newsletter, sent every weekday morning.
You may occasionally receive promotional content from the Los Angeles Times.