Restrictions lifted on delivery of goods to Puerto Rico; military commander to manage relief efforts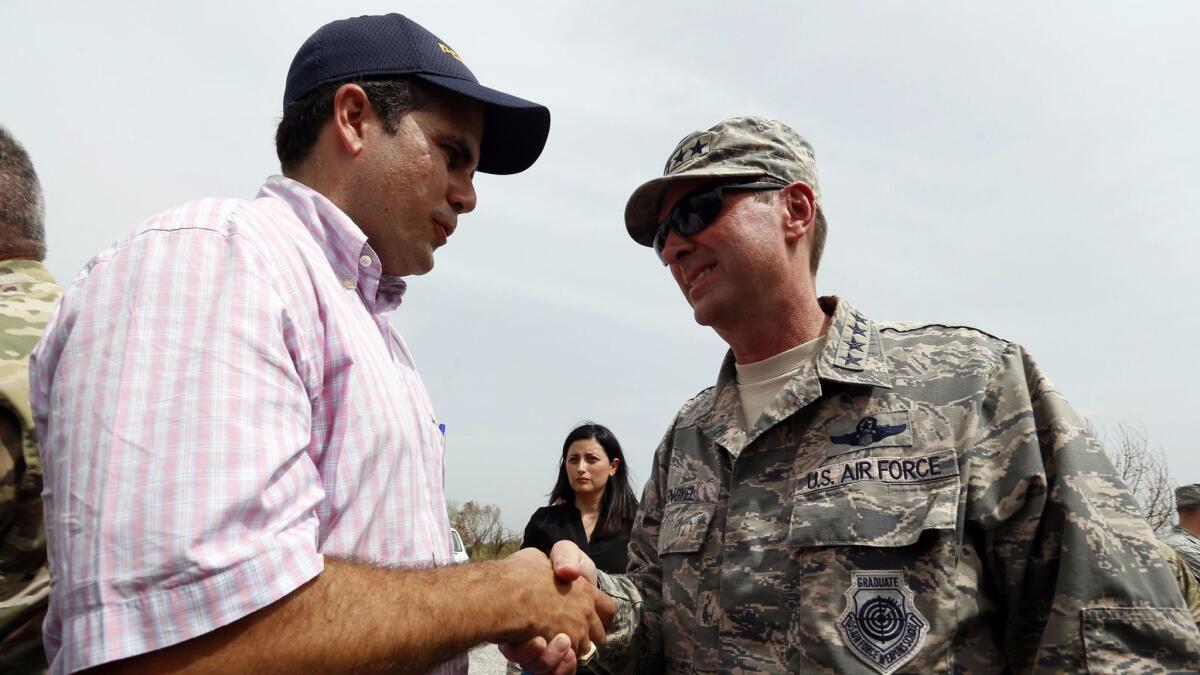 Reporting from San Juan, Puerto Rico —
Puerto Rico Gov. Ricardo Rossello on Thursday thanked the Trump administration for helping the island cope with the devastation of Hurricane Maria after the president agreed to waive a federal law restricting foreign ships from transporting cargo to the U.S. territory.
Trump has faced criticism that he had not done enough to help provide relief to the battered island. The governor promised a more rapid, coordinated response in coming days.
"The federal government and the president are aware of what's happening here, and they have responded to our petitions quickly with a compromise to help the situation in Puerto Rico," Rossello said at a Thursday briefing in the San Juan convention center.
Authorities also said a three-star military commander would manage hurricane relief efforts on the island.
Lt. Gen. Jeffrey S. Buchanan, an Army infantry officer who served multiple tours in Iraq, is expected to take over the command headquarters set up at the convention center in the capital. A one-star general arrived earlier in the week.
The military effort is expected to expand in the coming days. A commander can marshal U.S. military forces to help clear roads, move supplies and get crews into remote places to assist in fixing the electrical grid and coordinating with public agencies and private utilities.
In addition to federal aid, Rossello said 17 states have sent disaster response teams to assist the recovery.
The convention center was converted into an emergency operations center after the hurricane made landfall Sept. 20. Rossello was flanked Thursday by Federal Emergency Management Agency and military officials.
The federal government had waived restrictions imposed by the 1920 Jones Act to speed relief efforts after recent hurricanes hit Texas and Florida hard. The act was not immediately waived when Hurricane Maria clobbered Puerto Rico, where the island's 3.4 million residents are still without power and facing shortages of water, food, medicine and other basic supplies more than a week after the storm.
Several federal legislators this week requested that the Trump administration temporarily waive the law for Puerto Rico. The administration said Thursday that Trump responded to a request from Rossello.
Rossello said he expects the law — which restricts foreign-flagged ships from delivering goods to U.S. ports — to be suspended for at least a week, as it was in Texas and Florida. The Trump administration said the waiver was effective immediately.
How much the waiver of the Jones Act will help Puerto Rico remains to be seen as other problems persist, such as blocked roads and a lack of capability to move supplies already available on the island.
Containers have languished at ports here even as residents complained of shortages of gas, food, water and other staples. Much of the island remains without electricity or cellphone service. Conditions worsened this week as hospitals across the island closed due to broken generators and lack of fuel.
On the island of Vieques, there were reports of residents taking over a gas station due to shortages and local officials demanding martial law.
Rossello said officials were attempting to send gas and other aid to Vieques.
The storm's official death toll remained 16 Thursday, but additional deaths had been reported at hospitals where patients were removed from life support due to fuel shortages, Rossello said. Part of the problem is that communications are still spotty, with cellphone towers and networks down, the governor said.
"We are sending out runners, sending out [U.S. disaster management] units to assess the situation, communicating to hospitals that have had damage or are not accessible to the community that we need to move those patients," the governor said.
Rossello said 33 of the island's 69 hospitals were open Thursday as well as 40 dialysis centers. The government also opened 11 regional centers to distribute food, water and other supplies.
The governor said emergency managers were enlisting truck drivers to help distribute gas and some of the 9,500 containers at the port in San Juan. About 28% of telecom service was restored and 86 bank branches had opened, as well as about 62% of the island's gas stations, he said
Rossello emphasizd that the hurricane's toll was staggering, that "almost the entire island is a disaster zone."
"This is the biggest catastrophe in modern day Puerto Rico," he said, but "we are taking action and getting results. If we open more stations, distribute more gas and open more hospitals … I want to say we are making progress. I'm sure we will get stability and we will start rebuilding Puerto Rico better than before."
Rear Adm. Jeffrey Hughes joined the governor to detail the U.S. military response, which included two Navy ships he commands, plus 800 Marines who were in the Caribbean when the hurricane arrived.
"We put ourselves in a position to respond as rapidly as we could once the weather passed," Hughes said.
They have been distributing food, water and medical supplies by sea and air, he said. Marines were stationed at an airport in the southeastern coastal city of Ceiba to relieve pressure on San Juan's airport, and also to run water production and purification operations, fuel trucks and help set up U.S. Air Force air traffic control, he said.
U.S. forces have been working with the Puerto Rico National Guard to clear roads, distribute aid to more remote towns, and ensure that hospitals have working generators and sufficient fuel. He promised that more troops were on the way to assist as the recovery shifts from a sea- to a land-based operation.
"We're going to be here all the way through … to best support the people of Puerto Rico," he said.
Rep. Luis V. Gutierrez (D-Ill.), a critic of the Jones Act, has called on the military to do more. He has also helped with Chicago-area efforts that have sent a planeload of supplies to San Juan.
"Finally, the White House is beginning to wake up, taking temporary action on the Jones Act and upping the military presence, but it took a while and more is needed right now," Gutierrez said in a statement. "Whatever it takes to rescue people, whatever it takes to airlift people to safety, to open hospitals and get them food and water, it has to happen right now."
Gutierrez planned to fly commercially to San Juan on Friday and return to Chicago on Sunday, saying reports that federal officials were delaying official trips by legislators didn't apply to him. "Soy Boricua, no necesito permiso. I'm Puerto Rican, so I don't need anyone's permission to go," Gutierrez said.
molly.hennessy-fiske@latimes.com
Twitter: @mollyhf
Times staff writers W.J. Hennigan and Brian Bennett in Washington contributed to this report.
---
UPDATES:
1:20 p.m.: This article was updated with the assignment of Lt. Gen. Jeffrey S. Buchanan to manage relief efforts and comments from Rep. Luis V. Gutierrez (D-Ill.).
This article was originally published at 9:30 a.m.
Sign up for Essential California for news, features and recommendations from the L.A. Times and beyond in your inbox six days a week.
You may occasionally receive promotional content from the Los Angeles Times.